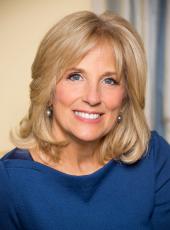 Remarks by Second Lady Jill Biden at the 28th Annual Human Rights Campaign Gala Dinner in Atlanta, Georgia
[As Prepared for Delivery]
Thank you, Chad, for that great introduction. Hello, Atlanta! I am so proud to be here with all of you tonight.
I'd like to start by saying I think Chad is doing a phenomenal job leading HRC. But, as a mother myself, I think we owe Chad's parents – Betty and Butch Hightower – a round applause for doing such a great job of raising Chad.
I'd also like to acknowledge Congressman John Lewis is here tonight. He is an embodiment of courage, foresight, and lasting commitment.
It was so nice to meet Jim Obergefell, who's here tonight as well, the lead plaintiff from the historic Supreme Court case argued earlier this week. We're with you, Jim. Keep up the fight!
It's an honor to be here because I truly believe in the work that you do – that all of us do together – to advance equality for lesbian, gay, bisexual, and transgender Americans. As my husband Joe often says, this is the civil rights cause of our lifetime.
Joe and I came of age during a time when there was no Human Rights Campaign to proudly wave its flag of equality, yellow over blue, at rallies and in marches across the country. Back then, a gathering like this would not just have been unthinkable; in many places, it would have been illegal. Look how far we've come.
Last year, when Joe and I spoke at the HRC dinner in Los Angeles, he told a story from his youth about how his father drove him to the city courthouse in Wilmington, Delaware and while they were parked outside, Joe saw two men kissing each other goodbye. Joe didn't know what to think, but his father turned to him and explained: "they love each other. That's the end."
Because "love is love," today – 50 years later – two men or two women can walk into the courthouse in that same city of Wilmington and get a marriage license. And we won't rest until that freedom to marry is available to any loving, committed couple in this country. Look how far we've come.
I am proud to be here on behalf of an Administration that has done more to secure equality and justice for the LGBT community than any past Administration – combined. Working with you, we: Repealed Don't Ask Don't Tell; ended the HIV travel ban; passed a hate crimes law bearing Matthew Shepard's and James Byrd's names; established a National HIV/AIDS Strategy; supported Gay Straight Alliances and aggressively pursued justice for LGBT students; stood up for the rights of LGBT people around the world; prohibited discrimination in federally funded programs; and, argued for the freedom to marry before the Supreme Court. These are your victories.
Now, I'm not a politician but I've been around politics long enough to recognize that nothing compares to the kind of sweeping change we have seen on LGBT issues in the last six years. But ultimately, this isn't about changing laws – it's about changing lives.
Change is young people who are comfortable in their own skin and proud of who they are, because they know it gets better. As an educator, I know the kind of bullying and harassment that some of my students face in the classroom, and the rejection they encounter at home. I've read it in their journals, and I've even chastised an entire class for mistreating one my LGBT students.
Change is serving the country you love regardless of who you love. As a military mom, I care deeply for our service members and their families. I saw the burden that "Don't Ask, Don't Tell" and DOMA placed on so many of our military families – families who serve this nation with just as much courage and patriotism and sacrifice as any other military family. Today, because those discriminatory laws are no longer on the books, their lives are so much better, and they can worry about the things every family, every military family worries about: Deployment and return; raising their kids; and transitioning from service to civilian life.
And, speaking of family, change is having a family that fully respects and affirms who you are. Earlier in the program, you heard from a smart, talented, beautiful young woman from Delaware named Sarah McBride. Can we give her another round of applause? Now, Delaware isn't a big state, so perhaps it comes as no surprise to all of you that Joe and I have known Sarah McBride and her family for many years. The McBride's are a giving family—who are always ready to step up and help out when you're in need. Sarah's older brother went to high school with our daughter Ashley, and Sarah worked on our son Beau's campaigns for Attorney General in 2006 and 2010.
So I know a little more about her story – and I know that when she came out, her parents didn't hesitate one moment. They embraced the child that they love – the daughter they have, unequivocally. Because they know what you know: treating people differently because of who they are is no different than the cruel laws John Lewis bravely fought against for years. As Joe says, "I don't care how you dress it up or how you justify it—prejudice is prejudice is prejudice." And so, Sarah's parents didn't just stand with her at home; they stood with her before the Delaware legislature to fight for transgender equality and to demand dignity and fairness for their daughter. Their embrace never yielded, from the morning she came out to them, to the afternoon her father walked her down the aisle, to the evening she lost her husband. Isn't that what parents are supposed to do? Parents celebrate, support, and they comfort – because they see, and love, their child for who they truly are.
Now, Sarah will be the first to admit: she's one of the lucky ones. Because for every Sarah McBride there are – tragically – too many stories like Leelah Alcorn's. Instead of being accepted, Leelah was rejected. Instead of being supported, she was isolated. Instead of beginning her transition, she was forced into conversion therapy. Leelah's story is all too common in America today. We know that 1 in 3 LGBT youth experiences some form of conversion therapy, and that this has devastating effects, including depression, substance abuse, and suicide. It doesn't have to be this way. It can't be this way. That's why I was so proud when our Administration recently stood up for children like Leelah—to condemn conversion therapy in all its forms, and issued a call for action. Because we believe young people should be valued for who they are, no matter what they look like, where they're from, the gender with which they identify, or who they love.
As an educator, as a military mom, and as a mother and grandmother, I know and have seen firsthand the importance of family in a time of need. When our son Beau was deployed to Iraq in 2009 for a year, it wasn't easy for our family but we supported one another. A few years ago, I wrote a children's book to share our family experience—of what life was like for our grandchildren, Natalie and Hunter, when their father was away at war. I bring this up because children's books have this amazing power to explain the simple truths in life. Think about it: they teach us how to overcome adversity; how to live by the golden rule; and my favorite, that sharing is caring.
Twenty five years ago, another children's book was published that describes how all families are not the same, but also not all that different. I would like to read you quote from Heather Has Two Mommies: "It doesn't matter how many mommies or how many daddies your family has. It doesn't matter if your family has sisters or brothers or cousins or grandmas or grandpas or uncles and aunts… The most important thing about a family is that all the people in it love each other."
What was once controversial is now commonplace. At its core, Heather Has Two Mommies was about the importance of family. And, it seems only fitting that 25 years later the Supreme Court of the United States could issue a historic decision for the freedom to marry.
This happened because of all of you—because you came out and marched; because of heartbreaking stories of loss and rejection; and inspiring stories of love and acceptance. We should celebrate moments like these that remind us that the moral arc of the universe may be long but it does bend towards justice.
We know that the work doesn't end with a Supreme Court victory. If we've learned anything from the story of civil rights and equality in America, it's that real, lasting change requires long-term commitment. Just ask John Lewis. It means staying engaged and vigilant, and not taking progress for granted because, if you're not careful, it can be taken away. So do it for our kids and our families; for our service members and Heather's two mommies; for Sarah McBride and Leelah Alcorn. And know that Barack, Michelle, Joe and I will be with you every step of the way.
Thank you again for having me here. God bless.
Jill Biden, Remarks by Second Lady Jill Biden at the 28th Annual Human Rights Campaign Gala Dinner in Atlanta, Georgia Online by Gerhard Peters and John T. Woolley, The American Presidency Project https://www.presidency.ucsb.edu/node/336864