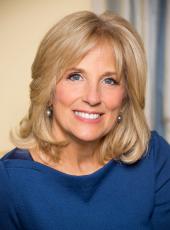 Remarks by Second Lady Jill Biden at the 20th Anniversary Celebration of the Community College Research Center at Teachers College, Columbia University in New York City
[As Prepared for Delivery]
Community colleges aren't prestigious. The education isn't high quality. They're second rate — an option of last resort. We've all heard that. But that's just wrong.
You know it. I know it. And the millions of people across our country who have received an affordable, quality higher education at a community college know it.
Here's what we know: 35 percent of America's four-year college graduates complete their degrees because they attended a community college; over 12 percent of all 2014 doctoral recipients attended a community college; And certain community college graduates make higher wages than 4-year college graduates.
But we all know that or we wouldn't be here this evening. Thank you Teachers College — Tom and Susan — for welcoming me back. It was a privilege to deliver the commencement address here in 2010 and to meet with student veterans back in 2013.
But, today is distinct and holds a special place in my heart as we celebrate the Community College Research Center's 20th anniversary. The practitioners at CCRC have been leaders in this space far beyond 20 years — bringing to light the importance of community colleges to our country and for millions of students. And I'd like to add my voice and thank Jesse for having the vision to foresee the need for this research. But our work is only getting started and I'll get to that shortly.
We all have our own stories on why we are passionate about education. I grew up in the sixties — I'm a sixties girl from Philly. Before Joe, the men I dated wore jeans and clogs, and my hair was down past my waist, and some of theirs was too. So, when a clean-cut Senator asked me out on a date, and showed up at my door wearing a suit and leather loafers, I wasn't quite sure.
But, what we found in one another was a shared sense of responsibility, and a passion to level the playing field. Throughout his career in the Senate, and now as Vice President, my husband Joe has fought for the middle class — to give all Americans a fair shot at the American Dream. That same principle is why I teach at a community college. I teach to give my students confidence so that they know there's no limit to how far they can go. Education is the great equalizer.
The past eight years have been an amazing opportunity that I honestly never even imagined. Actually, I've pretty much been living a double life since Joe was first elected Vice President. One moment, I'm taping a live interview at 7:15 AM in the Blue Room at the White House for the TODAY Show talking about President Obama's continued support of community colleges. And then the next moment, at 7:55 AM, I'm in my cubicle at Northern Virginia Community College prepping to teach my 8:00 AM English Comp class.
Even today, after I left my classroom, I had to change out of my teacher outfit in the lounge of the DCA airport to put on my Second Lady outfit.
Many of my students don't know I have two jobs. For example, at the end of one semester, a student of mine came running into my classroom and said, "Dr. B, Dr. B I saw you on the television last night with First Lady Michelle Obama." And my student said to her mother, "Mom! Mom! That's my English teacher!" And her mother said, "That's not your teacher, that's the Second Lady." They may not know that I'm married to the Vice President, but my students do know that my first priority is to them.
As a teacher, I've loved being part of the Obama-Biden Administration which believes as passionately as I do in education. When we were elected, our economy was losing 800,000 jobs a month. We were in the depths of the worst recession since the Great Depression. And from day one, our administration saw community colleges as critical to revitalizing the American economy.
I was in the right place at the right time. Because, as we all know, community colleges connect the dots. They grant two-year degrees, provide new skills training or an affordable pathway for those who want to articulate to a four-year university.
So, in 2010, at the community college where I teach, President Obama signed into law a bill that invested nearly two billion dollars in over 700 community colleges. And called for the first-ever White House Community College Summit. This was our moment. Putting community college front and center. That investment paid off big dividends for our country: building more than 2,500 partnerships between community colleges and employers; and training nearly 300,000 skilled workers.
In 2012, I headed out on a community-college-to-career bus tour to shine a light on these innovative workforce partnerships between community colleges and local employers. In two days, we traveled 800 miles through seven cities in five states, visiting some amazing, talented students, teachers, business and local leaders. But rather than tell you about it, I would like to show it to you. Video
By partnering with local businesses, community colleges answered the call of our nation — to provide a well-equipped and well-trained workforce. That's what's so special about community colleges.
So, what's next? By the end of this decade two-thirds of all job openings will require some form of higher education. Despite all the progress we've made in the last eight years to make higher education more accessible, too many hardworking Americans still feel as if a college education is out of reach. Rising tuition costs is one key factor.
That's why I believe — as does President Obama — that community college should be free for all responsible students. Two years of free community college will allow students to earn the first half of a bachelor's degree or acquire a professional certificate without being saddled with decades of debt.
According to the College Promise Campaign's first annual report, just released last month, since President Obama announced his free community college proposal, more than 36 college promise programs have launched in cities, states and communities across the country. There are now more than 150 programs across 37 states offering some form of free community college.
Early research has shown that Promise programs, particularly those offering pathways to a four year university, can be key to boosting local economic development and increasing the number of people staying in their communities. The reason is pretty simple: because 90 percent of our population lives within 25 miles of a community college.
We're also seeing more and more people are now giving community colleges a fresh look. For example, Oregon launched its college promise program this year and nearly 6,000 new students enrolled in community colleges all across the state.
But, let's be honest: simply enrolling in a community college isn't enough. Community colleges may be the first to open the doors to college for students, but we have to retain students and help them complete their degree.
Throughout my visits to nearly 50 college campuses, I've seen how dual-enrollment courses, early-college high schools, mentors and community service opportunities, as well as other college-credit programs, have consistently increased student achievement.
If we pair those proven strategies with a college promise program, I believe we'll be even more successful in keeping students in the classroom through graduation. That's exactly what I saw in Tennessee, which offers dual-enrollment programs for high school students and launched a state-wide college promise program. More than 80 percent of students who enrolled in the Tennessee Promise in the fall of 2015 returned for their second semester of classes in the spring of 2016.
While we don't have all the data we need, I think it's clear that the promise of free community college is making a real difference for thousands of students in every corner of the country. It's especially important for the new majority of students who attend one of America's community colleges who are often older, returning to school while maintaining a full-time job or raising a family — and in many cases both.
While our administration has strived to make community colleges more affordable and more attractive for more students to attend college, there's still so much more we can and must do. Because, at the end of the day it's all about the outcomes. It's about completion for purpose. It's about getting our students on the right pathway with links to a good paying job so they can provide for themselves and their families.
CCRC has been at the forefront since day one tracking and creating the data sets we need to evaluate and to better understand our students. For the past twenty years, you have been providing the data that policy makers need to better understand the ways in which community colleges provide benefits to students that occur nowhere else in higher education.
Because of your ground breaking research, we can identify the challenges community college students face and paths to overcoming them. Because of you, individual colleges and policy makers can make better investments in what works and what doesn't. You have been a champion for community colleges. You literally wrote the book on "Redesigning America's Community Colleges" to provide a clearer path to student success. But I need to ask you to do more.
First, we must document the lived experience of students. The experiences that I've seen in my classroom. Students who can't pay for parking. Students who get kicked of their homes. Students who suffer from depression. As you know, we need to make the case for wrap around services – I've seen it in the lives of my students. These are not just data points. These data points have names for me.
Second, we need you to keep publishing data on best teaching practices, so that community college faculty can use the kinds of teaching strategies that best help their students inside the thousands of individual classrooms.
Above all, you must continue to document the case that we can't afford not to invest in our community colleges.
We've asked a lot of you over the past 20 years — but we can't stop now. The secret on community colleges is out and our work is more vital than ever. CCRC, I know you're up for this challenge.
So, what's next for me? I'm going to keep teaching. I'll continue serving on the College Promise Advisory Board to work with elected officials and business leaders to make community college free. And with your help, we'll keep the momentum going. We can't afford to put the brakes on.
Before I conclude, on a personal note, I want to thank you from my heart and Joe's for your love, support, and kindness over the last eight years. There were some dark days for the Biden family this past year and you lifted us up — we couldn't have done it without you. Serving our country has been a great honor. It's been the journey of a lifetime.
Thank you.
Jill Biden, Remarks by Second Lady Jill Biden at the 20th Anniversary Celebration of the Community College Research Center at Teachers College, Columbia University in New York City Online by Gerhard Peters and John T. Woolley, The American Presidency Project https://www.presidency.ucsb.edu/node/336783