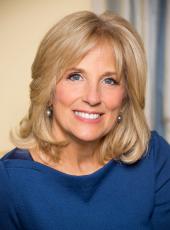 Remarks by Second Lady Jill Biden at the 2015 Aspen Prize for Community College Excellence Award Ceremony
[As Prepared for Delivery]
Good afternoon, everyone.
Thank you, Ellen. The work that you are doing to help more students succeed is making a difference.
Now, more than ever, Americans are relying on community colleges to provide the stepping stones to a college degree and a better future. Our nation's prosperity—strengthening the middle class—truly depends on our higher education system delivering more high-quality degrees to an increasingly diverse group of students.
Helping more students go to college, stay in school, and earn their diploma is vital to the future of our economy, because in the next five years—by 2020—two out of three job openings will require some form of higher education. That's why I believe this is the moment for community colleges to shine, and the institutions that Aspen honors today are leading by example.
Congratulations to all of the Aspen Prize finalists! These schools are reinventing what it means to be the community's college. They're partnering with local employers to provide students with the skills they need to move into jobs that already exist in their communities. They're creating clear-cut, affordable pathways for those who want to move on to a four-year university. They're providing the flexibility that is needed for working parents to pursue their degree or obtain new skills.
The Aspen Prize gives us an opportunity to highlight the "best of the best," to celebrate community colleges that are excelling, and to give all other schools the opportunity to consider adapting those best practices on their own campuses. So, thank you to the Aspen Institute, the supporters, and the many people who worked so hard to get to this day. You have helped these institutions get the recognition they so rightfully deserve.
Both in my classroom at NOVA, and when I am on the road visiting community colleges across the country, I am fortunate to see the tremendous impact community colleges have on so many students.
I see it in students like Erica, whom I met in Gainesville, Florida, last week. As she told me, Erica almost dropped out of high school due to a bad relationship…with algebra. As a mother of three, when Erica decided to go back to school, she found that the flexible class schedule, and the support and encouragement from the teachers and faculty at Santa Fe College, were exactly what she needed to succeed. Not only did Erica pass her classes, but she thrived in the community college atmosphere. She was a student ambassador and participated in the honors program. After earning her degree from Santa Fe College, Erica is now enrolled at the University of Florida.
I see it in Christopher, a community college student whom I met at South-by-Southwest (SXSWedu) in Austin, Texas. After high school, Christopher chose an out-of-state school that was more expensive than he could afford. During his second year of college, even with his parents' help, Christopher had to take out student loans and work two jobs to pay for tuition. He knew something had to change. So, he moved closer to home and is attending Houston Community College where tuition is more affordable. He's now taking classes that support his dreams of going to business school, and has been accepted to Texas Tech for the fall semester.
I also see it in Jenny, a middle-aged mom of a newborn daughter. Jenny works full time, mostly at night and on weekends so she can spend a few moments with her family between classes and work. Her daughter was a big motivation for going back to school, but Jenny had math anxiety, and it was a stumbling block when she started thinking about all the math that she would have to do to get her degree. Then, Jenny enrolled in Austin Community College's innovative developmental math course, which takes place in lab the size of a football field, with over 600 computers, where students are allowed to work at their own pace, and have hands-on guidance from teachers—it has completely changed how Jenny looks at math. In fact, she enjoys math so much that Jenny is looking to complete her degree and become a math teacher.
In reality, these are the typical community college students: mostly older, juggling work, school, and family. That's also what makes community colleges so special—they're innovative and have the ability to adapt to the needs of all students, and put them on a path to reach their full potential.
One day soon, community colleges will be free. As an educator, I am proud to be part of an Administration that is committed to investing in our students, and restoring the promise of the American education system.
I have worked with so many of you in this room: I gave my first commencement address at Kingsborough Community College in Brooklyn; El Paso Community College joined us at the first-ever White House Summit on Community Colleges; and, just two months ago, the President, Vice President and I joined Governor Haslam at Pellissippi State Community College in Tennessee where the President announced his proposal to make the first two years of community college free for responsible students.
I look forward to continue working with all of you in the months ahead to provide all students with the opportunity that they deserve to get a quality education.
We all have our own stories on why we are passionate about education. I grew up in the sixties—I'm a sixties girl from Philly. Before Joe, the men I dated wore jeans and clogs, and my hair was down past my waist, and some of theirs was too. So, when a clean-cut Senator asked me out on a date, and showed up at my door wearing a suit and leather loafers, I wasn't quite sure. But what we found in one another was a shared sense of responsibility, and a passion to level the playing field.
Throughout his career in the Senate, and now as Vice President, my husband Joe has fought to lift up the middle class—to give all Americans a fair shot at the American Dream.
The same principle is the reason why I teach at a community college. I teach because I believe education is the great equalizer. Every day in my classroom I see the power of education to break down barriers, to open students' eyes to the possibilities around them, and to provide them with opportunity to grow into the people they aspire to be. You understand that better than anyone.
Thank you again for all of your hard work, and congratulations.
Jill Biden, Remarks by Second Lady Jill Biden at the 2015 Aspen Prize for Community College Excellence Award Ceremony Online by Gerhard Peters and John T. Woolley, The American Presidency Project https://www.presidency.ucsb.edu/node/336809