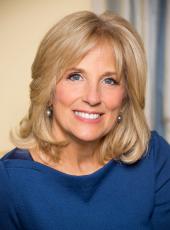 Remarks by Second Lady Jill Biden to Teachers at Teatro Mercedes Sosas in Tucumán, Argentina
[As Prepared for Delivery]
Hola! Buenas tardes!
Felicidades, Jorgelina! And thank you for that kind introduction. It's so great to be here with all of you this afternoon. I always feel right at home surrounded by teachers.
Thank you, Governor Manzur, for welcoming me to Tucuman. It's an honor. I'm from Philadelphia, Pennsylvania the birthplace of America, just as Tucuman is the birthplace of Argentina—so we have a lot in common!
I'd like to thank Ambassador Mamet for bringing me to Tucuman. We are so grateful for your service here in Argentina. And as a lifelong educator, I want to thank you for your tireless support of educational exchanges throughout your career.
While I was in Buenos Aires, the Ambassador and I met with your Minister of Education and signed an agreement which will send 500 teachers to the United States on short-term exchanges. What an amazing opportunity for both of our countries! I can't wait to hear about what you learn in the United States and what U.S. teachers learn from you.
I always say that one of my favorite things about teachers is that we are all life-long learners. We are always curious to know more, especially when it could increase the impact we have in our classrooms, the impact we have on our students. Just look at this room—packed with over 1,000 teachers who have worked all week, and now choose to spend their Friday siesta time, listening to another teacher speak, learning about how to expand the tools and techniques they can use in their classroom. That's what teachers do. That's what we do. It's inspiring to be with you. Thank you.
Of course, we all have teachers who have made such a tremendous difference in our lives. For me, all of my English teachers had an incredible impact in my life. In particular, my grandmother, who was a teacher, inspired me. She taught in a one-room schoolhouse and I would occasionally go with her to class. In fact, I still have the school bell that she used to call her students in from recess! I saw how she taught, how she promoted a love of reading, a love of books. She instilled confidence in her students. I remember her reading "Mary Poppins" to her students, and how seeing her interact in the classroom made me want to become a teacher.
I know all of you have that same passion in your classrooms. That's why I've used my platform as Second Lady of the United States to support all teachers, and to encourage incredible people like you, because you are all so vital to our kids, our communities, our countries and our future.
When my husband Joe was elected Vice President and we moved to Washington, DC on Inauguration Day in 2009, there was never a doubt that I would continue to teach. I knew at the time that if I wanted to stay true to myself, I had to keep teaching. Because teaching is not just what I do; it's who I am. It's who we are.
Teaching isn't just a job, it's a calling. It's our calling. And I know how hard all of you work, inside—and outside—the classroom. Teaching doesn't end when you leave the classroom. You take this responsibility home every single night. You go above and beyond; thinking up creative lessons; taking a few minutes after class to tutor the student who needs a little extra help; spending your own money on supplies. You give a word of encouragement to a students at the moment they really need it, and keep up with your students and their families outside of school. I've heard that here in Argentina, many teachers even have WhatsApp groups with their students—making teaching a 24 hours-a-day, 7 days-a-week job. Our children need and deserve more committed teachers like all of you.
I love being a teacher because I can see the difference I make in the lives of my students. By reading their journals and offering words of support, I can do my part to help build their self-esteem. While teaching grammar and composition skills, I try to impart a sense of confidence that will give them the strength to move in a positive direction. Regardless of the subject I'm teaching, my goal is always to give them confidence in their own abilities because I know that confidence will carry them well beyond my classroom. You all understand that.
Regardless of the career or discipline they choose to study next, if they believe in themselves they can become whoever they aspire to be. And that's one of the reasons why I'm traveling across Central and South America this week — to shine a spotlight on the importance of education, especially in science and technology for girls and women.
We know girls are just as interested as boys in science and technology education. But, somewhere along the lines, we are losing these girls. They're becoming convinced that these careers are not for them. We must change this. We have to encourage more girls that these careers are not just for boys. Because, when women and girls are included, they expand our economies, enrich our communities and our countries are better off for it. It's really that simple.
But this isn't just about girls—it's about everyone. It's about teaching the skills that communities need in order to grow and prosper. As teachers, you already know that. We know that education is the great equalizer. An education can help students become who they aspire to be—it unlocks the door of opportunity for students to achieve their dreams. And I strongly believe, the committed teachers in the classroom are the key.
As teachers, we give a lot to our students, but they give a lot of themselves to us as well. And I believe our profession—teaching—ours is a journey of stories. In my classroom, I have students from all over the world—Africa, Asia, Central and South America—who have left behind their families, their friends and everything that was familiar to them to get their education in the United States.
I often say that that my students are my heroes. Because, many of them had to overcome so many obstacles in life—tragedy and heart breaking loss—but they're turning the page on their past and creating a brighter future for themselves and their families. But, this is not unique to me. My students are just like yours: determined, resilient and dedicated to building a better life for themselves, for their families, and for their community. Each of you here today could share your own stories about your own students who have been inspired by something you have taught them, and have, in turn, inspired you. My stories are your stories. They're our stories. They're our students.
I also know from experience that while teaching is rewarding, it can also be challenging. Even on your most trying of days, you are there for your students, for your colleagues, for your community. You support one another. You lift up one another.
As I look around this room, I see an amazing community of talented educators who have many gifts to share with their students, but also with each other. I challenge you all to stay connected, to learn from one another, to visit each other's classrooms and schools, to share your stories. Because, when times get tough—as they often do in teaching—we have to rely on one another. I hope that you all have a chance to meet new colleagues and friends this afternoon and I hope you will keep up those relationships after this event.
And never forget the company that you keep, your colleagues in the teaching profession: President Obama was a teacher. Domingo Sarmiento was a teacher. Pope Francis was a teacher. You are among the best that our countries—our global community—has to offer.
Thank you for everything you do in your classrooms, in your communities, for your students, and for the future of your country and our world.
Muchas gracias. Thank you.
Jill Biden, Remarks by Second Lady Jill Biden to Teachers at Teatro Mercedes Sosas in Tucumán, Argentina Online by Gerhard Peters and John T. Woolley, The American Presidency Project https://www.presidency.ucsb.edu/node/336751