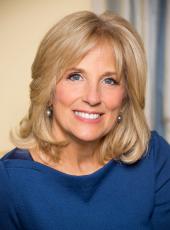 Remarks by Second Lady Jill Biden at SXSWedu 2015 in Austin, Texas
[As Prepared for Delivery]
Good morning! It is so wonderful to be back in Austin.
Thank you Christopher for that kind introduction, and I couldn't agree more with what you said: Not only should our young people dream big, but, like you, all Americans should have the opportunity to realize their full potential. Christopher is a great example of a student who has seized the opportunity offered by a community college education. Let's give another round of applause for Christopher—what an amazing student.
I'd like to also thank the Bill and Melinda Gates Foundation for hosting this summit. In 2010, Melinda Gates joined me for the first-ever White House Summit on Community Colleges, when she announced the Gates Foundation investment of $35 million dollars to help boost Community College completion rates. They understand that education is the great equalizer.
I was backstage listening to the panel discussion and I think we all agree that education is the foundation for building a better life.
People sometimes ask why I choose to teach at a community college. The answer is simple: It is the students. I love being in the classroom and seeing the difference I hope to make in the lives of my students. My goal is to always give them confidence in their own abilities—because I know that confidence will carry them well beyond my classroom, in whatever they do.
In my classes, I find single parents who come to school in the evening, weary from a long day, yet eager to create a brighter future for their children. I have taught veterans who return to the classroom to complete their higher education as they look to transition to civilian careers. I have seen workers who have gone as far as they can in their jobs—get the skills they need to reach the next level in their fields. I can honestly say that my students are my heroes. I am profoundly moved by their determination to learn, and their quest to make a better life for themselves and their families.
In reality, this is the new student: they are often older and juggling work, school, and families. But, we all know that the responsibility for educating students is not the student's alone. It is a responsibility that belongs to all of us. And, we must adapt to meet students' needs in order to graduate more students.
Helping more students go to college, stay in school and earn their diploma is vital to the future of our economy because by the end of this decade two out of three job openings will require some form of higher education. Currently, nearly half of the 18 million undergraduate students attend one of America's Community Colleges. Yet, less than half will either graduate or transfer to a four-year school within six years. Our Administration is committed to ensuring that the students who need help the most, receive the support they deserve.
As Second Lady, I have traveled across the country visiting over 60 colleges to see firsthand the extraordinary work being done to make transformative change on their campuses to help improve outcomes for their students. Yesterday, with Under Secretary of Education, Dr. Ted Mitchell, I visited two community colleges— Santa Fe College in Gainesville, Florida, and Austin Community College right here in the heart of Texas—both of which are using innovative strategies and technology to increase retention, completion and overall student success.
As a result, the completion rate for students at Santa Fe College is twenty percent higher than the national average. And, students at Austin Community College are twice as likely to complete their developmental math course compared to a student enrolled in a traditional one. These two schools are meeting students where they are, and guiding them to where they want to go, through the use of new technological advances. Rather than tell you about it, I would like to show it to you.
[VIDEO]
That's what's so special about community colleges.
As a lifelong educator, I am proud to be part of an administration that is committed to investing in our students, and restoring the promise of the American education system.
In the depths of the recession, we increased the dollar amount of Pell Grants as well as the number of students who qualify. We increased tuition tax credits; let students cap their federal student loan payments at 10 percent of their income; and streamlined the financial aid process. Building upon that, today in Georgia Tech, President Obama will announce a student bill of rights to help make sure people who have a loan are treated fairly and are able to pay it back.
We also invested two billion dollars into community colleges, to strengthen partnerships between schools and employers, to give students the opportunity to learn the skills they need to move into jobs that already exist in their communities.
And, as you heard during the State of the Union, President Obama announced his plan to lower the cost of community college to zero—to make two years of community college free for responsible students. We believe all students—new and returning—should be able to graduate, ready for the new economy, without the burden of debt.
During the last six years, we have made real progress, but our work is nowhere near finished.
Over the next few days you'll have the opportunity to learn more about strategies to improve student success rates. You will discuss the implementation and promising outcomes of guided pathways and hear from institutions that are fundamentally redesigning their practices in order to increase student success. You will also hear students, advisors, and faculty discuss new approaches to college advising and learn how they are personalizing students' higher education.
When the President and Vice President were first elected to the White House in 2008, I told my husband Joe that I wanted to continue teaching. So, one week after the inauguration, I was back in the classroom. Because, teaching is not what I do; it is who I am.
When I started teaching at Northern Virginia Community College, one of the things I wanted to do was help women who were returning to school. So, I started the Women's Mentoring Project, which pairs women who are over 30 with a faculty member.
As part of the program, I helped one woman who was writing her scholarship essay for admittance into a four-year university. Her path had not been easy. She left an abusive relationship and was homeless, living in her car with her two children. Once she got into a homeless shelter, she was encouraged to attend a community college, where I met her as part of the women's mentoring project. She went on to a four-year university where she earned her accounting degree and is creating a better life for herself and her family.
That is what community college is all about. Community colleges do not pick and choose their students; we work with all students to help them become who they aspire to be. We all reap the benefits when our citizens are well-educated and well-trained. It means that our economies are more vibrant and our future is brighter.
That's why the work that you are doing is so important. The President is behind you. The Vice President is behind you. This is your moment. And together, we can ensure education in our country is accessible, affordable, and attainable for all Americans.
Thank you.
Jill Biden, Remarks by Second Lady Jill Biden at SXSWedu 2015 in Austin, Texas Online by Gerhard Peters and John T. Woolley, The American Presidency Project https://www.presidency.ucsb.edu/node/336833