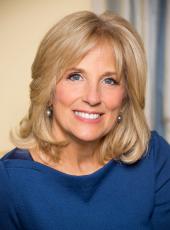 Remarks by Second Lady Jill Biden at a Joining Forces Event on Military Family Mental Health and Wellbeing in Arlington, Virginia
[As Prepared for Delivery]
Good afternoon. It's so wonderful to be with all of you today, and very special to be at the Pentagon. Thank you General Lengyel and Sally, Chief Master Sergeant Brush and Blair for your leadership and for hosting us today.
The Biden family is a National Guard family. So, it's incredibly special that my last event at the Pentagon as Second Lady is to witness this National Guard milestone.
Eight years ago, our son Beau proudly deployed for year to Iraq with the Delaware Army National Guard 261st Signal Brigade in the Judge Advocate General's Corps. When Beau returned home — knowing that Mrs. Obama and I had begun to plan the work eventually known as Joining Forces — he asked that we especially focus on de-stigmatizing and addressing the wounds that could not seen: such as PTSD and TBI. The length of those wars and multiple deployments had naturally taken its toll. And we needed to address the mental wellbeing of our military upfront with dignity and respect.
Through our Joining Forces initiative, First Lady Michelle Obama and I have done all that we could to shine a light on military families — to raise awareness for the challenges they confront, and still confront, that most Americans never have to face or could even imagine. Not because they're asking for attention — in fact, as you all know, our military families are self-reliant and resilient — rather, it's our sacred obligation to support and honor them not only at war but when they return home as well.
The wars of this generation saw the National Guard deploying more, and more frequently, than ever before. In fact, almost half of those who have or are serving in current wars have been Guard and Reservists. National Guard service is a special service — with communities across the country relying upon you in their times of need — during floods, blizzards and other natural disasters.
The Guard is unique in that they are often far from bases and resources designed for military families. Our men and women of the Guard sometimes go unnoticed in their neighborhoods, and their children in schools. And, unfortunately, studies have shown Guard and Reserve troops can be at greater risk for mental health issues post-deployment.
That is one of the reasons back in 2012 I went to visit and lift up the incredible work being done between the Missouri Guard and Partners in Care, a nation-wide program connecting faith communities to Guard members and their families who need certain support and resources. Partners in Care was stepping up, answering the call whether that meant lending a hand to watch a child for a few hours, mowing a lawn or grabbing some groceries. They made Guard families feel a community, even if they weren't physically surrounded by one.
And today, we have another incredible organization, answering the call in their own way. From the bottom of my heart, I want to thank Barbara and everyone at Give an Hour for your strength, determination and foresight. I always tell people: go to your strengths and Barbara, you have done just that. You leveraged what you knew into an incredible organization of thousands of mental health providers willing to donate their time to help our troops, veterans and families. Thank you.
Throughout our work with Joining Forces, Michelle and I have constantly challenged our friends, partners and stakeholders to do more.
There is one final very special person in this room I would like to thank. She's a military spouse. Her husband served in the Marines. She puts her whole heart into this job because it's personal for her too. We all know she deserves more credit than she's given — particularly on mental health — for the work she has done, the bounty of which will be felt for many years to come. And if not for her, I'm quite sure we may not even be standing here today. That woman is Rory Brosius. Rory, your dedication and passion inspire us all. Thank you for all you have done for Joining Forces and our country.
All of you sacrifice so much — and risk so much — to keep us safe. Still, no matter the situation, you answer when called upon. Whether it is through active duty deployment or domestic emergency, the National Guard is always there. But sometimes we all encounter obstacles. For our military, it can happen while transitioning back to civilian life; while dealing with the deployment of a spouse; or because of issues completely unrelated to their service.
But here is what we know for certain: mental health is not a military issue, a guard issue, a veteran issue; it's a human issue. Every single year, 1 in 5 Americans face a diagnosable mental health condition. And these are our friends, our siblings, our children — they are us. We know that facing these issues, people may feel isolated and alone. They may withdraw because they feel that if they ask for help they will be seen as weak — somehow less than. So, it's our job to make sure that we begin to treat mental health in the same way we treat physical health.
For far too long, we have treated mental health conditions like depression, anxiety, or post-traumatic stress differently than we treat other diseases. Just think about that. We would never look at a friend who was having a heart attack and say, you'll be fine. But too often that's exactly what happens when someone is struggling with a mental health condition.
The First Lady and I have seen firsthand how vitally important it is for us to completely change the way we address mental health in this country.
Take the story of Jenn Madden. I've had the honor to get to know Jen in the past several years. Jenn enlisted in the military when she was just 17 and began basic training on September 11, 2001. Jenn's service took her to Afghanistan where one of her best friends was killed in action.
When she came home in 2003, she struggled with the things that she had seen and experienced. Jenn began to struggle with symptoms of post-traumatic stress — nightmares, depression, mood swings — but she didn't know how to overcome them. And Jenn fell on some really tough times — at one point she was living out of her car and was arrested.
But, she reached out for help and was eventually connected to a therapist through Give An Hour. Through her therapist, Jenn learned to manage her post-traumatic stress, and she gradually got her life back on track. Today, years later, Jenn is a licensed practical nurse and a mom of two.
Stories like Jenn's are why in 2015, through our Joining Forces initiative, we helped to launch the Campaign to Change Direction — a collective impact effort to change the culture around mental health in our country.
And today, I'm so proud to be here with the Chief of the National Guard Bureau, General Lengyel, and Dr. Barbara Van Dahlen from Give an Hour. We're here to announce an important new memorandum of understanding between the National Guard, the Campaign to Change Direction, and Give an Hour.
You see, the National Guard gets it. Their most valuable resource is their people, and the families that stand behind them. Taking care of these individuals, and empowering them to take care of their own is essential to promoting health and well-being amongst the force.
With this MOU, we will reach countless guard members across this country with the 5 Signs. We will be able to offer expanded mental health services to our guard members and families through a network of more than 7000 give an hour providers. This is especially important for Guard families who don't always live on base or near military communities. So they're not always close to military health facilities. That's why organizations like Give an Hour and Military One Source are so critical in filling the gaps for the enormous population of our armed services.
As a proud National Guard mom, this is personal. I believe that our nation is indebted to you. And we have to show you how much we appreciate your service, with more than just words. We've got to show you and your families that we've got your backs with real, concrete actions — actions like we're seeing today between the National Guard Bureau and Give an Hour that will make a real difference.
We all know that our military members and their families are some of the strongest people around. Regardless of the situation, your strength, resilience and selflessness shine through. And I couldn't be more grateful to be part of the Guard family.
Thank you, and God bless our troops and their families.
Jill Biden, Remarks by Second Lady Jill Biden at a Joining Forces Event on Military Family Mental Health and Wellbeing in Arlington, Virginia Online by Gerhard Peters and John T. Woolley, The American Presidency Project https://www.presidency.ucsb.edu/node/336762