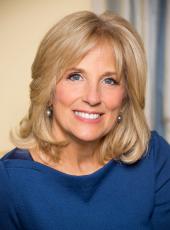 Remarks by Second Lady Jill Biden at a Girls Can Code Graduation Ceremony in Addis Ababa, Ethiopia
[As Prepared for Delivery]
Hi, everyone! Thank you, Lidia, for that great introduction! It's truly a pleasure to be here in Ethiopia this afternoon and to meet all of you.
I know it's graduation day, so let me start by saying congratulations! And I'd like to take a moment to acknowledge and thank your families who have supported you along the way. Let's give them a round of applause.
I'd also to recognize some pretty amazing women and men traveling with me across Africa this week to help highlight the importance of economic empowerment and educational opportunities for women and girls.
I'm so pleased to be joined by Cathy Russell, Ambassador-at-Large for Global Women's Issues; Phil Karsting, from the Department of Agriculture; Shannon Smith, from the State Department; Susan Markham, from USAID; my Chief of Staff, Sheila Nix; Eric Doucette; Special Advisor to my husband Joe, the Vice President; and two of my sisters, Bonnie Jacobs and Kim Snow.
This is my first trip to Ethiopia but I've heard so much about your country from my own students — many of whom are from Ethiopia. They've shared with me their hopes and dreams through their journals and writing assignments. I've been a teacher for over 30 years. I love helping students navigate their future, and see it grow bright before their eyes.
That's exactly what's happening to all of you. I'm so excited to see the projects that you have been working on. From what I've heard, you've worked so hard on them — coming together with your mentors and fellow students to make a difference not only in your own lives but in lives of so many in your community.
Because of the education you are getting, you are setting out on a lifelong path where most of all, you will have the confidence and tools you need to succeed. And, that's one of the reasons why I'm traveling across Africa this week, to Ethiopia, Malawi, and Niger.
During my trip, I'll emphasize my country's commitment to making sure girls and young women — like you — all around the world have the opportunities they deserve — to go to school, get the education they need and become whoever they aspire to be. Because when women and girls are included, they expand our economies, enrich our communities, and our countries are better off for it. It's really that simple.
Earlier this year, I had the opportunity to help launch TeachHer — a partnership led by UNESCO and the State Department — to close the gender gap for girls in science and technology in schools and in careers. These programs will provide girls with valuable job skills and access to inspiring women leaders as mentors. Ethiopia — which will host one of the first TeachHer trainings later this year — is leading the way in the region to close the education gender gap. I'm excited to see the results of this program.
Fifteen years ago, boys were 20 percent more likely than girls to go to school. Today, this gender gap in Ethiopia has been cut in half. That's an incredible accomplishment — and it's because of you.
Despite the progress being made, there's more work to be done. We know girls and boys are equally interested in STEM education and careers. But, as we've seen all around the world, gaps that start in secondary school widen at the college level. Currently, fewer than 20 percent of university STEM graduates in Ethiopia are female. None of our countries are there yet. We must change this. We have to convince more girls and their families that these careers are not just for boys.
That's why I'm proud to be here with you all today. Programs like Girls Can Code are helping high school girls around the world learn computer and IT skills. It's designed to empower and inspire young girls — not only to join STEM fields at the university level, but to encourage young women to pursue careers in STEM fields and become future leaders in technology.
I am happy to announce that because of the success of this pilot program here in Addis — because of your success — the U.S. Embassy will be expanding Girls Can Code to four new cities. This means an additional 200 female students will soon have access to the same classes and lessons that you have had so that they can reach their full potential.
Through partnerships like these with Ethiopia and other African governments, we hope to improve the lives of women and girls through educational opportunities. And we're going to keep pushing until all children —girls and boys — have the same pathways to success and the same chance to go as far as their dreams will take them.
It's clear to me that you understand the importance of your education. And you should be proud of the paths you are setting for yourselves. I urge you to be confident, to always believe in yourself and to never forget that education is the key to success. In the words of Grammy Award winning singer-songwriter Angelique Kidjo, "If they are educated, they will educate their communities. If they are healthy, they will ensure others grow up healthy. If they are empowered, they will change the world."
Each of you can and will change the world. But it's up to you to seize the opportunity — to rise to the occasion. To take risks. You're women of action. And I know there's nothing you cannot do if you have confidence in yourself and don't let anything stand in the way of your goals.
You are already making a difference in your own life and in the lives of your family members. Continue to challenge yourselves to make a difference in your school, your communities, and your country. You're trailblazers. You're leading the way for the generations of students who come after you. As you have found mentors here, be a mentor for others.
Once again, congratulations. You all are my inspiration, and I'm excited to see what you do in the future. Thank you so much for inviting me to your graduation ceremony.
Jill Biden, Remarks by Second Lady Jill Biden at a Girls Can Code Graduation Ceremony in Addis Ababa, Ethiopia Online by Gerhard Peters and John T. Woolley, The American Presidency Project https://www.presidency.ucsb.edu/node/336787