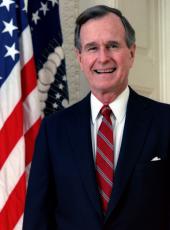 Remarks to Schoolchildren at the White House Halloween Party
Thank you all very much. And first, let me thank you guys that gave us the pledge cards. You did a good job on that. And my thanks to Willard Scott, the weatherman who got the weather to hold off for us here.
And Barbara and I want to welcome all of you to the White House Halloween spectacular. I want to particularly thank Marilyn Quayle, the wife of the Vice President, for being with us right here, and then welcome our daughter-in-law Margaret and the Turtle. The Turtle is our grandchild named Marshall, going as a turtle. You see how it is? It's on the back there. You've got to see that.
How many of you guys believe in ghosts? How many? [Applause] You know, they say that there's a ghost in this old house. And the most famous one, you know, is Abraham Lincoln. And Barbara and I haven't seen the ghost of Abraham Lincoln walking the halls, but this is our first Halloween in the White House, so maybe we'll see him tonight.
But Halloween is a time for ghosts and goblins, for haunted houses and scary stories. But right now I want to talk to you just briefly about a scary story that isn't make-believe. And you know what I'm talking about. I'm talking about illegal drugs and how they hurt people and how they hurt families, hurt kids, some of them just like you.
And I get a lot of letters every day as President, a lot of them from children your age. And I brought along one letter that I want to read today from a fifth grade girl named Ana Zamora. She's not here -- she lives out in Chicago, but I want you to hear what she's got to say about what drugs are doing to her neighborhood.
"Dear President Bush," -- here's her letter -- "I never go outside because my mom gets scared that I'll get hurt because of the gang fights. President Bush, I've heard that you're pushing for a war on drugs. Please help remove drugs from our neighborhoods. I will do my part by saying no to drugs, and I hope you can do yours. I know this is hard, but you can do it."
Well, I want to tell her, Ana, and all of you: We will do our best. And if she keeps doing her part, and if all of you do the same, we're going to stop drugs and keep our schools and our neighborhoods safe.
And I know you handed in the pledge cards when you came in, and I know that you got your starfish pins. And last month I went on television to talk about not using drugs. And if you saw me, you already know the story about the boy who saved the starfish. Well, you can read that story on the Halloween bags that we'll be handing out to each of you in just a moment. And I hope you will read it and think about it, too, because each one of you is just as special as the starfish that the boy saves. And just like the boy in the story, you can help someone else -- maybe a friend, maybe your own brother or sister -- help them stay away from drugs and all the hurt and pain they cause.
And so, today I want to tell you the same thing Barbara and I tell our own grandchildren: Drugs are dangerous. You don't need drugs to make you feel good or to be cool or to make friends. And so, if anyone tries to get you to take drugs -- even once -- you can say no thanks, I don't do drugs. And if you do that, you're going to make a lot of people who love you very happy, and you're going to be happy yourselves.
And now, everyone knows it's Halloween, and it's time for the fun to continue. Thanks for coming, and God bless you, and God bless the United States of America. Thank you all very much.
Note: The President spoke at 1:03 p.m. on the South Lawn of the White House.
George Bush, Remarks to Schoolchildren at the White House Halloween Party Online by Gerhard Peters and John T. Woolley, The American Presidency Project https://www.presidency.ucsb.edu/node/264380