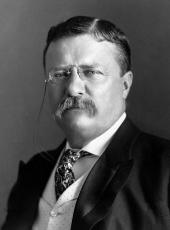 Remarks in Salida, Colorado
It is a great pleasure to have the chance of greeting you today. I can not say how I have enjoyed being in Colorado again. It has been the first three weeks' holiday I have had since I have been President, and I suppose it will be the last, and I have enjoyed it to the full.
In greeting you let me say a word or two of special acknowledgment to the veterans of the Civil War, and to say how glad I am wherever I go to be greeted by the men to whom we owe it that we have a country to be proud of at all. Then let me say a special word of greeting to those at the other end of the line, to the small people. I have been particularly pleased coming through Colorado to see the care you are taking with your schools in the education of the children, who will control the destiny of this state when we, who are now in our prime, shall have passed from the stage.
I congratulate you upon your marvelous material prosperity. I con gratulate you still more on the pains you are taking to educate the citizenship of the future, to educate the boys and girls who will be the men and women twenty years hence who will be controlling the destiny of this State. For, important though material prosperity is, there is a thing that is far more important, and that is the character of the individual citizens. That is what counts most. That is what made you men of the Civil War able to preserve the Union. It was not chiefly the material wealth of the country; it was the character of the average citizen who went into the ranks.
It is so in private life, and in civil life. The character of the average man and average woman is what in the last resort determines the great ness of the State, the greatness of the nation. I believe in this people with all my heart and soul, because I believe in the average of character of the people.
Let me say one more word here in this railway town of special greeting to the railway men. It has always seemed to me that the men engaged in the actual work of handling the railways of the country possess, by virtue of their work, certain qualities which are especially necessary to good citizenship. They are accustomed to work hard.
They are accustomed to take risks. They are accustomed both to assume responsibility and to obey orders quickly, and both qualities are absolutely necessary. You cannot command if you cannot obey.
Theodore Roosevelt, Remarks in Salida, Colorado Online by Gerhard Peters and John T. Woolley, The American Presidency Project https://www.presidency.ucsb.edu/node/343614