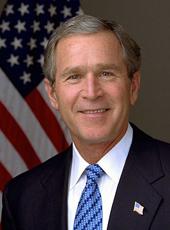 Remarks at a Saint Patrick's Day Shamrock Presentation Ceremony With Prime Minister Bertie Ahern of Ireland
President Bush. Taoiseach, thank you very much. Welcome back.
Prime Minister Ahern. Thank you.
President Bush. Laura and I are delighted to welcome you here to the White House. I'm proud to accept the bowl of shamrocks as a symbol of our friendship.
The friendship between Ireland and the United States has deep roots. Few people fought as hard for American independence as the sons of Erin. At the end of the Revolutionary War, Lord Mountjoy told the House of Commons that, "We've lost America through the Irish." The Irish played a key role in Washington's army. And in the two centuries since, the ties between Ireland and America have only strengthened.
The ties between Ireland and America are reflected in this great house. This house was designed by an Irish architect, and he used as his model the grandest building he knew, Leinster House in Ireland. The affinities between the two buildings are more than just architectural; the White House, built by James Hoban, has been home to every American President since John Q. Adams' father, John. The Dublin building that inspired him now serves as a free parliament in a free and independent Ireland.
The ties between Ireland and America are also reflected in our people. Ireland has one of the fastest growing economies in Europe, and its growth is attracting immigrants. For more than a century, that was a different story. Millions of Irish came to our shores because of war and poverty and famine. Often they arrived with nothing but the faith of their fathers and a willingness to work. These men and women who built our cities were also the soldiers who defended our freedom in every one of our wars. They're the priests and they're the nuns who built a system of parochial schools that provided a decent education for millions of poor immigrants. And they're now doing the same thing for a new generation of African Americans and Latino Americans in our inner cities.
Like Saint Patrick, the Irish in America began their life in their new land as exiles, but came to love it as home. Finally, the ties between Ireland and America are reflected in our common commitment to bring the blessings of liberty to every man and woman and child on this Earth.
In the 20th century, Ireland won its independence and raised up a democracy that offered its people a just and better life. In the 21st century, Ireland is now helping other nations who share the same aspirations for peace and prosperity by fighting hunger and the spread of HIV/AIDS in Africa, by supporting relief efforts for victims of the tsunami in Asia, and by helping the Afghan people rebuild their lives and their country. Ireland is independent when it comes to foreign policy, but Ireland is not neutral when it comes to the global challenges like hunger and disease and human rights.
Taoiseach, you're making a big contribution to our world, and we appreciate it. The United States appreciates all of Ireland's efforts for peace and freedom. Americans are grateful to our Irish friends, and we are proud of our Irish heritage.
The Census Bureau tells us there are more than 34 million Americans that claim Irish ancestry. On Saint Patrick's Day, I suspect that number jumps a little bit. [Laughter] On this special day, we honor the saint who brought the gospel of peace to the Green Isle, and we count ourselves blessed by the warm friendship between his adopted land and our own.
Thanks for coming. Appreciate it.
NOTE: The President spoke at 10:31 a.m. in the Roosevelt Room at the White House. The transcript released by the Office of the Press Secretary also included the remarks of Prime Minister Ahern.
George W. Bush, Remarks at a Saint Patrick's Day Shamrock Presentation Ceremony With Prime Minister Bertie Ahern of Ireland Online by Gerhard Peters and John T. Woolley, The American Presidency Project https://www.presidency.ucsb.edu/node/214603