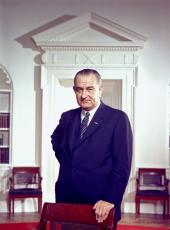 Remarks in Sacramento on the Steps of the State Capitol
Governor Brown; I am very pleased to have Mrs. Brown and Kathy here. Reverend Ferguson, Senator Salinger, Speaker Unruh, Senator Burns, Congressman Moss, my good friends and gracious hosts in Sacramento:
I am very proud to be in the home State of more Americans than any other. California sets a fine example for the Nation, because here Americans and Texans live together side by side in relative harmony.
Your State was almost my home State, too. When I was a teenager, I heard that California wanted men to match her mountains, so I came out here to apply. But I got a job in the fruit orchards instead and I went back home to the Texas hills.
I am very proud to be here in Sacramento today where everything is done up brown. As the son of a State legislator, I knew the ways and the wisdom of the State House before I ever knew the location of the White House, and my respect for State governments and the people who serve them has never waned.
I might say that Pat Brown knows the way to both the State House and the White House, and the door is open to him in both places. I know that you have no vacancies in the United States Senate, but anything can happen, and so I would like you to meet and to know my Press Secretary, George Reedy. But Pierre was my Press Secretary, too. I always thought he would go a long way, too, but I never dreamed that the day would come when I would be responsible for his public relations.
Four years ago I came to this same scene to ask your votes, to ask your votes for a great and gallant American, John Fitzgerald Kennedy.
On this occasion, at the capital of all the people of this Union's largest State, I come as no partisan. I come as President of all the people of the United States, to speak to all the Nation, and for the Nation, to all the world.
In our history, this is a day of highest honor. On this day 177 years ago our forefathers ordained and established the Constitution of the United States. Over the years our Union has grown--from the Atlantic seaboard to the mid-Pacific, from the Florida Keys to the far north, from 13 States to 50 States, from 3 million citizens to nearly 200 million now.
On that same rock of the Constitution, our Republic still stands. It stands stable, it stands secure, never stronger, never more successful, never so prosperous, never more determined to defend freedom or to preserve peace.
Our system is succeeding as none before-anywhere, at any time--have ever succeeded. Of all the ages that men have lived, this age of America is the best of all. This is the real truth about America now, and you know it.
But others must know this and others must understand it. That is why I have come to California to speak to you as I do today. I want my voice to be heard around the world, for I speak not for myself, but for the people I serve: the strong, the sensible, the moral, the decent, and the peaceful people of the United States.
In this century, time and time again, other men in other lands have misled themselves about what they have heard or what they have read from our land in national election years. From Hitler in 1940 to Castro in 1962, grave miscalculations have been made about America at election time. Our seasons of debate have been miscalculated as seasons of distraction and diversion and division.
There must be no such miscalculation in 1964.
To those who look to us in trust, to all who wish us well, and to any who wish us ill, I say this today: Do not misjudge America's readiness or America's will. Do not miscalculate the unity of all the American people.
Our Nation, conceived in independence and brought forth in unity, has not now come to a time of disunity, or division, or diversion. Through all our years America's cause has been the cause of all of mankind, and this is our cause still. Our purpose is to live in freedom in a world of peace-and that American purpose will never change.
But this generation of Americans, blooded in battle, matured in peril, living in times when life was never better, but never in graver danger, we know that eternal vigilance is the price of liberty.
We know, as Tom Paine put it, "those who would reap the benefits of liberty must bear like men the hardships of defending it." This we are doing, and this we shall always do.
Here in California I do not need to recite the facts of America's strength and power, for you are the real builders of that strength. We are strong; we are the strongest nation on the earth. Our allies trust that strength. Our adversaries must respect it. Men of all lands can have faith in its wise use.
But the condition of our strength is never static. As dangers change, our strength must change, and we are matching new dangers with sure reply.
Seven years ago America awakened one morning to find a Soviet satellite orbiting the skies. We found that our adversaries had acquired new capabilities for the use, or the misuse, of space.
This administration moved to meet that challenge. We sought and we supported a resolution unanimously approved in the United Nations banning the use of weapons of mass destruction in outer space. We have stated that we have no intention of putting warheads into orbit. We have no reason to believe that any nation now plans to put nuclear warheads into orbit. We have more effective systems today.
At the same time, we recognize the danger that an aggressor might some day use armed satellites to try to terrorize the entire population of the world, and we have acted to meet that threat. To insure that no nation will be tempted to use the reaches of space as a platform for weapons of mass destruction, we began in 1962 and 1963 to develop systems capable of destroying bomb-carrying satellites.
We have now developed and tested two systems with the ability to intercept and destroy armed satellites circling the earth in space. I can tell you today that these systems are in place, that these systems are operationally ready, that these systems are on alert to protect this Nation and to protect the free world.
Our only purpose still is peace, but should another nation employ such weapons in space, the United States will be prepared and will be ready to reply. But this is not the only new development. We are constantly seeking means of protecting this Nation and our allies.
Today I am able to tell you, and I am able to say to the entire world, we have a major increase in our capacity to detect hostile launches against the free world.
Previously, our radar capability had been limited to the detection of objects within the line of sight, but now we have produced, and we are installing, our first facilities for operational "over-the-horizon" radar. This radar will literally look around the curve of the earth, alerting us to aircraft, and especially to missiles, within seconds after they are launched.
This capability will give us earlier warning than ever before of any hostile launches against this country. This means more time to prepare for our retaliatory strike and more time for us to decide, to decide with prudence and reason, the scope and the extent of our retaliatory strike. This is another advance in our vigil of peace to fulfill our responsibility as the sentry of security for all the free world.
Let me also say this for the people of this Nation to all, also, who may listen in the world: Long ago, a great American patriot said to his countrymen, "We have one country, one Constitution, and one destiny." So let all understand that this is America today. We are not a nation divided, or dividing, or divisible. Our will and our work today is that the meaning of our country and our Constitution, and our destiny, shall be the same for all Americans, regardless of their creed or their color or their origins.
What men are in America is not determined by their pedigree or their purse but by their soul and spirit and by their Godgiven worth. Others have in times past believed that abundance and comfort and contentment would make Americans flabby and soft and weak. I know this generation of Americans is lean and strong and wise.
As we have no delusions about the dangers of the world, we have no illusions about our challenges here at home. We know that we have problems to meet; and we know that we shall meet those challenges.
Our abundance will not produce arrogance, success will not turn us into suspicion of one another, we will never trade the pursuit of happiness for the persecutions of hate. If we have new prosperity in our pockets, we carry priceless values in our hearts.
Our fathers followed the sun westward to open a continent.
Today we guide our course by the star of the Constitution that our forefathers fixed for us as we go forth to open the new age of civilization in America.
Others searched for gold. We search and we seek after far more precious values. We seek peace and justice and decency for all mankind everywhere.
Our arms shall be always ready, but our hand shall be always extended to those who will join us in a pursuit of peace with honor.
We live in a glorious time in a wonderful land. We have much to be thankful for. We can count our blessings, and they are many. We have much to protect and to preserve and to perpetuate.
You are the leading State in the leading nation in the world. You have produced leaders worthy of your people, and today California stands out in front as no other State in this Nation stands. So let us realize that we are trustees and we are guardians of all that is good, and let us try to be worthy of this land of ours. Let us try to build this State and build this nation as a nation of lovers instead of a nation of haters.
Let us direct and guide our conduct by the Golden Rule of doing unto others as you would have them do unto you.
Let us try to join in a cooperative effort, not a dividing one, to see that our resources are conserved, that we have the water that we need to live in happiness, that we have the roads that we need to travel over, that we have a transportation system that will bring us to work and to our pleasures, that we have a roof over the homes of all of our children, that we have a school for them to attend and a teacher awaiting there to meet them that is competent to lead them.
And then let us see that we not only have this in the great State of California, but we have it in the union of the Nation.
Oh, what you have done to lead the way in the field of education is an inspiration to all of us who come here. So keep up your leadership. Go on your forward march in this great work until the day comes when all have homes, when all children are taught all they can absorb, when we have recreation to take care of our leisure time, and when brother loves brother and neighbor embraces neighbor.
Thank you, goodby, and God bless you.
Note: The President spoke at 12:45 p.m. on the steps of the State Capitol in Sacramento. In his opening words he referred to Governor Edmund G. Brown of California and Mrs. Brown and their daughter Kathleen, the Reverend Robert R. Ferguson, Chaplain of the California State Assembly, Pierre Salinger, U.S. Senator from California and former Press Secretary to the President, Jesse M. Unruh, Speaker of the California State Assembly, Hugh M. Burns, California State Senator, and John E. Moss, U.S. Representative from California.
Lyndon B. Johnson, Remarks in Sacramento on the Steps of the State Capitol Online by Gerhard Peters and John T. Woolley, The American Presidency Project https://www.presidency.ucsb.edu/node/241483