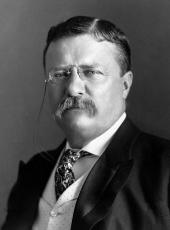 Remarks in Riverpoint, Rhode Island
Mr. Chairman and you citizens of Rhode Island and men and women of the Pawtucket Valley:
I am glad to have the chance to stop for so brief a time in this industrial centre. It seems to me, Mr. Chairman, that Rhode Island teaches a peculiar lesson to all our country, for while you have been favored by Providence in material matters in no special way, she has done much, and what she has done is due to her men and women.
The genius of her inhabitants for making the most out of the natural opportunities at hand has made Rhode Island preëminent among the States of the United States, for she has done the utmost possible with her opportunities. The man counts for more than the matter with which he has to deal. You have water power, mines and other natural resources, but it is the man that counts. As in warfare it is the man behind the gun that counts, so it is in civil life the man behind the machine.
I am glad to be greeted by these men of the Grand Army of the Republic who in the time of the nation's darkness gave all they had for the nation's life. You need the man who can work more than you need material resources. You need to have the man who holds within his soul the motive for lofty and disinterested action for the nation. The man who can only reform others and leaves his own family in want is not a good and satisfactory citizen. The good citizen also must have an appreciation of what it is to live in a republic, and he must remember that each must live; not only for himself, but for others, too. As you men of the Great War had deep down in your hearts the honor of the regiment, the corps and the nation, so you men must have that feeling if you would succeed in civil life. We must act, year in and year out, the lesson of brotherhood, treating each man on his own worth without regard to his antecedents. When you men went to the war, comrades came from town or country; whether they were bankers or machinists, all you wanted to know was, whether they would "stay put" when the time came; you wanted to know if they were loyal, and had the nerve to stand by you. We can all get on together if we proceed on the assumption that we treat a man for his worth as a man, and giving square treatment to everybody.
Theodore Roosevelt, Remarks in Riverpoint, Rhode Island Online by Gerhard Peters and John T. Woolley, The American Presidency Project https://www.presidency.ucsb.edu/node/343545