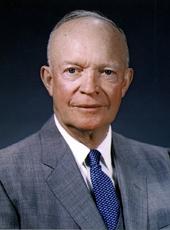 Remarks at a Republican Rally at the Minneapolis-St. Paul International Airport
Mr. Chairman, Your Excellencies, and my fellow Americans:
I am delighted to come back to the Twin City area, and I am happy that I have the opportunity to go over to Red Wing this morning to dedicate a very fine new bridge that will span a river between Wisconsin and this State.
It is absolutely correct that the people of Minnesota had a very great part in deciding for me that I should lay aside the military career in which I had so long lived, and offer myself for the Presidency--or for the candidacy for the Presidency in 1952. The write-in vote of that year was more effective than anything else--certainly far more effective than all the arguments that the politicians and political leaders brought to me over in Paris--and your Congressman Judd was one of them that came. Now in his own right he is very persuasive, but not quite so persuasive as the fact of so many Americans--finding my name nowhere else, many of them putting it in just as "Ike," which again pleased me.
So as I look back over these 8 years, I would be very much too modest to say that I have been responsible for the great advances of these 8 years, but I do want to say to you I am grateful that they have taken place. With national income, national product, employment--everything that you can think of--up dramatically over these 8 years, it is idle to say that this country is not proud of itself and doesn't hold its head up with self-respect in any place in the world.
We are looking forward to leaders who will carry forward, enlarge upon, and improve the programs that have been followed for the past 8 years. Those programs which have been developed have not always been completely successful. They have been modified by others, but as long as we are on the tight track, with determination to secure ourselves in the world, to lead other people into an opportunity for enjoying freedom--as long as we pay our bills, and be solvent as a nation, then we are doing those things that must be done, and at the same time bringing to the people of the United States greater opportunities in the whole fields of health and education and welfare than they have ever had before
So I say, these programs have not yet been completely successful; indeed they never will be--we are human--but they are going to be improved under the leadership that you people now have the right and the opportunity to choose.
And I am myself grateful for all the help that you people have given me, and you have given me help unconsciously at times, when you have simply gone about your business, refusing to panic under fear-mongering people who like to peddle gloom--you have gone and done your business like sturdy, human Americans, and not like fearful vassals of some other kind of government.
I think that every single one of us has reason to be prouder today of his country than he was 8 years ago--and I certainly am. And the fact that all of you people would come out on what I am told is the first bad day of the Minneapolis-St. Paul fall weather, to come out today to give me a chance to greet you and to say thanks to you, means to me that you believe that this country has not been so badly off as some would like to believe.
So thank you very much, and I hope most of you will come to the inauguration to see the next man inaugurated as President--the man of our choice.
Goodbye.
Note: The President's opening words "Mr. Chairman" referred to Leonard L. Lindquist, chairman of the civic committee for the President's visit.
Dwight D. Eisenhower, Remarks at a Republican Rally at the Minneapolis-St. Paul International Airport Online by Gerhard Peters and John T. Woolley, The American Presidency Project https://www.presidency.ucsb.edu/node/235622