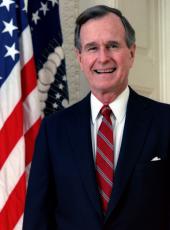 Remarks at a Republican Campaign Rally in Tyler, Texas
Thank you very, very much for that warm welcome back to Tyler and to Smith County. I am just delighted to be here. And of course, let me, at the very outset -- I planned to say something special about Phil Gramm. But I want to ask everybody to look at the Gramm sign there; it says it all: Common sense, uncommon courage. What a great Senator we have up there.
In case anybody is asking "Where's George?" -- I'm here in Smith County, working for a man that I believe in, that I've known for a long time, that will be a great Governor of this State: Clayton Williams.
I want to pay my respects to Bob Mosbacher, who's doing an outstanding job for his country -- our country -- as Secretary of Commerce. I want to thank President Ray Hawkins for permitting us to have this fantastic rally in this marvelous institution, the Tyler Junior College. And I will salute a handful of Belles right here in the front. You can't see them, but there's a bunch of marvelous people from this area that got me started in politics -- 1964. We took it on the chin then. We fought back, and I don't believe I'd be President without that grassroots support of these people and others like them across this State. So, thank you. And also thanks to the Apache Belles.
You know, when Claytie first contacted us about coming back to Tyler, he called our son, George, Jr., living over in Dallas. And he said that he wanted to appear with a popular but aging Texan who's risen to the top in his field. George said, "Nolan Ryan is busy. Do you want to ask my dad?" So, here we are. [Laughter]
And let me just say to her friends here, inasmuch as I've been the one elected to speak for the family, Barbara Bush is delighted to be with you. And I am very proud of the job she's doing as First Lady of this country. The trouble is about Barbara: She worked with our dog to write a best-selling book, and now you give the dog Alpo, and she wants to see the wine list. [Laughter]
But here we are on the day before this election, and I'm greatly pleased and honored to be back here in Texas, back home where Barbara and I raised our kids, in the State in which I voted in every election since 1948. And I'm proud to be here. I am a Texan, and I'm proud of it. And I know Texas quality when I see it, and that's why I want Phil Gramm and Claytie Williams elected.
And while at it, I'm pleased to support our entire Republican team: Rob Mosbacher for Lieutenant Governor; Kay Bailey Hutchinson, running for treasurer; Buster Brown for attorney general; Warren Harding for comptroller; Wes Gilbreath for land commissioner; and Rick Perry for agriculture commissioner. We have a good, quality, across-the-board team. Please go out and elect every single one of them.
You know the story about Claytie. He's a Texas original -- Fort Stockton, born and bred -- straight-shooter who will do what needs to be done. He believes that we can help shape the Texas of tomorrow by building on the old-fashioned values that we all have grown up with. He believes in hard work, in common sense, in strength of character. And so does Texas -- the entire State.
And just another word about Phil Gramm. I watch this Senate, and I say to myself, as I fight back the liberal program: If we had more Senators like Phil Gramm, we wouldn't be talking about budget deficits, we wouldn't be talking about having to contain government spending; we could get the job done. And Phil Gramm, believe me, is a leader -- the leader; I would say, for just plain common sense in the United States Senate. I want to see him win, and I want to see him win by the biggest margin we've ever elected a Senator with. So, please do your best tomorrow.
I've listened to some of the campaign rhetoric coming out of the other side, and it's sad. It is pessimistic. It is downbeat. It is tired. And it's liberal. And we are the party with a vision for the future, the party of new ideas. And if America wants to change, I think we need a Republican Congress. And I wish we could get it now -- tomorrow -- and then watch what we can do.
I mentioned Phil standing out there for spending constraint. He supports a balanced-budget amendment, and so do I. And you know, the Democrat agenda up there, the Democrat agenda in the Senate and in the House, stifles growth. The Democrats wanted to raise taxes, including income taxes on the working families. I heard some campaign rhetoric yesterday down here about that. Well, let me tell you, they can call it soak the rich all day long; but what it really soaks is working Americans. They talked about a proposed surtax on the rich to raise a few billion dollars; but in the very same bill that passed by overwhelming Democratic votes, in the same bill, they socked it to the working American to the tune of $40 billion. So, don't listen to that tired, liberal, divide, class-warfare rhetoric about soaking the rich. Hold on to your wallets; they're after you, every single one of you.
You see, Phil has this unusual, kind of a nutty idea. He thinks that Americans are not taxed too little, but that Congress spends too much. And he's absolutely right about that. Maybe it's a little old-fashioned for some of the hotshot liberals out there, but this is exactly the way he feels -- and it's exactly the way he votes. And I tell you this: If Congress can't restrain spending, give me what 43 Governors have: Give me that line-item veto, and let the President have a shot at trying to keep the taxes down and the spending down.
I'm glad to hear Claytie say that he's against a State income tax. I think most Texans strongly oppose that concept. I know I do. And again, if we had Claytie here in the Governor's office, I'd have somebody there that I can work with to build a better Texas.
You know, Clayton mentioned the crime proposals of his. We've got to fight crime. I can tell you that our drug czar had a good report to the Nation the other day, showing that we've turned the corner, that we're making progress in our war against drugs. But now we've got to back up those that are fighting the war with good, strong crime legislation. I believe America's fed up with crime. I hope you don't have to worry about it as much in Tyler as we do in other parts of the State and the country; but every family, wherever we are, is concerned about it. And we're fed up with it.
And we have this view -- the Republicans do -- that says the handcuffs don't belong on the cops or the courts, but the handcuffs belong on the criminals. And that's what we're trying to do in our anticrime legislation. Shortly after I took office, I stood out there before the Capitol and called on the Congress to pass tough, new laws to help America take back the streets. And it had strong support from Phil and had strong support from Ralph Hall, the Congressman here, had strong support from the Republicans in the House and the Senate. But in the final hours of the Congress, the Democratic liberals gutted our package to fight back against violent crime. And for my part, I believe we ought to have a little less sympathy for the criminals and a little more sympathy for the victims of crime.
And now, as I've been doing for the last few days, I want to ask you to shift gears with me, because I think that the subject of the Middle East that Claytie alluded to in his very generous opening remarks is on the minds of everybody. And I'd like to shift to a strictly nonpartisan mode and speak to those who perhaps have kids, young men and women, serving in Saudi Arabia. We are at a partisan political event, but I don't get the opportunity to crisscross the country as much as I have recently and the chance to talk directly to as many people. And so, let me just say that the former Senator, Arthur Vandenberg -- some of you students might remember the Vandenberg adage which said politics ends at the water's edge. And this is a noble principle. It's one that we've gotten away from in the Vietnam era, post-Vietnam era. But when we have a couple hundred thousand kids halfway across the world, the country comes together.
And let me just tell you that I am very grateful to the Democratic leaders and the Republican leaders in both the House and the Senate, the Democratic Members and the Republican leaders in both the House and the Senate, for the strong support that they have given the President and the administration as we try to cope with this unprecedented aggression.
Let me be clear: We have no argument with the people of Iraq. We bear no hostility to the Iraqi people at all, nor do any of the over 25 countries represented on land and sea in the Gulf area. We put together a fantastic, historic coalition of nations, large and small, Arab and others, all from across the entire spectrum. They're together, and they're holding strong. But our problem is not then with the people of Iraq; our problem is with Saddam Hussein alone.
And I want to see a peaceful resolution to this crisis. Indeed, we've worked very closely, as you know, with the United Nations -- rejuvenated United Nations, putting 10 resolutions into effect, resolutions that have the support of China and the Soviet Union as well as Western Europe, passing resolutions and speaking with one voice against Iraq's aggression. And I will give these sanctions -- unprecedented economic sanctions -- I will give these sanctions time to work. And I hope and pray that there never will be a shot fired in anger.
Let me be very, very clear: There will be no compromise on the stated objectives of the United Nations Security Council resolutions, no compromise at all, because the brutality against innocent civilians is unacceptable in terms of international law and international behavior. And the naked aggression where a big country bullies its neighbor and takes it over is against everything we believe in this country. And that aggression will not stand. So, I will do my level-best, work my heart out, hold out my hand in every way possible; but we will stop short of making one single concession because aggression that goes rewarded today will be much worse tomorrow. That's the problem, and that's why I will stand strong against the aggression of Saddam Hussein.
You know, I know I'm speaking to parents and to brothers and to sisters and to friends. But let me tell you what the Joint Chiefs tell me. They tell me that we have never had finer young men and women in uniform than we do today -- every one a volunteer, fully trained, highly motivated, the best young kids in the world. And they're now halfway across the globe, and they're standing ready there in the sand and the heat of the desert sun. And we have a lot to be thankful for in this country, and Barbara and I are looking forward very much to being with them on Thanksgiving Day and bringing with them your thanks for their service to the greatest, freest country on the face of the Earth.
You know, a lot of them have filled out absentee ballots, and they're sending them in. And that brings me back now to a slightly more partisan mode. There's a lesson, though, in that -- a lesson that -- in the love of liberty and the precious freedom that gives America its meaning. So, tomorrow I urge all Texans -- all Texans, regardless of how you're going to vote -- to get out there and vote; and do not take democracy for granted.
You know, tomorrow's vote is critical, and so, my message to you all is this: You have a chance to make a difference. The cynics, these Washington pundits that we see on these tiring shows all the time -- I don't know if you're like I am; maybe you enjoy those things, but I can take only so much self-flagellation. [Laughter] And I see all these great inside-the-beltway experts telling us everything that's wrong with the United States. And tomorrow, you can go to the polls and say what's right about it, because we've got a great candidate for Governor and we've got a great United States Senator and we have quality men and women willing to serve. Don't tell me what's wrong with this country; show us what's right about it. Get out and do your civic duty.
And thank you, and God bless you all.
Note: President Bush spoke at 11:30 a.m. in the gymnasium at Tyler Junior College. In his remarks, he referred to the Apache Belles, the college's drill team; Nolan Ryan, pitcher for the Texas Rangers baseball team; William J. Bennett, Director of National Drug Control Policy; and President Saddam Hussein of Iraq.
George Bush, Remarks at a Republican Campaign Rally in Tyler, Texas Online by Gerhard Peters and John T. Woolley, The American Presidency Project https://www.presidency.ucsb.edu/node/265547