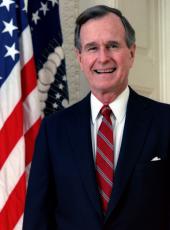 Remarks at a Republican Campaign Rally in Houston, Texas
I think those signs say it all about our Senator: common sense, uncommon courage. That says it all about our great Senator, Phil Gramm. My heavens, we need him back there. We have an opportunity -- those of us who vote here in this State have an opportunity to rack up the biggest majority for a Senator in the history of this State. So, let's get out and get that job done tomorrow.
Phil, thank you for all you do. And, Wendy -- it's a moving and touching story. As long as Phil said something nice about his wife -- [laughter] -- I want to say I think we've got the best First Lady we've ever had, frankly.
And Barbara and I are both delighted to be back in Houston. I pointed out on the campaign trail today that we have voted in every even-year election since 1948 in Texas. And we're looking forward to voting on this one more than ever before -- --
[At this point, audience members interrupted the President's remarks.]
That's all right. Now, look, the guy's got it wrong. Let me help him out. No, no, look, let me just address myself to that question. He's got it wrong. What we're doing in the Persian Gulf is not anything about war for oil. What we're doing is standing up against naked aggression, and we will succeed. We will not turn back. This guy, he just has it mixed up a little bit. Don't be angry. We see these signs all over, and I will continue to try to spell out the fact that what we are standing up for is to throw Saddam Hussein out of Kuwait, to restore the leaders, and then to say naked aggression will not succeed. And that's what it's about.
And let me say to him, nobody wants war less than I do. I went through a pretty tough one. I've been there. But what I want to do is give these economic sanctions a chance to work. I want to hold our coalition -- unprecedented in history -- together. And I want to send a message to aggressors in the future that aggression will not pay. That's what we're doing in the Middle East. And I might add to this guy: We will simply say there can be no compromise with the U.N. resolutions. They've spelled it out, and Saddam Hussein must get out of Kuwait with no conditions. That's what the policy is about.
But I will continue to try to get that message out, loud and clear. Now, let me say this -- Claytie and I were a little late getting here. We had trouble with the magnetometers. Our silver feet got caught there as we were coming through the line. [Laughter] But having said that, let me add this: I've known Clayton Williams for some time. I know of his record. I know of his sincerity. I know of his integrity. And he will be a great Governor for the State of Texas. And I'm going to vote for him early tomorrow morning.
And I want to salute another who's with us today, an old friend of mine, the next Lieutenant Governor, Rob Mosbacher -- and Catherine. Waged a wonderfully aggressive campaign, and we're proud of him. And that office has great power in our State, and it's about time we have a strong leader like Rob Mosbacher -- [laughter] -- Mosbacher, Moosebacher -- it doesn't matter how you spell it. Rob, good luck. You've worked hard. Best of luck to you -- Misbacher, Mosbacher.
And to all the others, I really believe we do have the finest, most qualified ticket that we've seen: Wes Gilbreath for land commissioner, Beau Boulter for the railroad commission, Warren Harding for State treasurer. Then we've got some that aren't up here with us, Rick Perry and Buster Brown and Kaye Bailey Hutchinson -- an outstanding ticket.
And I don't know where Milo went, but I want to thank Milo Hamilton for being here. And I'm glad to see some of my friends from the Astros. And really, it's great to be back here. And it is fitting we're back here, because I remember 2 years ago, almost to the day, an occasion like this when Barbara and I were -- nervous time just before our election, before I was elected President of the United States. And I looked around this room then, as I do now, and I see many people here without whose support I would not be standing here as President. And I'm grateful to each and every one of you. We've never forgotten how we got to serve this country in this way.
But this is a great city and a great comeback city and a city that knows how to live and knows how to fight back, knows how to make those dreams that we all share come true. You know, two decades ago, Houston was the first word the world heard from the Moon. And this fall, Texas is where Republicans are going to have the last word, by electing Phil Gramm, Clayton Williams, and Rob Mosbacher and the rest of our ticket.
There are enormous differences between the two tickets and certainly between our candidate for the United States Senate and our candidate for Governor of this great State. When voters understand these differences, we win. And when Texas elects leaders like Phil and Clayton and Rob Mosbacher and the others up here, America wins.
And there is something to be said about a President having a Governor with whom he can work compatibly. And it's certainly true that I need more United States Senators like Phil Gramm. And if we had them, we wouldn't be worrying about this deficit so much. We wouldn't be on a spending binge in Washington.
Phil put it best: What we need is a growth agenda, expanding economic opportunities for working men and women. Business leaders like Rob Mosbacher and Clayton Williams know how it's done. They've done it themselves. And American working men and women deserve an economy where they can create and prosper. And that's why these three here want to encourage enterprise of every kind for every Texan, from Houston to El Paso and from the Panhandle down to Brownsville. And that's why, in the budget negotiations, we worked so hard to create some incentives to make America less dependent on foreign oil. And that means sound national security policy, and those incentives will help create jobs -- jobs right here in the State of Texas.
And I think we have another item, another priority, that unites us. We Republicans do not waver in our support of a strong national defense. For 10 years we've held firm against the liberal attempts to slash defense. And I am convinced that the remarkable sweep of democracy that we've seen around the world would not have happened without a credible, strong, determined, secure United States of America.
Democracy has finally dawned again in Eastern Europe. And Barbara and I are looking forward to being in Czechoslovakia not so many days from now. After a cold, dark night of 45 years, a curtain down on the aspirations of people, the curtain is up; and there's hope, and there's opportunity, and there's optimism in Eastern Europe. And now we bear wondrous witness to a tidal change in the currents of history. We see America and the Soviet Union working together, solidly together at the United Nations, to stand against aggression. And that's a good thing; that's dramatic change. But in this last budget agreement, defense got some cuts. But I think Phil and I both can certify that we came through at substantially better levels than we thought and that we're at a level now where I can say to the American people: We are going to keep our strength; we are going to demonstrate that we are dependable allies and friends to those who stand up against tyranny around the world.
I like what Claytie said about education. Beyond a strong economy and a strong defense, we have a vision of a society where opportunity is equal to the dreams of the American people; and that means education for all, sound, with new ideas. I want a Governor who is going to help me implement the national goals that came out of the Governors' summit -- the one I called at Charlottesville, Virginia, last year. I want somebody who believes as I do that we don't need more mandated programs from Washington, but that we need more of the action right here at the State level in Texas, giving parents a choice about how to educate their kids.
I sent an educational bill up there to the Congress, the Educational Excellence Act, to reward achievement, encourage accountability -- fundamental education reform. And once again, if we had more like our Republican Congressmen from Texas and more in the Senate like Phil Gramm, we would pass that. Because we would then be giving more say to the parents, and we'd be recognizing the good teachers -- God bless those teachers that look after our young kids every day of their lives. So, when Claytie talks about education reform, it's compatible with what Phil is working towards in the Senate and what I'm striving to do as President of the United States.
This party also knows how important it is for America to follow her dreams, wherever they take us. And that's why last year I announced some major destinations in our space program: first, to have space station Freedom up before the century is out; second, for the new century, a permanent lunar base -- back to the Moon, back to the future -- this time, back to stay; and third, down the road, but nevertheless a goal, a manned expedition to Mars. Exploring the heavens is man's destiny, and Houston and Texas know that it is our destiny. You know it, and I know it. And I want to continue to work to keep that future alive and bright for the generations to come.
And there's one other area I want to mention, another piece of unfinished business. The men and women in this room are committed to -- and I think people all across this State, no matter what walk of life they come from. I know that Clayton Williams is determined to create and protect crime-free and drug-free communities, and so am I. In Washington, Phil has taken a superb leadership role -- a national leader, fighting to clamp down on crime and drugs. And he believes police and prosecutors must have the tools to get violent criminals off the streets and put them away. And, you know, I sent a tough anticrime bill to the Congress 1 1/2 years ago -- new laws to let police and prosecutors take violent criminals off the street and put them away. But in the final hours of the Congress, the Democratic liberals gutted our legislation in a back room late at night.
Well, Republicans are not going to stop fighting. We believe when we're fighting this battle that we're doing it for every community across our country. And we believe fundamentally that it's better to have a little less sympathy for the criminal and a little more for the victim of crime.
We have much to be grateful for, much to be thankful for. And 12 hours from now, the American people will vote. And tomorrow they have a chance to vote for change. I've been fascinated by the fact that many of our kids halfway around the world -- the finest, most dedicated, most highly motivated troops we've ever had -- are sending in absentee ballots. And sometimes I listen to that liberal cacophony saying: Oh, everything's all wrong with this country. Everything's bad -- bad news, bad, bad! My view is this: We can do absolutely anything we set our sights on if we get the right kind of people in public life.
And so, what I'm here to do is say: Barbara and I are proud to be home. We're proud to be voting for Clayton Williams and Phil and Rob Mosbacher and the rest of our ticket. We don't believe that you can't make a difference. We can make a difference, and so can you if you'll get out and work tomorrow. Get your friends to the polls, and vote for these people.
Thank you, and God bless you all.
Note: The President spoke at 6:24 p.m. in the Galleria Ballroom at the Westin Galleria Hotel. In his remarks, he referred to State representatives Rick Perry and Buster Brown; Kaye Hutchinson, candidate for State treasurer; and Milo Hamilton, Houston Astros baseball announcer.
George Bush, Remarks at a Republican Campaign Rally in Houston, Texas Online by Gerhard Peters and John T. Woolley, The American Presidency Project https://www.presidency.ucsb.edu/node/265585