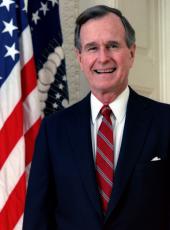 Remarks to Representatives of the Boy Scouts of America
Well, I'm just delighted to see all of you here, and to my friend of longstanding, Harold Hook, delighted he's here. Mr. Graves -- Earl, Mr. Love -- Ben, Boy Scouts and Scouters, and to you three guys who presented these honors to me in a report to me, I'm very grateful to you.
First, I want to thank you for having me now be the honorary president of the Boy Scouts. And I want to thank you for that annual report. But even more, I want to thank you for the good turns -- as you call them -- the good turns that you do, as your own motto says. Boy Scouts are helping, as Mr. Graves said, the homeless and disabled and the elderly and, in short, the most vulnerable in our society. And to those that have been left behind, you guys are saying, "Hey, we're going to help you catch up." And to those who have given up on themselves, you say as Scouts and Scouters, "We've not given up on you." And you made a difference, helping to combat drug abuse, child abuse, hunger, illiteracy -- working with the homeless, unemployment.
You believe in America's greatest treasure -- its ability to care. And for nearly a century now, the Boy Scouts have cared about our children. And you've helped them, enriched them, and helped our children enrich mankind. And so, I want to come by and say: Keep up the good work! I think if we do this enough and if I make the point how strongly I feel about what you do, I think the country will understand very clearly what I mean when I talk about One Thousand Points of Light, because I think of the Scouts, and I think of what you all do to help others. And it's clear, bright light, bright and shining, and you're an inspiration to all of us. And I'm grateful that you came here, and I'm proud to have my gold card here that I promise I'll keep right there in that desk in the Oval Office to remind me of the good work that the Scouts do for everybody.
Thank you very much.
Note: The President spoke at 2 p.m. in the Roosevelt Room at the White House. In his opening remarks, he referred to Harold S. Hook, Earl G. Graves, and Ben H. Love, president, commissioner, and chief executive, respectively, of the Boy Scouts of America. Boy Scout representatives presented the President with a certificate naming him the honorary president of the Boy Scouts, a gold lifetime membership card, and a copy of the Boy Scout Handbook.
George Bush, Remarks to Representatives of the Boy Scouts of America Online by Gerhard Peters and John T. Woolley, The American Presidency Project https://www.presidency.ucsb.edu/node/247772