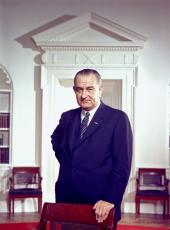 Remarks to Reporters Following a Meeting With Secretary Cohen on Health, Education, and Welfare Programs
From now to the first of the year, we will be baring periodic exchanges with Cabinet officers in preparation for three messages required by law on the State of the Union, the Budget, and the economic messages.
In that connection, we will be reviewing the programs of the past and planning programs of the future. We will be looking into what has been accomplished, where we failed, and how we can do better.
Secretary Cohen has spent a good part of the time this rimming going into the fields of health, education, poverty, social security, pollution, and some of the other things that he and I are interested in. He will be in and out many times before the first of the year.
There is one rather striking and unusual item in his social security report. I think all of you know the very startling and shocking advances that have been made in social security the last few years, but I don't think any of you have realized that there has been a 21 percent increase in social security benefits paid to young people between 18 and 21 who are entitled to social security benefits. They have really financed more people in school than our scholarship program. It is an item that I am very glad to see. We are looking to see how we can improve it in the message next year.
We are now carefully examining, since Secretary Cohen's visit to the ranch several weeks ago, our objectives for not only next year, but for the decade ahead. We will be talking about those.
I am asking him to get me a report on the Mental Retardation Committee that is ready to come in, together with some very far-reaching recommendations that they want to make about what we can do to try to get people out of our hospitals and try to improve the situation with mentally retarded people and improve on the treatments and other things.
We are also going to have very shortly, a report on the disabled, and the couple of hundred thousand more disabled that we have rehabilitated. Secretary Cohen and I are not in any fight about it and there is no conflict in our stories, so it may not be something you might be vitally interested in, but there are some rather substantial human achievements that I want to call to your attention, Mr. Pierpoint. You might be interested. Mr. Cohen will brief you in detail.
Here is a sample of what we are reviewing now: the major reduction in infant mortality, the major declines in juvenile delinquency, social security system providing a decent income to the aged, widows, and orphans. Here are dozens and dozens of them. These are not available. We have not adopted them yet. These are objectives that we want to have, a comprehensive health insurance combined with availability of high quality medical service for all America, not only those over 65, but you ought to be able to get it at Ray Scherer's age.
Note: The President spoke to reporters at 12:45 p.m. in his office at the White House. During his remarks he referred to Robert C. Pierpoint of CBS News and Raymond L. Scherer of NBC News.
The text of Secretary Wilbur J. Cohen's memorandum to the President on social security programs is printed in the Weekly Compilation of Presidential Documents (vol. 4, P. 1354).
For remarks of the President upon receiving the second report of the President's Committee on Mental Retardation, see Item 493.
As printed above, this item follows the text released by the white House Press office.
Lyndon B. Johnson, Remarks to Reporters Following a Meeting With Secretary Cohen on Health, Education, and Welfare Programs Online by Gerhard Peters and John T. Woolley, The American Presidency Project https://www.presidency.ucsb.edu/node/237493