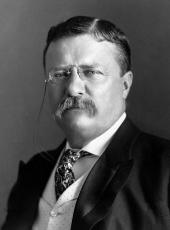 Remarks at Redding, California
My Friends and Fellow-Citizens:
It is a great pleasure to see you to-day. This is to be my last day in California, and I leave the State with the liveliest appreciation of the courtesy with which I have been received, and with memories which I shall ever keep of the pleasant days I have had within your borders. I have seen pretty much all the State from the ocean up to the Sierras and into them; I have come from the south and am leaving at the northern end; and I am impressed, as every man must be, with what our nation is to have within its borders a State such as this, a State in resources and size the equal to many an Old World empire. [Applause] I have enjoyed everything, seeing your farms, your ranches, your cities, noting the diversification of your industries, seeing the products of the ranch, of the irrigated agriculture, of the mine, of the forest, realizing as a man must, who sees San Francisco and that wonderful harbor that here is one of the cities which must in time now near do its full share in dominating the commerce of the world. [Applause] I have enjoyed all of these sights; but most of all I have enjoyed seeing you, the men and women of California. [Applause] That is what counts ultimately in any nation. We need of course the physical advantages, but they are useless if we have not got the men to take advantage of them. Constitution, laws,—they are good things, indispensable things, to have right, but you must have the men behind them or they will amount to but little. There are other nations with the same type of constitution, the same theoretical form of government as ours, and yet those other nations have failed where we have succeeded because the type of citizenship was different. So here, the climate and soil would amount to nothing, if you did not have men and women of the right type to take advantage of them.
You here in California, who succeeded the pioneers, you have won your place by showing the qualities which we like to think of as typical of American citizens. If we of this great Republic are to continue in the future to rise level to our opportunities as our forefathers rose in the past, we must so rise by showing the traits which they showed. There is no patent recipe for making a good citizen any more than there is any patent recipe for making a successful man. Success will come in the long run to the man or the nation possessing the attributes that have conquered success from the days when we first have written records of the nations of mankind. If our people have courage, perseverance, self-restraint, self-mastery, will power and common sense—you need that always—we will win out. I said common sense; I think that there is only one quality worse than hardness of heart and that is softness of head. I want to see the average American citizen be in the future as he has been in the past, a decent man, doing no wrong, and on the other hand able to hold his own also; and just as I want to see with the average citizen, I want to see with the nation. [Cheers and applause]
Theodore Roosevelt, Remarks at Redding, California Online by Gerhard Peters and John T. Woolley, The American Presidency Project https://www.presidency.ucsb.edu/node/298203