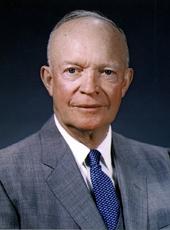 Remarks Recorded for a Telecast Sponsored by the Independent Television Committee for Nixon and Lodge
My fellow Americans:
We are going to talk tonight about a subject of fundamental importance to all Americans and the free world. We are going to hear about the vital importance of maintaining the buying power of the dollar and the confidence of people not only here at home, but abroad, in the future value of that dollar.
Soundness of our money is important to all people who earn wages for what they need; for people who are putting aside money for any number of purposes; for people already on some form of retirement income. The soundness of the U.S. dollar is also important because the dollar has become the reserve back of most of the currencies of the free world.
Let us make no mistake about it--the preservation of the soundness of the dollar, as well as preservation of the confidence that the dollar will remain sound is absolutely essential both for the welfare of our citizens at home and the rest of the free world.
We have been working mightily in the 8 years of this Administration to do the things in our Government that will help maintain a sound, honest dollar. In budget policy, this means the avoidance of deficit spending which can lead only to inflationary pressures. It means managing our debt so as to be as non-inflationary as possible. It means Federal Reserve operation of monetary policy to provide soundly for credit and money needs of a growing economy while avoiding creating excessive money and credit.
We shall hear tonight the Secretary of the Treasury, Robert B. Anderson, discuss in more detail these vital matters which should impress on American citizens the urgent need for voting to continue the proven and prudent financial and economic policies which have been followed in the past 8 years. I now present to you the Secretary of the Treasury, Mr. Anderson, and some distinguished citizens from American private life who will interview Secretary Anderson.
Note: The President's remarks were part of a half-hour program which was telecast over the Columbia Broadcasting System at 8 p.m. Following his remarks Secretary Anderson was interviewed by Dr. Deane W. Mallott, president of Cornell University, Thomas Lazzio, president of Local 300, AFL-CIO, United Auto Workers, Paterson, N.J., and Alfred H. Williams, chairman of the Board of Trustees of the University of Pennsylvania and former president of the Federal Reserve Bank of Philadelphia.
Dwight D. Eisenhower, Remarks Recorded for a Telecast Sponsored by the Independent Television Committee for Nixon and Lodge Online by Gerhard Peters and John T. Woolley, The American Presidency Project https://www.presidency.ucsb.edu/node/234376