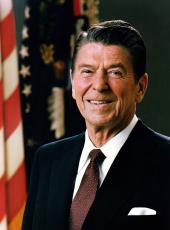 Remarks at a Reception With Barbadian Prime Minister J. M. G. Adams in Bridgetown, Barbados
Sir Deighton, Lady Ward, Your Excellency Prime Minister, Mrs. Adams, Nancy- [laughter] —and you ladies and gentlemen:
Nancy and I are delighted to be here. And we have learned another thing, learned it on the way down here, as a matter of fact, and that is that I'm the first President of the United States since 1934 to visit the Caribbean. And I don't know if the others know what they missed. But for those that are still around, I'll be happy to tell them. [Laughter]
And then, of course, I have learned that your Parliament is the third oldest in the New World here and one of the two was a colony—Virginia—became a part of the United States.
But you did catch me a little by surprise when you started mentioning that previous career of mine. There's one thing about this job now; I'm on prime time in television. For a long time, I've been on the late, late show. [Laughter] And someone once asked me what it was like seeing myself in those old movies on the late show. It's like looking. at a son you never knew you had. [Laughter]
Now, I appreciate your associating yourself with my generation. But I still think I have a little edge on you. I've been reminded of that many times, as to time. It isn't an edge, really, what I mean is that—well, I know what I mean. I mean I'm older than you are. [Laughter]
I once was talking to some young people about that very subject, because much had been made of it during the campaign. And I was mentioning things that when—that due to an older generation, we had made so many advances that were going to be so beneficial to the young people. And I said, "I, for example, have lived 10 years longer than my life expectancy when I was born, which turned out to be a source of annoyance to a great many people." [Laughter]
But, seriously, we are delighted to be here and for the purpose of our trip. I recognize that while our heritage goes back to about the same starting point, then in recent years, the ties of the Caribbean nations were more to Western Europe than they were to the United States. Any yet now, as we look at each other, we are nations of the Americas, nations of the Western World, and this is what prompted my coming up with what I call the "Caribbean Initiative." But together, because you are our third border for our country, well, that makes us a border of yours.
And I think it is important that we work together, we find ways in which we can better the life for all our people in all our countries, and this is the purpose of the Caribbean Initiative. And so, I was delighted for the opportunity to come down here and meet not only with your Prime Minister, your Governor General, but with representatives, leaders from several of the other countries here. And we today have been able to discuss some of the problems and the fact that we need your help, your advice and counsel on this plan to make it as workable as we think it can and should be.
And I can understand those people in New York that were desperate to get down here. I don't think it had anything to do with my visit. It's snowing in New York. [Laughter] And that seems a little unusual, but then Nancy and I come from the home of unusual weather—California. It's a land of sunshine and warmth like this, but it's also the only place in the world where you can fall asleep under a rosebush in full bloom and freeze to death. [Laughter]
So, we just want to thank you for a warm welcome. And I can't wait to get back and be dealing with our Congress on the matter of this initiative and tell them of the warmth that I found here, of welcome, the friendship that I found expressed by the people here, of Barbados, and those of the other countries of the Caribbean nations as well. And we just thank you.
We're sorry that the trip has to be as short as it is. But maybe there'll be a day when we can become tourists and come back here, and we'll set the schedule as to how long we can stay.

Thank you all very much.
Note: The President spoke at 8 p.m. at Ilaro Court, the official residence of the Prime Minister.
Prior to the meeting and reception at Ilaro Court, the President and Mrs. Reagan visited Sir Deighton H. L. Ward, Governor General of Barbados, and Lady Ward at Government House, the Governor General's residence.
Following the reception at Ilaro Court, the President and Mrs. Reagan attended a private dinner at the home of former movie actress Claudette Colbert. They then returned to Casa de Pablo, a private home owned by Paul H. Brandt, president and chairman of the board of A. Brandt Co., Inc., of Ft. Worth, Tex., where they remained overnight.
Ronald Reagan, Remarks at a Reception With Barbadian Prime Minister J. M. G. Adams in Bridgetown, Barbados Online by Gerhard Peters and John T. Woolley, The American Presidency Project https://www.presidency.ucsb.edu/node/244922