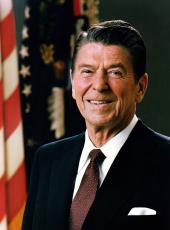 Remarks at a Reception Marking the First Edition of USA Today
Mr. Neuharth, our Senate Majority Leader, Mr. Speaker:
It's wonderful to be here today with all of you and with the distinguished Senate Majority Leader [Howard Baker] and my other good friend and fellow Irishman, Speaker O'Neill. [Laughter] And no matter what Al Neuharth and Mike Connolly or Ann Devroy say, Howard, you were not asked here tonight to referee. [Laughter] Of course, I did notice they put you between us. [Laughter]
This is an unusual event. It's marked not only by the launching of your great new enterprise but by the appearance of so many prominent politicians in the same room with nothing but good things to say about the press. [Laughter]
I understand that many of the reporters and editors of USA Today are from out of town and still adjusting to Washington. Now, you might find that that's going to be a little difficult. It reminds me, back in World War II, a rookie, one day kind of confused by the way the Army did things, said to an old-line Regular Army sergeant that he didn't understand. And the sergeant said, "Son, well, let me tell you something. If you were a new country, just starting in and building your first army, and you finally got your first division created, what would you call it?" And the kid said, "Well, I suppose I'd call it the first division." He said, "Son, in this country they call it the second division, and when you understand that, you'll understand everything about the Army." [Laughter]
Well, of course, civilian Washington also has some examples of that kind, too. You're going to find that it's going to take a little getting used to. A good example of that, true as my word, was a fellow whose job, sitting in one of our big, busy agencies here, is to have papers arrive at his desk, memorandums and so forth, look at them, figure out where they're supposed to go, initial them, and send them on their way. One day, a paper arrived that was classified. But it had come to his desk, so he read it; he initialed it, and sent it on to where he figured it should go. It arrived back at his desk the next day with a memo that said, "You weren't supposed to read this." [Laughter] "Erase your initials and initial the erasure." [Laughter]
To tell the truth, though, I hope you never will completely adjust to Washington. A short time here, say 4 years or 8 years- [laughter] —can be very educational, even inspiring, can stir your feelings for this great country of ours. It's after that that you have to be careful—careful that you aren't too willing to accept things as they are, instead of as they should be.
When I saw the logo on the paper, USA Today, it occurred to me that some of the hard-boiled types around this town might think it a little too nationalistic or even patriotic. Well, I've been accused of having that problem, myself, back over the years. The best answer I know is the one attributed to George M. Cohan. He was asked why there was so much flag-waving in his plays, and he gave a pretty good answer. He said, "Can you think of a better flag to wave?"
And that came home to me just a little while ago, standing here thinking about the recent crackdown on dissidents in the Soviet Union, repression in Poland, the attack on press freedom in Nicaragua. Yet, here we are and you are with all the wizardry of American technology and, in the robust tradition of American journalism, about to bring something new to the world of communications, a potentially great newspaper. Forgive me, but I can't help but feel that this is a testimony to the kind of dreams free men and women can dream and turn into reality here in America.
A few months ago, I said at a Captive Nations' ceremony in the Rose Garden—that will take some getting used to, too-there aren't any rose bushes there. [Laughter] But I said that day to those people that the systematic and growing repression of freedom under Marxist-Leninist regimes was the most important news story of our time. And I still think that's true.
I also think that USA Today is an exciting and important commercial in journalistic enterprise. But even more than that, it's another distant light, another glimmer of hope on the horizon of a world where too often the avid pursuit of the truth is discouraged or suppressed. I speak for everyone in the administration when I say, "You have our very best wishes, and we'll be rooting for you."
Thank you.
Note: The President spoke at approximately 6:40 p.m. on the mall area beneath the Capitol. The reception marked the first edition of Gannett Company's newspaper, USA Today. Al Neuharth is chairman and president of Gannett Company, Inc.
Ronald Reagan, Remarks at a Reception Marking the First Edition of USA Today Online by Gerhard Peters and John T. Woolley, The American Presidency Project https://www.presidency.ucsb.edu/node/246688