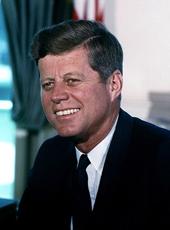 Remarks at a Reception Marking African Freedom Day.
Mr. Secretary, Ambassadors, Members of the United States Congress, ladies and gentlemen:
I want to say, speaking personally and as President of the United States, that it is the greatest possible pleasure to join with you today in celebrating this most important occasion. I think the fact that there are so many Members of the House and Senate here from the Hill, and so many members of the United States Government, indicates our great interest, our profound attachment to the great effort which the people of Africa are making in working towards political freedom, and also working towards a better life for their people.
We also are a revolutionary country, and a revolutionary people, and therefore though many thousands of miles of space may separate our continent from the continent of Africa, today we feel extremely close.
I think that the preoccupation of the United States with the cause of freedom not only here but around the world has been one of the most important facets of our national life. All of our early revolutionary leaders I think echoed the words of Thomas Jefferson that "the disease of liberty is catching." And some of you may remember the exchange between Benjamin Franklin and Thomas Paine. Benjamin Franklin said, "Where freedom lives, there is my home." And Thomas Paine said, "Where freedom is not, there is my home." I think all of us who believe in freedom feel a sense of community with all those who are free, but I think we also feel an even stronger sense of community with those who are not free but who some day will be free.
I must say as an American that I can think that all of us in this country can find continued inspiration and I think all of you who are citizens of countries who have newly emerged to freedom, can find some inspiration in the Farewell Address of George Washington.
Washington wrote the address in 1796, in order to eliminate himself as a candidate for a third term, but most importantly to give some guidance to our new Republic. His text, his speech, is alive with the spirit of liberty. It speaks of a union of States as a political fortress against the batteries of internal and external enemies. It counsels against adopting hasty improvisations at the expense of principles which thus might undermine what cannot be directly overthrown.
There is wisdom and foresight in Washington's instructions to cherish public credit and to promote as an object of primary importance institutions for the general diffusion of knowledge. Washington told our forefathers in this country to reject permanent, inveterate antipathies against particular nations and passionate attachments for others, and said any nation failing in this is in some degree a slave. He warned against foreign influences which seek to tamper with domestic factions, to practice the arts of seduction, to mislead public opinion. His rule for commercial relations was to have with them as little political connection as possible.
Every year in the United States Senate we read his speech, and we still get great benefit from it. I hope that in your experiences you will also get benefit from it. I want to stress today that we look to the future with the greatest degree of confidence and hope, and I hope that the people of your continent recognize that we wish to be associated intimately with them, that we wish for them the same things we wish for ourselves: peace, the opportunity to develop our own institutions in our own way, to be independent not only politically but in all of the other kinds of independence which make up important national security.
Your brightest days are still ahead. I believe ours are, also. And I hope when the history of these times is written--when the history of the decade of the Sixties will be written, they will record a more intimate and closer attachment year by year between your countries of Africa and this country of the United States.
Note: The President spoke at 11:37 a.m. in the Drawing Room of the State Department Auditorium. His opening words "Mr. Secretary" referred to Secretary of State Dean Rusk.
The diplomatic reception was held by Secretary Rusk for African ambassadors accredited to Washington and their staffs. Among the guests were Members of Congress and the Supreme Court and Government officials.
African Freedom Day was originally proclaimed in a resolution of the first Conference of Independent African States at Accra in April 1958.
John F. Kennedy, Remarks at a Reception Marking African Freedom Day. Online by Gerhard Peters and John T. Woolley, The American Presidency Project https://www.presidency.ucsb.edu/node/234643