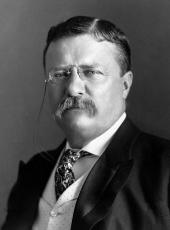 Remarks at a Reception Given by President Roosevelt to Porto Rico School Teachers at the White House
Ladies and gentlemen:
I wish to greet you with all my heart here at the national capital. It is my earnest wish as it was the wish of my lamented predecessor, and as it is the wish of the people of the United States, that only unmixed good shall come to the people of Porto Rico because of their connection with this country.
I greet you with peculiar pleasure and interest, because this body and those like you who are engaged in the work of education in Porto Rico are doing that work which, more than any other, is vital to the future of the island. We must have education in its broadest and deepest sense—education of the heart and soul as well as the mind—in order to fit any people to do its duty among the free peoples of progress in the world. And I trust that you here, you teachers, you men and women engaged in preparing the next generation to do its work, realize fully the weight of the responsibility resting upon you. According as you here in this room and your colleagues do your work well or ill, it depends as to how the next generation of Porto Rico shall do their work in the world.
I am glad to see you because of the very fact that there is this responsibility upon you. Nothing in this world comes to people who will not work. Nothing worth having comes to those who do not or are not willing to make an effort to get it, and I hail you here because you represent that great body of your fellows in Porto Rico who are making every effort to fit themselves, physically, mentally and morally, to do the best work of which they are capable in this world. I greet you and welcome you here.
Theodore Roosevelt, Remarks at a Reception Given by President Roosevelt to Porto Rico School Teachers at the White House Online by Gerhard Peters and John T. Woolley, The American Presidency Project https://www.presidency.ucsb.edu/node/343670