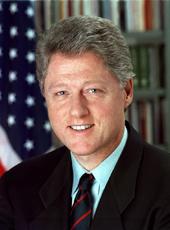 Remarks at a Reception for the Africa Prize for Leadership for the Sustainable End of Hunger
Thank you so very much for that warm welcome. I've had a great 2 days; I like being on Nelson Mandela's coattails.
I was sitting there listening to the Secretary of Commerce introduce me, and it got more and more and more generous. And for a moment, I was almost carried away. Then I remembered what a sterling example that was of Clinton's third law of politics, which is, whenever possible, be introduced by someone you've appointed to high office. [Laughter] I am delighted to be here with President Mandela, Her Majesty Queen Noor, Mr. Secretary-General, Mr. Kakizawa, Madam President, Mr. Chester, Chief Anyaoku, and all of you. I want to say a serious word of thanks to Ron Brown not only for his introduction but for the work he has already begun to do with his counterpart in South Africa, with the U.S.-South Africa Business Development Committee, with the work he has done all across the world to promote the interest of our country. I think it is no exaggeration to say, as many business people of both parties have said to me, that he is the finest Secretary of Commerce in decades; and we appreciate him very much.
Secretary Brown and several of you whom I see here, along with the Vice President and Mrs. Gore and the First Lady, were part of the delegation that represented the United States and the President at the swearing-in of President Mandela last spring. It was a triumphant moment for him and for his country. To see someone who had sacrificed so much for so long in the fight for freedom finally wind up in the driver's seat really made all of us believe, as I said today to the Congressional Black Caucus, that some dreams really do come true.
I think it important to say, as I felt again today when President Mandela and I were at our press conference and I looked at him there with his delegation from all segments of South African society, that his victory was a victory for all South Africans, without regard to race or political party, for they were all freed of the oppression, they were all freed of the division, they were all freed of apartheid. It made slaves of them all, and now they are all free.
I'm honored to be here with you tonight because of this award you have given so deservingly to the President. Clearly as South Africans go forward, they face many, many challenges, the legacy of over three centuries of apartheid, the challenge of illiteracy, the challenge of homelessness, the challenge of joblessness, the challenge to improve the health care system. But one of the most profound challenges, clearly, is the challenge of hunger. Perhaps America's greatest champion of this cause in recent history was the late Congressman Mickey Leland, who was a good friend of mine. He was once asked what a guy from Texas was doing spending so much time trying to end hunger in Africa. And he said, and I quote, "I'm as much a citizen of this world as I am of my country."
Clearly, that applies with equal force to many of you who are here tonight, explains why you're so devoted to this project and why your work is so important. Your programs have made us more aware of the persistence of starvation in all corners of the globe. Already you are helping people in more than 25 nations to help themselves to end their hunger and, as you say in your prize here, on a sustainable basis. The United States is in your debt for your work.
Now President Mandela, having won the victory of freedom, must see that it bears fruit. And all of us must do what we can to see that he succeeds. As we work to support his efforts and the efforts of all South Africans to build a new nation, we know that dealing with hunger is an important part of their mission.
In my meetings with President Mandela this week, we outlined the steps we would take to increase our strong support for South Africa, including helping to fight the problem of hunger. We will support South Africa's plans for nutrition programs, for school lunch programs, for land reforms, for expansion of clean water and sanitation efforts, for rural development. Peace Corps volunteers will help to provide assistance with agriculture and food production projects. We know that the people of America must act on the pride and the stirrings that were awakened in us by what has occurred in South Africa. We know that we cannot confine our attention to South Africa alone, that we have for too long in this Nation ignored the vast potential as well as the solvable problems of the African Continent.
Our country has shown its concern by the actions we took in Somalia, the work we have done so recently in Rwanda, by the conference on Africa which we held at the White House recently, by all the things that we are trying to do to heighten the awareness of the problems and promise of Africa here in the United States.
We are also committed to work on trying to avert some tragedies before they occur. Most recently, we have worked a lot on planning what we might do to avert what many predict will be a terrible crisis in the Horn of Africa. This is the sort of thing the United States ought to be doing. It will make us a better partner with the Hunger Project because we cannot approach Africa without dealing with this issue.
I have said from the beginning of my administration that our mission in the world was to promote freedom and democracy, that that would increase our own security because free people with democratic governments do not have time or the inclination to go to war with each other, to break their word, or to otherwise meddle in things that undermine human potential. They are always too busy trying to increase the human potential of those whom they represent. But it has been said that a hungry man is not a free man. So if we seek freedom and democracy, we must first also seek to meet the basic needs that God meant for all people to have met in this world, wherever they live, whatever their race, whatever their station, especially the children.
Let me say to you that I have had a marvelous time with President Mandela. We have talked about a lot of things. We have told stories. One of the things that I find that our cultures have in common is the compulsion of its politicians to tell good jokes, often on themselves. [Laughter] We've even discussed the history of boxing in the world over the last 60 years, something the President knows a good deal more about than I do, although I knew enough to keep up.
Let me close with this thought. Nelson Mandela, perhaps his most remarkable achievement was that he spent 27 years as a prisoner and came out the freest of all people.
And so I say to you, Mr. President, as we part for the last time and I go about my business and you go about yours, this morning I awoke before dawn, thinking about the meeting we would have today. And I asked God to free me of all the petty resentments, the negative thoughts, all the things that crowd in on all of us who believe from time to time that life is not exactly as it should be and get frustrated when we cannot make it that way. Because neither I nor anyone else I have ever known has ever faced the spiritual crisis you must have faced so many times, and with each succeeding week and month and year, you reached deeper and deeper and deeper in yourself for the ultimate truth. As you have fed your spirit, let us feed the world.
Congratulations, sir, and thank you.
NOTE: The President spoke at 6:56 p.m. at the Omni Shoreham Hotel. In his remarks, he referred to Queen Noor of Jordan, member, and Robert Chester, chair, board of directors, The Hunger Project; former United Nations Secretary-General Javier Perez de Cuellar, chairman, and Koji Kakizawa, member, Africa Prize international jury; Joan Holmes, president, The Hunger Project; and Emeka Anyaoku, Secretary General of the British Commonwealth.
William J. Clinton, Remarks at a Reception for the Africa Prize for Leadership for the Sustainable End of Hunger Online by Gerhard Peters and John T. Woolley, The American Presidency Project https://www.presidency.ucsb.edu/node/218320