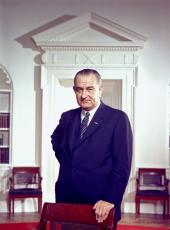 Remarks at a Reception for Members of the Democratic National Committee
I KNOW that all of you have met her but I want Lady Bird to say a word before I get opened up on a long speech.
[At this point Mrs. Johnson spoke briefly, welcoming the Committee members to the White House. She expressed her pleasure at seeing among them old friends she had met as she traveled "across the many years and across the many States." The President then resumed speaking. ]
We know how much you have sacrificed through the years in order that the convictions that you possessed could be carried into Government. We know how sorrowful the last 7 weeks have been for all of you. We meet tonight with heavy hearts because of the loss of a fallen leader, but he left us many good things to work for. We enumerated some of those things in our State of the Union Message a few days ago.
Above all, we are Americans before we are Democrats or Republicans. When I was talking to the Congress, I particularly appealed to the members of my own party to put the interests of the country ahead of the interests of the party, to debate matters always on principles and never on personalities.
There are many things that divide our country, but we would do nothing to muffle dissent. That is one of the great and precious things about this land and the freedom that we enjoy; but we do think that we can disagree without being disagreeable.
I had the good fortune to serve as leader of the Senate for 8 years--the longest period of time any leader ever served under the President of another party. Although we frequently did not see eye to eye on matters of governmental policy, we found that it was not necessary to indulge in personalities. Not once that I recall did I ever make a caustic personal criticism of President Eisenhower, his wife, his children, or his dogs.
I think you will find that we will be able to get through this campaign and any others in which we may engage with the same thought in mind that basically there are so many more things that unite us than divide us. We have faith in this country and we have hope for this country. We believe in the people of this country and their judgment. As Jefferson once said, "The collective judgment of the many is much to be preferred to the individual judgment of the few."
In the past 7 weeks, in my humble and feeble way, at times, I have tried to develop a budget that would give us a strong country, that would give us a solvent country, that would give us a compassionate country. It is very difficult for some people to understand how you can have military strength and still be solvent, how you can have love and understanding for your fellow man, and compassion, and still have both strength and solvency; but I see nothing inconsistent. I don't think that you have to be wasteful. I think if you are prudent in your expenditures there are just so many more things you can do with the dollars that you save.
We have almost $10 billion more in this year's budget for military and space than the Republican administration had, but you can see that we really have not sacrificed in military strength or in our space effort. When you realize, however, that we had nearly $10 billion more last year than they had, you can see that the expenditure of these billions in 1962, 1963, 1964, and 1965 drop off a bit.
So, we saved a billion dollars in defense without reducing our combat strength one bit because we built it up with extra expenditures in 1962 and 1963. As a result, we are going to have more combat strength than we had last year. Bomber for bomber we are relatively strong. Missile for missile, our position compares most favorably with our adversaries. This year we found we had enough nuclear weapons so that we did not have to operate all of the facilities we had. Therefore, we made some reductions there and we have reduced the budget--not much under what President Kennedy had last year, relatively speaking, just a half of 1 percent. That is nothing great to write home about-a half of 1 percent--but the point is we did not add $500 million to it.
I remember that Mr. Rayburn once said when asked what is the real difference between the Democrats and Republicans, he said, "Well, there are many differences, but the one outstanding difference is that they just never like our side."
Senator Morton who is Chairman of the senatorial committee is very astute in the affairs of state and bipartisan with the State Department in representing Mr. Dulles and Mr. Eisenhower, and in my office on the Hill his comment on the message was "The voice of Texas but the hand of Harvard."
Mr. Rockefeller said: "Bargain sales-post-Christmas package of promises."
Mr. Halleck says that he hopes the administration's new-found enthusiasm for economy in Government is as great in June as it is in January.
Mr. Dirksen says it would take fiscal legerdemain to accomplish all of the things the President promised and remain within the budget estimate.
Everything we have promised has a budget estimate for it, and some things we have recommended they are not going to pass. Actually we are going to spend less than the $97.9 in my judgment.
Congressman Arends says, "He promises something for everyone." Sounds kind of sorry, doesn't it?
I would hate to think that I am a President for just a few people. I want to be a President for everyone. Some people find it difficult to understand why one would want to serve everyone.
This is the final comment of Senator Goldwater. I don't want to criticize him and I am not going to say an unkind word about a single personality. As a matter of fact, I want to read what Senator Goldwater said and then conclude. He said, "I wouldn't comment in detail until I have read it." Normally you would want to read something before you talked about it. But he said, "It is my impression that he out-Roosevelt'd Roosevelt, and he out-Kennedy'd Kennedy and even made Truman look like a piker." What finer compliment could be paid!
I am just going to say there is a good patriotic man who just had a little difficulty understanding the President's program when he tries to do something for all of the people, but we are going to do something for all of the people. We trust with your help, the good Lord's help, and the help of all of the people in this country that it will be more understandable to him at the end of the year than it was at the beginning of the year.
We want each person here from each State of the Union to know that this is your house, that you are not only welcome here but that we are very grateful to all of you for what you did in making it possible for us to be here.
Note: The White House reception for Democratic committeemen and committeewomen, in Washington for a series of business meetings, was held in the State Dining Room at 6 p.m.
Lyndon B. Johnson, Remarks at a Reception for Members of the Democratic National Committee Online by Gerhard Peters and John T. Woolley, The American Presidency Project https://www.presidency.ucsb.edu/node/242277