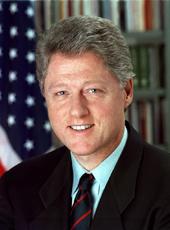 Remarks at a Reception for Hillary Clinton in Nantucket
[The President's remarks are joined in progress.]
The President. We met in 1971. I noticed her in a class we were in in law school. And I had just broken up with this girl I was going with. [Laughter] And I noticed her in this class, and the reason I noticed her in this class, to be honest, is that she attended it less frequently than I had. [Laughter] And she was an interesting, compelling looking woman, so I followed her out of this class. And I got right behind her, and I said, "No, this is nothing but trouble." And I turned around, and I walked off, didn't say a word to her.
And then I kind of stalked her around the law school for 2 or 3 weeks, and I'd get up, and I'd say, "No, this is nothing but trouble," and I would walk off. [Laughter] So one night I was in the Yale Law School library. Now, any of you who have ever seen it, it's a big sort of long, gothic room. It's a skinny, long room. I'm at one end; Hillary is at the other. And there was a guy—I still remember this guy's name; his name was Jeff Glekel—trying to talk me into joining the law journal.
And I said—and it was one of these affirmative action things; he wanted a token guy with an accent. [Laughter] And so he wanted some redneck on the law journal at Yale. You know, it seemed like it would be a good thing. And I kept telling him I didn't want to be on the law journal because I was going home to Arkansas to live and what the hell did I need to be on the law journal. [Laughter] And all the time I'm staring at Hillary who is at the other end of the room, with a book.
So in the middle of this guy's passionate entreaty for me to join the law journal, Hillary slams down the book, and she walks across the library, and she looks at me and says, "Look, you have been staring at me for weeks, and I've been staring back. So at least we ought to know each other's name. I'm Hillary Rodham. What's your name?" I couldn't remember my name. [Laughter]
Now, question number one, this woman has initiative—good in a Senator.
The second thing I want to tell you is this: In 1973, after we had gone together for 2 years and we were very much in love, I was very ambivalent about Hillary coming home to Arkansas. She actually moved to Massachusetts for a while to work for the Children's Defense Fund. And I wanted her to go to New York or go home to Chicago because I thought she had such enormous potential for public service. I didn't want her to, of course; I wanted her to go with me. But I was so afraid I was, in effect, taking away from her life and from this country the most gifted person I had ever known up to that time.
Well, over 25 years later, I still haven't met anybody I thought was as gifted. And in 1993, when we moved to the White House, I said, "I want you to decide where you want to go and what you want to do when we get out of here. For 20 years we've gone where I wanted to go and done what I wanted to do, and I'll give you the next 20 years. And if I'm still alive after that, we'll fight over the rest." [Laughter]
And so all she is really doing today is what I thought for the benefit of the country and for the development of her own potential for service maybe she should have been able to do in 1973. I'm very glad she didn't do it then, and very glad she is doing it today.
Thank you very much.
NOTE: The President spoke at approximately 10:10 p.m. at a private residence. The press release issued by the Office of the Press Secretary did not include the complete opening remarks of the President. A tape was not available for verification of the content of these remarks.
William J. Clinton, Remarks at a Reception for Hillary Clinton in Nantucket Online by Gerhard Peters and John T. Woolley, The American Presidency Project https://www.presidency.ucsb.edu/node/226678