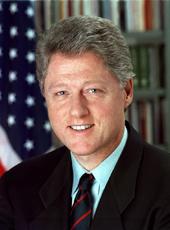 Remarks at a Reception for Business Leaders
Ladies and gentlemen, after about 2 days of solid meetings, President Yeltsin and I are talked out. [Laughter] But we're delighted to see you.
We just came from our joint press conference where President Yeltsin listed about 40 things, or maybe 50, that we discussed. I never thought I would see anyone exhaust the American press corps, but he did it. [Laughter] So then I got up to answer the first question, and I said, before any questions, I want you to know our positions on items 13, 27, and 32. [Laughter]
Ladies and gentlemen, when I became President, I was absolutely convinced our country had to redefine the role of its National Government as we move toward the 21st century and that one of the things we had to do is to move away from the extreme views of Government as a savior for all the problems of society on the one hand or Government as sort of sitting on the sidelines while history goes by on the other. It was obvious to me that we needed a new idea of partnerships between our National Government—partnerships with other countries, partnerships with the business community, partnerships with all ordinary Americans as they seek to fulfill their dreams and their abilities.
This meeting represents two of those partnerships. I want to thank the Vice President for the work he has done with Prime Minister Chernomyrdin in cementing our partnership with Russia on an economic basis and on a scientific basis. And I want to thank Bob Strauss and all the rest of you who have been a part of our partnership between the American Government and the American business community reaching out for new opportunities all around the world.
The depth and the durability of the relationship between the United States and Russia will affect the future of every person in our two countries and every person in the world over the next 10 years. We have to make it right. And one of the ways we can make it right is by a deep economic partnership rooted in trade and investment. We are committed to that. And I know you are committed to that. And I can tell you that Boris Yeltsin is committed to that.
Let me close by thanking some of the people who will turn our words into reality. Besides the Vice President, as he has already noted, the Secretary of Commerce, Ron Brown, the head of our Export-Import Bank, Ken Brody, Ruth Harkin, who runs OPIC for us. I thank all of them. And I also thank Ambassador Tom Pickering, who along with the Secretary of State and so many others in the State Department have totally changed the direction of our American diplomacy so that now the American State Department is known all over the world as being interested in doing business and helping Americans do business, instead of being uninvolved.
I thank Secretary O'Leary and all the other Cabinet members who have been to Russia. And again, I close with pledging my full partnership to you and to my friend Boris Yeltsin. Together, we can make the future what it ought to be for all our people.
Thank you.
NOTE: The President spoke at 4:50 p.m. in the Atrium at the Corcoran Gallery of Art. In his remarks, he referred to Robert Strauss, chairman, U.S.-Russian Business Council.
William J. Clinton, Remarks at a Reception for Business Leaders Online by Gerhard Peters and John T. Woolley, The American Presidency Project https://www.presidency.ucsb.edu/node/217919