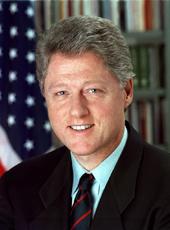 Remarks at a Reception for African-American Religious Leaders
The President. Thank you very much. The Scripture says it's more blessed to give than to receive. I was sitting here thinking, in this case, I wish I were on the giving rather than the receiving end. It is difficult to absorb the depth and breadth of what I have heard and what you have given to me through the words of Reverend King and through your expression, and I thank you.
I thank you also for what you have given to our country. I thank the Members of Congress and the administration, the educators, the ministers, the Ambassadors, all of you who are here, and our friends from South Africa.
Hillary and I are delighted to have President Mandela and Graca here. We thank you, Graca, for your concern for the children who have been made victims of war by being impressed into combat as children and the scars they bear from it. And we thank you, Mr. President, for being the person we'd all like to be on our best day.
I would like you all to think for a few moments, before I bring President Mandela on, not about the terrible unjust sacrifice of his 27 years in prison but about what he's done with the years since he got out of prison, not about how he purged his heart of bitterness and anger while still a prisoner but how he resists every day the temptation to take it up again in the pettiness and meanness of human events. In some ways, that is all the more remarkable.
There have been many blessings for Hillary and for me, far outweighing all the trials, of being given the opportunity by the American people to serve in this position and live in this house. But certainly one of the greatest ones has been the friendship of this good man.
And I want to tell you one little story—I try never to betray any private conversations I have with anybody, but I want to tell you this. [Laughter] When President Mandela—once I was talking to him, and I said to him, "You know, I have listened carefully to everything you have said, to how you laid your anger and your bitterness down. But on the day you got out of prison, Hillary and I were living in Arkansas, in the Governor's Mansion; our daughter was a very young girl. I got her up early on a Sunday morning, and I sat her down on the counter in our kitchen, because we had an elevated television. And I said, 'Chelsea, I want you to watch this. This is one of the great events of your lifetime, and I want you to watch this."'
And she watched President Mandela walk down that last road toward freedom, after all those years in prison. So I said to him one day, I said, "Now, tell me this. I know you invited your jailers to the inauguration, and I know how hard you've worked on this. But weren't you angry one more time when you were walking down that road?" He said, "Yes, briefly, I was." I don't know if he remembers this. He said, "Yes, briefly, I was. And then I remembered, I have waited so long for freedom. And if my anger goes with me out of this place, I will still be their prisoner, and I want to be free. I want to be free."
I say that to set the stage for what is now happening in Nelson Mandela's life. Yesterday we were at the United Nations, and he and I spoke back-to-back, and then we had this luncheon. And we were talking about the troubles in the Congo; we were talking about the continuing, almost compulsive destructiveness of the people there and all the countries outside trying to get into the act to make sure that whoever they don't like doesn't get a leg up. And we were lamenting the colossal waste of human potential in that phenomenally rich country.
And I thought to myself, apartheid is gone in the law in South Africa, but it is still alive in the heart of nearly everybody on Earth in some way or another. And here is this man still giving of himself to try to take the apartheid out of the heart of the people of his continent and, indeed, the people of the world.
We were talking just before we came down about a mutual friend of ours who is the leader of a country, and how he had called and admonished him to try to work through a problem that he has had for too long. And so, I say— I have to say one thing that is slightly amusing about this. Now, President Mandela will probably get up here and make some crack about being an old man and how his time is running out and all that. The truth is he's leaving office because he feels like he's about 25 years old again. [Laughter] And he's so happily married he can't be troubled with all these boring affairs of politics. [Laughter] But I must say, it's the only time I've ever known him to misrepresent the facts, but that is, I'm sure, what is going on here.
But I ask you to think about that. Every time Nelson Mandela walks into a room we all feel a little bigger; we all want to stand up; we all want to cheer, because we'd like to be him on our best day. But what I would say to you is, there is a little bit of apartheid in everybody's heart. And in every gnarly, knotted, distorted situation in the world where people are kept from becoming the best they can be, there is an apartheid of the heart. And if we really honor this stunning sacrifice of 27 years, if we really rejoice in the infinite justice of seeing this man happily married in the autumn of his life, if we really are seeking some driven wisdom from the power of his example, it will be to do whatever we can, however we can, wherever we are, to take the apartheid out of our own and others' hearts.
Ladies and gentlemen, the President of South Africa.
[At this point, President Nelson Mandela of South Africa made brief remarks.]
President Clinton. I want to leave you on a high note here. [Laughter] I want to tell you a story that I never told the President. I have a friend who is a minister—a white minister who was in South Africa recently. And he was given the chance to meet the President, but he was told, "You'll have to go to the airport if you want to meet the President." He said, "I'll go anywhere to shake his hand." So he said, "I was standing off here waiting for him to come, and here comes the President across the lobby of the airport." And he said, "President Mandela walked up to this gorgeous little blond-haired, blue-eyed girl, about 6 years old." And my friend went up to hear the conversation.
And he said to the little girl, "Do you know who I am?" She said, "Yes, you're President Mandela." And he looked at her, and he said, "If you study hard and learn a lot, you can grow up to be President of South Africa some day."
That's a lot to say after this life. Remember the point. God bless you all. Thank you.
NOTE: The President spoke at 6:30 p.m. in the East Room at the White House. In his remarks, he referred to President Mandela's wife, Graca Machel. The transcript released by the Office of the Press Secretary also included the remarks of President Mandela.
William J. Clinton, Remarks at a Reception for African-American Religious Leaders Online by Gerhard Peters and John T. Woolley, The American Presidency Project https://www.presidency.ucsb.edu/node/224348