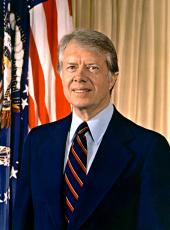 Remarks on Receiving the Maccabean Torch at the Chanukah Torch Relay, 1977 Ceremony in the Oval Office
I want to thank you very much for letting me participate in this ceremony.
As all of you know, 2,000 years ago-or 2,100 years ago, the Maccabees fought for and achieved a tremendous victory for freedom. This was the first occurrence in the history of humankind when the basic struggle was for religious freedom. And that was a precursor of the constant struggle for the Jewish people to have their own land, free of outside domination, a chance to live in peace, to worship God as they choose.
And I believe that it's a very wonderful thing for the world that the Masada, young people of the Zionist Organization of America, have begun--I think, 11 years ago--this ceremony of going to the Shrine to the Maccabees in Israel, acquiring there a light for the torch, of bringing it to our country so that we could share, as Americans, in a sense of brotherhood and common purpose and a recognition of our historical background, together, the courage of the Maccabees and the recent courage, of course, of the new Israeli state.
For the last more than 30 years, this struggle has been going on. And as Rabbi Sternstein said, in the recent weeks there's been a tremendous breakthrough in the search for peace that we hope and pray will be successful. And I hope that this ceremony will remind all the world that Israel and the United States, we stand together in a spirit of deep commitment, with a common religious background and with a common commitment to peace and a recognition of the great courage that was required more than two centuries ago and which is still required to achieve and to maintain that difficult goal of peace and also freedom, together.
Thank you very much.
Note: The President spoke at 2:02 p.m. at the ceremony in the Oval Office. The President received the torch from representatives of Masada, the Youth Movement of the Zionist Organization of America, and handed it to Rabbi Joseph P. Sternstein, president of the organization. Rabbi Sternstein used the flame to light four candles of a menorah in celebration of the fourth day of Chanukah.
Jimmy Carter, Remarks on Receiving the Maccabean Torch at the Chanukah Torch Relay, 1977 Ceremony in the Oval Office Online by Gerhard Peters and John T. Woolley, The American Presidency Project https://www.presidency.ucsb.edu/node/242940