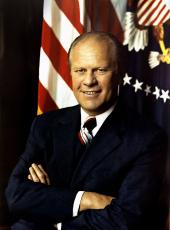 Remarks at a Rally in Houston, Texas
Thank you very, very much, my dear friend, John Connally. May I say at the outset that John and Neil Connally are the kind of people that Betty and Jerry Ford like, because they are great citizens of Texas, wonderful citizens of the United States, and we love them, and so do you.
But it's a pleasure to be here in Houston and the great State of Texas and to have an opportunity to wish my very, very best to Bill Archer, to Ron Paul, and to Alan Steelman and to say that with a rally like this in Texas, I think we're going to win and win overwhelmingly.
On behalf of Betty and myself, I'm going to issue a very special invitation to all of you here to come on down to Washington on January 20 and participate in the inauguration of Jerry Ford and Bob Dole.
Let me reiterate in my own way the working relationship that John Connally and I have had for 20 years. I sat in the House of Representatives, first as a member of the Committee on Appropriations--the Defense Appropriations-and the most articulate, the most effective, the most knowledgeable witness before our committee was John Connally. You should be proud of him. I was in the Cabinet Room the day that the announcement was made that John Connally was going to be the Secretary of the Treasury. The President couldn't have picked a finer man for that fine job; we're lucky.
But you also have some other great Texans who are helping in this campaign. Ray Richardson--Ray Hutchinson,1 excuse me--a dear friend of mine at home is Ray Hutchinson [Richardson]--but Ray, I want to thank you very much for the superb job you have done in organizing the State of Texas. I thank you from the bottom of my heart.
But then at the head of the President Ford Committee is another great Texan, Jim Baker, and I thank Jim for the fine job that he has done.
As we near the countdown on this great election, I recall vividly August 9, 1974. When I took the oath of office as your President, this country was in deep trouble. People were angry with one another. America was divided. There was a great loss of confidence in ourselves, in our Government, and in our Nation. We were suffering unemployment that was reaching a very high level. Inflation was over 12 percent. We were on the brink of a recession. We were still involved in Vietnam.
Yes, America was having trouble. And as I took the oath of office, I said, subsequently, that I had not been elected by your ballots, but I asked for your prayers. The American people responded with their prayers, and we put the ship of state on an even keel, we set a steady, commonsense course. And the net result is, we have restored confidence in the White House because your President has been open, candid, straightforward, and I will do the same for the next 4 years.
We decided that the way to whip inflation was to reduce Federal spending, to reduce the rate of growth of Federal spending, and we have. Inflation, instead of being 12 percent--the last figure, 4.4 percent. That's progress.
We were able to end our involvement in Vietnam. And I am proud to say to all of you in Houston and the other wonderful Texans, that not a single American is fighting or dying on foreign soil today. We are strong and free because we have the finest Army, Navy, Air Force, and Marines in the whole world, and we are going to keep it that way.
Mentioning our national security, there's a distinct difference, as John Connally said, between my position and that of my opponent. I believe that our defense must be fully funded so we can buy the most sophisticated, the most modern weapons--number one, to keep the peace through strength and, number two, to meet any challenge by any adversary from any place in the world. And under my administration today--and in the future--America will be number one.
In contrast, my opponent says today he would cut $5 to $7 billion out of the defense bill. A year ago, he said he would reduce it by $15 billion. In either case, any such reduction in national defense funding would be gambling with the security of the United States today and in the future, and we won't let that happen.
We're going to keep our Nation strong to meet any challenge, to get the respect from our allies. But we must also keep America strong here at home. Yes, we have gone through the worst recession in 40 years. But because of the character of the American people, because of our dedication to the free enterprise system, we are on the verge of the kind of prosperity that we'll have under this administration during the next 4 years.
But this brings up the distinct differences between President Ford on the one hand and my opponent on the other hand. I believe the best way to stimulate our economy, to provide jobs for everybody who wants a job, is to give tax reductions to the individual, particularly the middle-income taxpayer, and to give a tax reduction to industries so they can have an incentive to expand their plants, to build new plants, so that jobs for more Americans will be in the private economy, not dead end jobs that Jimmy Carter wants to give them out of the Federal Treasury.
Over 50 percent of the taxpayers in this country today fall in what we are proud to say is "middle America." I proposed last January a tax reduction that would give to the middle-income taxpayer the kind of tax relief that he deserves. The best tax reform that I know is tax reduction. I submitted to the Congress a proposal that made a lot of sense and would have given the kind of relief that you would appreciate. I recommended that we increase the personal exemption from $750 to $1,000.
Congress, unfortunately--and I think irresponsibly--rejected that proposal. I was talking to a worker in a plant just a week or so ago, and he said, "Well, what will you do about my taxes?" I said I had proposed a tax reduction that would be meaningful to him. I asked how many children did he have. He said he has three. It turned out he had a wife, three children. and himself. I said, "If Congress had done the right thing by you and millions like you, when you have the opportunity to fill out your tax return next April, you would have had $1,250 more in personal exemptions." He said, "Gosh, how could the Congress be so irresponsible?"
So, I made a pledge to him, and I will make the same pledge to each of you. When Congress gets back next January, they will have on their desks a proposal to increase that personal exemption. I hope they are responsible in 1977 to give that kind of tax relief, but if they aren't, we will repeat it in 1978 when they reconvene. But then, if they don't pass it by the next election, we will go out and beat them, because the American people need that kind of tax relief.
So, as we look as to what the issues are between now and November 2, each one of you--and millions like you all over the country--have a very crucial decision to make. If you believe in strength at home, strength abroad, if you believe in the kind of an America that has taken us from 3 million people 200 years ago to a nation of 50 States and 215 million Americans, if you believe in the principles that have made America so great that we are envied by adversaries and allies around the world, you will vote for Jerry Ford and Bob Dole.
America has made an incredible comeback in the last 26 months. We have made it because of the character of people like yourselves. We have made it because we believe in the free enterprise system. We have made it because of the Constitution that was given to us by our forefathers, the greatest document in the history of mankind.
Yes, as I said on that day, August 9, 1974, I had not been confirmed by your ballots, but I have since been supported by your prayers. Now I can ask you on Tuesday, November 2, to not only support me by your prayers but to support me by your ballots.
Thank you very, very much.
1 Texas Republican Party chairman.
Note: The President spoke at 10:47 a.m. at the Houston Music Theatre. In his remarks, he referred to John Connally, Governor of Texas 1963-69 and Secretary of the Treasury 1971-72, his wife, Neil, and Representatives Bill Archer, Ron Paul, and Alan Steelman.
Gerald R. Ford, Remarks at a Rally in Houston, Texas Online by Gerhard Peters and John T. Woolley, The American Presidency Project https://www.presidency.ucsb.edu/node/242572