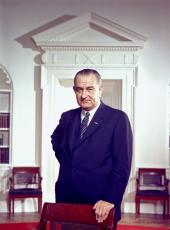 Remarks in Punta del Este at the Public Session of the Meeting of American Chiefs of State.
Mr. Chairman, fellow Chiefs of State, ladies and gentlemen:
First, President Gestido, may I express, on behalf of my entire delegation, gratitude to you for the courtesy and generosity that Uruguay has offered her sister nations at this conference.
We have come to Punta del Este as the leaders of 20 governments--and as the trustees for more than 400 million human beings.
We meet in a city where, 5 1/2 years ago, an alliance was formed--a pledge was made-and a dream begun.
Now we must measure the progress we have made. We must name the barriers that still stand between us and the fulfillment of our dream. Then we must put in motion plans that will set us firmly on the way toward the proud destiny that is our peoples' right.
We meet as friends, as neighbors, and as allies. Hundreds of years ago we were the New World. Now each of us faces the problems of growing maturity-of industrialization, of rapid urban growth, of sharing the opportunities of life among our people.
We no longer inhabit a New World. We cannot escape from our problems--as the first Americans could--in the vastness of an uncharted hemisphere. If we are to grow and prosper, we must face the problems of our maturity. And we must do it both boldly and wisely--and we must face them now.
If we do, we can create a new America-where the best in man may flourish in freedom and in dignity. If we neglect the planning, if we ignore the commitments that it requires--if our rhetoric is not followed by action--we shall fail not only the Americans of this generation, but hundreds of millions to come.
In unity--and only in unity--is our strength. The barriers that deny the dream of a new America are stronger than the strongest among us--acting alone. But they cannot stand against our combined will and our common effort.
So I speak to you as a ready partner in that effort. I represent a Nation committed by history, by national interest, and by simple friendship to the cause of progress in Latin America. But the assistance of my Nation will be useful only as it reinforces your own determination and builds on your own achievements--and only as it is bound to the growing unity of our own hemisphere.
As I have listened to the able and eloquent addresses of my fellow Presidents and Prime Ministers who have gathered here, and as I have surveyed the constructive suggestions that have been made, here are the tasks before us as I see it:
First, you will be forging a great new common market-expanding your industrial base, increasing your participation in world trade, and broadening economic opportunities for your people. I have already made my position clear to my Congress and my people: If Latin America decides to create a common market, I shall recommend a substantial contribution to a fund that will help case the transition into an integrated regional economy.
Second, you will design, and join together to build, great multinational projects that will open up the inner frontiers of Latin America. These will provide--at last--the physical basis of Simon Bolivar's vision of continental unity. I shall ask my people to provide, over a 3-year period, substantial additional funds for the Inter-American Bank's Fund for Special Operations, as our part of this special effort. I have also asked the Export-Import Bank to give urgent and sympathetic attention, wherever it is economically feasible, to loans for earth stations that will bring satellite communications to Latin America, so that this great hemisphere can have the communications it so sorely needs.
Third, I know how hard you are striving to expand the volume and value of Latin American exports. Bilateral and multilateral efforts to achieve this are already underway. But as I made very clear only yesterday afternoon in our private session, we are prepared to consider a further step in international trade policy. We are ready to explore with other industrialized countries--and with our own people--the possibility of temporary preferential tariff advantages for all developing countries in the markets of all the industrialized countries. We are also prepared to make our contribution to additional shared efforts in connection with the International Coffee Agreement.
Fourth, all of us know that modernizing agriculture and increasing its productivity is an urgent task for Latin America--as it is for the whole world. Modernizing education is equally important. I have already urged our Government to expand our bilateral assistance in the field of agriculture and in the field of education.
Fifth, you are engaged in bringing to Latin American life all that can be used from the common fund of modern science and technology. In addition to the additional resources we shall seek in the field of education, we are now prepared to join with Latin American nations in:
--creating an inter-American training center for educational broadcasting, and supporting a pilot educational television demonstration project in a Central American country that will teach the children by day and entertain and inform their families at night;
--establishing a new inter-American foundation for science and technology;
--developing a regional 'program of marine science and technology; and
--exploring a Latin American regional program for the peaceful uses of atomic energy.
Sixth, the health of the people of Latin America ultimately depends on everything we do to modernize the life of the region. But we must never forget that when children are not provided with adequate and balanced diets, they are permanently affected as human beings--and as citizens. Therefore, we in our country propose to increase our food program for preschool children in Latin America by tripling it, and substantially improve our school lunch program by doubling it in the year ahead. We are also prepared to set up in Latin America a demonstration center in the field of fish protein concentrates. We believe that this essential ingredient of a balanced diet can be provided at a much lower cost than has ever been known in our history.
Finally, I shall urge funds be provided to help establish Alliance for Progress centers at colleges and universities in the United States. Our partnership must be based on respect for our various cultures and civilizations. And respect is built upon knowledge. This new education program will offer new opportunities for students and educators of your countries and of my country to understand each other and to work closer together.
Our discussions here are couched in the technical terms of trade and development policies.
But beyond these impersonal terms stands the reality of individual men, women, and children. It is for them--not for the statisticians and economists--that we have come here to plan, to dream and to work. It is for them--and especially for the young among them--that the hope and the challenge of this Alliance exists.
For them, we must move forward from this hour. Each of us present should engage in some introspection and ask ourselves what are we, ourselves, doing to build more schools, more hospitals, and more roads?
What are we doing to produce more food, and to take the steps necessary on our own initiative to see that this job is done?
What are we, ourselves, doing to develop more trade; to take on the hard problems in our own countries of tax reform and land reform, of creating new jobs and new economic opportunities for our own people whom we presume to lead; of cleaning out the red tape and acting with the sense of urgency that our times require; and, above all, providing action to carry out the record and following through on the plans we have made?
I pledge to you today that I will do all I can, in my time of leadership, to help you meet these challenges.
One of the first groups that I met with the first week I was in the White House, when I became President, was the ambassadors to Washington from Latin America. I called them to the East Room to talk to them about this program and their plans.
From that hour until this I have accelerated America's contribution to the hemisphere, by increasing substantially the flow of my country's funds--substantially increasing them by 35 percent the last 3 years over the preceding 3 years to this hemisphere.
I know what is at stake for you, and I know what is at stake for me and my country. More than that, I know what is at stake for Latin America.
We raised the total flow of funds. For the 3 years 1961 to 1964, it ran $3,700 million. From 1964, 1965, and 1966, that $3,700 million was raised to about $5 billion.
I know that the demands are increasing, and the clock is ticking. I know that the dream of the new America will not wait. I know that most of you sense the same urgency--the same need for speedy decision and effective action in your own countries, as well as in mine.
So my fellow Presidents, I should like to conclude by speaking not only to you, but speaking to the young people of your countries who will follow you, the youth of our nations; to the students in the schools and universities; to the young people on the farms and in the new factories; to the labor unions; to the civil service of our governments-to all of those who are moving into their time of responsibility.
This is the way I would like to speak to them this afternoon; this is the message that I would like to bring to them:
All that has been dreamed of in the years since the Alliance started can only come to pass if your hearts and your minds are dedicated and committed to it.
It is our duty--we who hold public office and bear great private responsibilities--to create an environment in which you can build your part of the new America.
It is your duty to prepare yourselves now-to use the tools of learning, and the idealism that is your natural heritage, for the humane purposes that lie deep in our common civilization.
You cry out for change, for what President Franklin Roosevelt called a New Deal. And you do not want it imposed from above. You want a chance to help shape the conditions of your own lives.
You--the youth of the Americas--should know that revolutions of fire have brought men in this hemisphere, and in jungles half the world away, still greater tyrannies than those they fought to cast off.
Now, here in the countries of the Alliance, a peaceful revolution has affirmed man's ability to change the conditions of his life through the institutions of democracy. In your hands is the task of carrying it forward.
The pace of change is not fast enough. It will remain too slow--unless you join your energies, your skills and commitments in a mighty effort that extends into the farthest reaches of this hemisphere.
The time is now. The responsibility is ours.
So let us declare the next 10 years the decade of urgency.
Let us match our resolve and our resources to the common tasks--until the dream of a new America is accomplished and is a reality in the lives of all of our people.

Thank you.
Note: The President spoke at 1:07 p.m. in the Hall of the Americas at the San Rafael Hotel. His opening words referred to President Oscar D. Gestido of Uruguay, who served as chairman of the meeting.
Lyndon B. Johnson, Remarks in Punta del Este at the Public Session of the Meeting of American Chiefs of State. Online by Gerhard Peters and John T. Woolley, The American Presidency Project https://www.presidency.ucsb.edu/node/237593