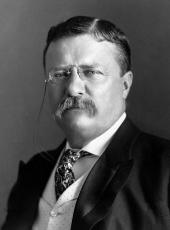 Remarks in Pueblo, Colorado
I cannot say how much impressed I am as I travel through your great State. I doubt if you yourselves fully realize its future, as I have said to you before. Your mine, your manufactures, the commerce in which you are engaged, your stock farming, your grain farming, your orchards, the development that will surely come of your water power; above all, the extraordinary strides you are taking in irrigation; all of that impresses me immensely. But I am impressed by another thing, in addition to all of those industries. You have got one industry in your landscape, your scenery. This state is going to be one of the places to which people from the East and West are going to come, to see your country, to enjoy it, to make it one of the holiday spots of the land. This morning we have come over Tennessee Pass, right in the midst of the snow, right down from the high mountains, through the valleys, through the great canyons, into your fertile valley. There is such a marvelous diversification of natural features in your landscape, you are thrice fortunate in your material resources.
But as I have said everywhere, and as I cannot say too often, the thing that counts, of course, is the character of the average citizen, and that is what gives me my supreme faith in the future, not merely of Colorado, but of all our nation; my belief that we are going steadily on, generation by generation, to train up the average citizen, man and woman, so that he or she can do the full duty demanded by the republic.
That is one reason why I congratulate you of the West, because your task is great, and because you have done it well. In life it is not only the big things that count. It is the things that you are able to do, and the greatest benefit that can be given to any man is the chance to render good service to those nearest to him, to his neighbors, to the republic as a whole. You here and those who went just ahead of you have conquered the wilderness and made it blossom like a rose.
Theodore Roosevelt, Remarks in Pueblo, Colorado Online by Gerhard Peters and John T. Woolley, The American Presidency Project https://www.presidency.ucsb.edu/node/343613