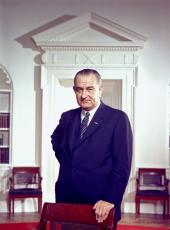 Remarks in Providence at the 200th Anniversary Convocation of Brown University
President Keeney, my old and valued/friend Senator Pastore and Senator Pell, Congressman Fogarty, Congressman St Germain, Governor Chafee, Governor Gallogly, distinguished scholars, my fellow Americans:
This is a proud day for this university, and for the citizens of this great State. In these times the greatness of States is measured not by their size, but by the worth of their schools. By that measure, no State stands larger than the home State of Brown University.
For 200 years Brown has honored that charter of 1764 by "forming the rising generation" into "... a succession of men duly qualified for discharging the offices of life with both usefulness and reputation."
From this campus have come many of the most useful figures of our national life-great educators like Horace Mann; great leaders of business like John D. Rockefeller, Jr., and Tom Watson, Jr.; great public servants like Tom Corcoran, four Secretaries of State, and many distinguished United States Senators.
I speak with personal appreciation today on this subject. In the Senate, I had no more trusted counselors or cherished friends than Theodore Francis Green and john E. Pastore. And your brilliant young Senator Claiborne Pell is taking his place as a leader and a statesman. Today I am proud to have in my administration two men who served as deans at Brown--Dr. Robert W. Morse and Dr. Donald Hornig.
For all that has gone before, Brown's service to the Nation has never been greater than it is today. On behalf of the Nation I am proud to salute you and all who have made Brown University one of the really great universities in the world.
In other times we might have come to this convocation looking back upon the past-but not today. I know that the face of New England, the face of America, is turned toward the future, and it is of the future that I have come to New England to speak today.
I want to consider with you today the future of an old and fruitful American partnership, the partnership of campus and country. That partnership was formed in 1787 when our forefathers gave us the command, "The means of education shall forever be encouraged."
From that Northwest Ordinance to the Land Grant College Act, from the Smith-Hughes Act to the enactments of this present education Congress, America has kept faith with that command. In all history no other nation has trusted education, invested in it, or relied upon it as a means to national progress so much as we.
A former great President of the Republic of Texas, Lamar, once said that "the educated mind is the guardian genius of democracy. It is the only dictator that free men recognize, and the only ruler that free men desire."
Yes, our partnership has paid us priceless returns. From a backward position, American scholarship has flourished. Today, wherever our country leads, that leadership traces to the contribution of the campus.
Our partnership is challenged now by new dimensions.
From 1776 until the present, our universities have grown--from 9 in the beginning to more than 2,000 today. From the present until 1980, our existing institutions must double in capacity, and 1,000 more must grow with average enrollments of 2,500 each.
But before the total of American scholars has doubled, the sum of human knowledge shall have doubled--or more.
These are challenges that we should welcome, and that we should go out to meet. For the increase in scholarship is not a burden, but a blessing. The growth of knowledge is not a curse, but a cure for the ills of this age.
Our concepts must change in both education and in politics. But our confidence and our courage must grow.
At the desk where I sit in Washington, I have learned one great truth: The answer for all of our national problems, the answer for all the problems of the world, comes down, when you really analyze it, to one single word--education.
Thus, I take a hopeful view, and I call upon you of this campus to join with us who are entrusted with the affairs of a country to help us chart a hopeful course.
President Keeney said last week that knowledge is developing so rapidly that "we can take no comfort in the belief that what appears to be the whole truth today will be the whole truth tomorrow."
I believe that our partnership must be committed, deeply committed, to seeking the truth, for actually it is truth alone that will finally keep us free.
Knowledge is not something which threatens to overwhelm us. Knowledge promises to be our salvation, and we must seek after it, and we must nurture its growth, and we must spread it, spread it among all of our people so each one of them have some of it.
Over the years, leadership of our university system has come from a relatively few great institutions, public and private. Well, I believe that we must regard our existing centers of excellence as natural resources to set standards, to supply teachers, to furnish researchers for the new centers of excellence that we develop.
This is a first responsibility.
A great Nation and a great civilization feeds on the depth of its scholarship as well as the breadth of its educational opportunity.
In the sciences, in the arts, in our understanding of human behavior, all of our tools must be sharpened. Our public policies must encourage further the spread of research and scholarship throughout our system of higher learning. In our graduate schools, your Federal Government--your Federal Government--awards 12,000 fellowships and 35,000 trainees in science and engineering. We spend $850 million--$850 million, almost $1 billion--on the support of research in our universities alone.
The partnership of the Government, your Government--not an enemy way-off-yonder, but something that belongs to you--the partnership of your Government and the universities is closest in the advanced education of postgraduate students. Twenty-nine percent of engineering students, 37 percent of the students in physical science, 46 percent of those in life sciences, and 10 percent of those in humanities are aided.
And there just simply must be no neglect of humanities. The values of our free and compassionate society are as vital to our national success as the skills of our technical and scientific age. And I look with the greatest of favor upon the proposal by your own able President Keeney's Commission for a National Foundation for the Humanities.
We must also make certain that there is no neglect or no compromise of the American devotion to democracy of educational opportunity. Because universal, free, public education is the very foundation upon which our entire society rests today. So our goals must be to open the doors to education beyond the high school to all young Americans, regardless of station or the station of their families.
You and I have an opportunity that is not unlike that of the men and women who first formed these New England States. We have the opportunity to plant the seed corn of a new American greatness and to harvest its yield in every section of this great land.
On the response of our partnership depends the vigor and the quality of our American way of life for many generations yet to come. As a party to that partnership, let me urge you of this campus to admit no compromise in charting our course to excellence. Concern yourselves not with what seems feasible, not with what seems attainable, not with what seems politic, but concern yourselves with only what you know is right.
Your duty is the vision. The duty of the world that I represent is the reality.
There is one thing more that I would like to emphasize. Three hundred and twenty-eight years ago Roger Williams founded Providence. He brought into American life a bright flame, which must never be allowed to grow dim. And he said, "I humbly conceive that it is the express and the absolute duty of the civil powers to proclaim an absolute freedom of conscience in all the world."
Our partnership is not as some would have it, a conspiracy against liberty. That partnership exists to reinforce the freedom of higher learning, and it must never be otherwise.
And so long as I hold any public trust, or any private responsibility, I shall devote my every effort to defending against all enemies the freedom of conscience, the freedom of belief, and the spirit of free inquiry on which our American system stands.
The statue atop the State House of Rhode Island is dedicated to the independent man. Man cannot be independent if he or his society are imprisoned in dogma, or bound by bias, or borne down by hate, or fear, or suspicion, or discrimination. At this moment I believe that we have a great opportunity in this country to move forward. As President Keeney has put it, "move forward toward making our society what we know it really should be."
If we turn away from knowledge and truth, we will not succeed. If we believe the worst and suspect the best, we alone will suffer. If we deny our progress, if we are against all of it, if we tear down our accomplishments, we will fill the world with sorrow, and we will blemish our own name with shame.
But if we are courageous and farsighted and farseeing, if we have no fear of the truth, if we seek only after light, then we and our children and our children's children shall know the greatness of this wonderful, beautiful land we call America.
I pray that when historians write the story of this time in our lives, that it may be recorded that this President tried, tried to lead his Nation, tried to lead his Nation with justice and with compassion and with courage--and there was faith and there was firmness in his heart.
May it further be written that the people of the United States cast out their doubts, took great pride in their achievements, and bravely made of this land and this world a brighter, happier place for all mankind.
This is our choice. This is our decision. Let us all be greatly determined that this society shall survive and this society shall succeed. And what it should be will be for all time to come.
As I will return tonight to my large room and my lonely desk in the White House, to cope with the decisions that have come to that desk through the day from all countries of the world, and when I review the problems of our men in uniform and those on strike, when I see the farmer and the laborer seeking justice and believing that his Government will do what is right, my mind will wander back here to the little State of Rhode Island, far away from what was once the largest State in the Nation where I was born. And I will remember back 10 months ago when a terrible tragedy befell the people of this Nation and I was called upon, as best I could, with all of my limitations, to attempt to carry on.
And I will think of the Presidents--Mr. Hoover in New York, Mr. Truman in Independence, Mr. Eisenhower in Gettysburg-all of whom sent me their good wishes and their prayers, who told me that they were at the service of this Nation in this crisis.
And I will remember how the butcher and the baker and the candlestick maker, the little children on the sidewalks, the folks sitting in the old folks home as I drove by-how they all gave me their hopes and their prayers that somehow we might be able to carry on.
But there is nothing I will be more thankful for than the contribution of the people of this State, because in my moment of trial, Congressman St. Germain and Congressman Fogarty, Senators Pell and John Pastore, all walking in the tradition of that great democratic leader Theodore Francis Green, they marched up by my side and said, "You have our talents, our energy, and our prayers."
And however long I may be permitted to continue in my work, I shall always feel deeply in the debt of this great university for the inspiration it has given me through the years, for the honor it has paid me by giving me a degree, and for the little State of Rhode Island, for the quality of the manhood it has produced.
Thank you.
Note: The President spoke in Meehan Auditorium on the campus at Brown University, Providence, R.I. In his opening words he referred to Barnaby C. Keeney, president of the university, and to Senators John O. Pastore and Claiborne Pell, Representatives John E. Fogarty and Fernand J. St Germain, Governor John H. Chafee, and Lieutenant Governor Edward P. Gallogly, all of Rhode Island. He later referred to Theodore Francis Green, former Senator from Rhode Island, Robert W. Morse, Assistant Secretary of the Navy for Research and Development. and Donald F. Hornig, Special Assistant to the President.
Lyndon B. Johnson, Remarks in Providence at the 200th Anniversary Convocation of Brown University Online by Gerhard Peters and John T. Woolley, The American Presidency Project https://www.presidency.ucsb.edu/node/242698