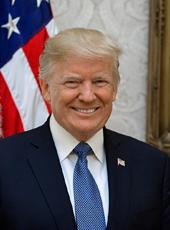 Remarks Prior to a Meeting With Prime Minister Shinzo Abe of Japan and an Exchange With Reporters in Tokyo, Japan
Prime Minister Abe. Once again, welcome back to Japan, President Trump. With the enthronement of His Majesty the Emperor on the 1st of May, Japan had entered into the new era called Reiwa. Japan had experienced the abdication of His Majesty the Emperor Emeritus with the enthronement of His Majesty the Emperor for the first time in 202 years. And as we entered into the new era called Reiwa, we invited President Trump and Madam First Lady as the very first state guests for us. And it was a tremendous honor for us to welcome you.
Yesterday, after only a short interval since we played golf together in Virginia about a month ago, we had a chance to play golf again. And this time around, we had the pleasure of playing golf with Mr. Isao Aoki, who had the very fierce battle with Jack Nicklaus.
And also, for the first time in the history, President Trump kindly joined me and my wife, together with Madam First Lady, to see the final day of the Grand Sumo Tournament of—at the Ryogoku Stadium. As you know, sumo is a national sport. And also, President Trump kindly presented the first-ever U.S. President's Cup to the winner of the tournament, Asanoyama. And I'm sure for Asanoyama it was an unforgettable moment for him to receive the trophy directly from Mr. President.
So we are now about to start our official summit meeting in which we are going to discuss various challenges of the international community, including North Korea. Of course, we are going to cover bilateral economic issues between Japan and the United States. On top of that, we will have robust coordination so as to bring the G-20 Osaka summit to a successful conclusion thorough our great partnership. And I certainly look forward to having a very candid and productive discussion with Mr. President.
So I certainly would like to make this state visit by Mr. President and Madam First Lady to Japan something wonderful that will be befitting the dawn of the new era called Reiwa. And also, I am determined to demonstrate, both at home and abroad, that there is a very strong bond of Japan-U.S. alliance in the new era Reiwa.
Thank you very much.
President Trump. Well, thank you very much, Shinzo. And this has been not only an honor, it's been fun. It's a very important moment because of what we're doing today with respect to the new Emperor. And having gotten to know the Emperor and also the Emperor's family, meeting his father and mother, it was very special the last time.
And this is very big. It's a very important thing not only in Japan, but all over the world they're talking about it. And it's very exciting to be a part of it, and we look forward to having an incredible evening tonight with the Emperor and his family.
We've had some great talk on trade. We've had some great talk on the military. And we discussed, of course, North Korea. I think we've made a lot of progress on a lot of subjects.
Our relationship—I think I can speak from the standpoint of the United States—has never been better than it is right now with Japan. I feel that we understand each other very well. We're very committed to each other as nations. So we have a situation where we have the best relationship that we've ever had with Japan, and we're going to keep it that way. We are working on the imbalance of trade. There's been a tremendous imbalance, and we're working on that, and I'm sure that that will work out over a period of time. This meeting really was having to do with the enthronement of the Emperor and the celebration of the enthronement and the meeting.
And I will say, right from the day the Prime Minister mentioned it to me, he said that the United States is the first country that's invited to meet the new Emperor. And that was a great honor. That's a big thing. Two hundred and two years, that's the last time this has happened. And they believe that it goes back 3,500 years. So that's really some incredible culture.
This is an incredible culture. When you talk about interesting—really, interesting—and fabulous places and countries, Japan has always got to be right at the top of that list. It's incredible what they've done. It's incredible where they came from. You look back at their history, and—so long and so prosperous and incredible.
So they're incredible people with a truly amazing Prime Minister—who's my friend, who's a friend for the United States. And we're going to do a lot of business together. We're going to have a lot success together. And thank you very much for inviting me. Thank you.
Prime Minister Abe and myself will be meeting, really, for, I guess you could say, three separate meetings with three separate groups to discuss three separate things, all very important: military, trade, North Korea. And there may be some other elements thrown in there, but we will be discussing, in great detail, those three very important events. And a lot of things are happening. A lot of very positive things are happening on trade.
I personally think that lots of good things will come with North Korea. I feel that. I may be right, I may be wrong, but I feel that. We've come a long way. There's been no rocket testing. There's been no nuclear testing. There's been very little activity from that standpoint. So I think we've come a long way with North Korea. We'll see what happens.
There's a good respect built—maybe a great respect built—between certainly the United States and North Korea. But we will see what happens. When I took—when I came into office, you know what was going on. There was testing all the time, nuclear testing at the highest level. And that seems to have stopped, but only time will tell. And let's see if something constructive can be done. Let's see if something constructive can come of what we've been doing.
But if you look back for the last 2 years, it's been a big difference. We'll see what happens.
Trade-wise, I think we will be announcing some things, probably in August, that will be very good for both countries. We have to do a little catching up with Japan, because they've been doing much more business with us, and we'd like to do a little bit more business in the reverse. The balance will—we'll get the balance of trade, I think, straightened out rapidly.
Japan has been buying a tremendous amount of military equipment from the United States. We make the best in the world. And, as you know, they feel that they need it, and I feel that they need it also. And they've been buying almost exclusively from the United States, and that brings our deficits way down.
So I just want to thank everybody for being here. This is a very exciting time. Tonight, we're having a celebration of the Emperor and his family, and that will be something very special. And then, tomorrow, we land on two ships. One of them will be a truly spectacular American aircraft carrier, and one will be a tremendous new ship that's Japanese. We're doing a combination. We're going to do a double, and it should be very exciting. And I hope you're able to come and get on, because I think it's going to be very exciting tomorrow.
And we're just celebrating our relationship together. So I want to thank everybody for coming here. I know it's a long way, but it's worth it, and it's—especially when you get to know the people. The people of Japan are great people. It's a great nation. And, Prime Minister, thank you very much.
[At this point, several reporters began speaking at once.]
Go ahead, Jeff [Jeff Mason, Reuters].
Iran
Q. Do you welcome the Prime Minister negotiating between the U.S. and Iran?
President Trump. Well, I know that the Prime Minister and Japan have a very good relationship with Iran, so we'll see what happens. The Prime Minister has already spoken to me about that. And I do believe that Iran would like to talk. And if they'd like to talk, we'd like to talk also. We'll see what happens.
But I know for a fact that the Prime Minister is very close with the leadership of Iran, and we'll see what happens. That would be fine.
Nobody wants to see terrible things happen, especially me.
Japan-U.S. Trade
Q. Mr. President, can you explain how you will discuss with the Prime Minister today why you view Japanese autos as a security threat?
President Trump. Well, it's all a balance sheet thing. When I talk about a security threat, I talk about a balance sheet. To have a great military, you have to have a great balance sheet. We're building a tremendous balance sheet. But in order to have $716 billion a year in military expenditures, you have to have a lot of money coming in. And we will talk to Japan about autos.
I will say, at the same time, since I'm President, many auto companies have announced and have actually built and are building, plants in the United States. In fact, I'd like to ask the Prime Minister to mention that. Because since I'm President, unprecedented amounts of dollars are being invested in plants and factories, equipment, in the United States. And perhaps, I could ask the Prime Minister to tell them—tell you folks a few things, including many car companies and many new, beautiful plants. Go—wait.
[Several reporters shouted questions, and the press was ushered out of the room.]
NOTE: The President spoke at approximately 11:10 a.m. at the Akasaka Palace. In his remarks, he referred to Emperor Naruhito, former Emperor Akihito, and former Empress Michiko of Japan. Prime Minister Abe referred to his wife Akie. Prime Minister Abe spoke in Japanese, and his remarks were translated by an interpreter.
Donald J. Trump, Remarks Prior to a Meeting With Prime Minister Shinzo Abe of Japan and an Exchange With Reporters in Tokyo, Japan Online by Gerhard Peters and John T. Woolley, The American Presidency Project https://www.presidency.ucsb.edu/node/333584