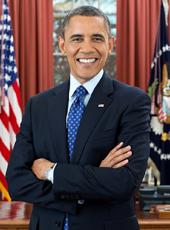 Remarks Prior to a Meeting With Prime Minister Narendra Modi of India in Le Bourget, France
President Obama. Okay, well it is a pleasure to meet with my friend and partner, Prime Minister Modi of India. During my visit to India earlier this year, we committed ourselves to a new, deeper partnership between our nations. And our work here in Paris together represents one of the greatest areas for deeper cooperation, and that is on the issue of climate change.
We agree that it's an urgent threat. The Prime Minister has shown in the work even before he was Prime Minister, at the state level, his interest in new technologies and clean energy. We welcome India's leadership and Prime Minister Modi's leadership on this issue. And Paris is a chance to put in place a lasting framework to address climate at an international level.
I want to emphasize that we agree that Paris must recognize and protect the ability of countries like India to pursue the priorities of development, growth, and poverty eradication. And I know that that is something that is deeply felt by Prime Minister Modi. At the same time, it also has to reflect serious and ambitious action by all nations to curb their carbon pollution. So our teams are working together to achieve these objectives.
And I am proud that after our meeting here, we're going to be attending what we're calling Mission Innovation, which is a groundbreaking new public-private initiative that will accelerate the pace at which we can develop and deploy clean energy that's affordable to populations around the world.
And India has also developed a new Solar Alliance, which is going to be, I think, helping to advance the cause not only in India, but around the world, of accelerating the adaptation of solar energy, which is going to be so important to our clean energy future.
So, Mr. Prime Minister, it's wonderful to see you again, and thank you for your leadership.
Prime Minister Modi. Thank you.
President Obama. Thank you.
[At this point, Prime Minister Modi spoke in Hindi, and his remarks were then translated by an interpreter as follows.]
Prime Minister Modi. Of my friend and President Obama—is it on? Okay. We are launching ourselves together on a very good mission, and we are working together. With President Obama, I have such a deep relationship that we are able to discuss very openly on all issues and also set out our projects.
This initiative about innovation, in which India too would be present, we are going to be with the United States and work shoulder to shoulder with them in this new initiative. And I'm sure in the times to come, this is going to give very good results.
Secondly, the other very good outcome would be that 121 countries, which are very solar rich and who receive the maximum solar radiation in their countries, are getting together, and a new organization, the International Solar Alliance, is coming into being. In that, the U.S. Secretary of State, Mr. Kerry, would be present and—as also the French President. And so this Solar Alliance and the Mission Innovation, I think this are—these are two very important instruments to fulfill the dreams that we have set ourselves in Paris and to fulfill these in the times to come.
India is a very nature-loving country, and we are setting out, as always, to protect nature in the world. And as you know, Mahatma Gandhi was the biggest champion of nature. And we are going to be making a very important contribution. Our INDCs are also very ambitious. We have set out 175 gigawatt of solar and renewable energy. These are very ambitious targets. And I would just like to once again reiterate that the responsibility that India has will be fully undertaken and fulfilled by it. And we will be working with all countries in the world to ensure that development and protection of the environment go hand in hand. And we also expect full cooperation from all countries.
Once again, I'd like to express my gratitude to President Obama. We meet very often. We're very good friends. We talk very openly. And I'd just like to thank him.
[Prime Minister Modi made additional brief remarks in Hindi, and no translation was provided. He then spoke in English as follows.]
Prime Minister Modi. [Inaudible]—strong message: Paris to protect planet. Thank you.
President Obama. There you go. I understood that one. [Laughter]
Thank you, everybody.
NOTE: The President spoke at 3:41 p.m. in the bilateral meeting room of the White House delegation space at the Parc des Expositions. Prime Minister Modi referred to President François Hollande of France.
Barack Obama, Remarks Prior to a Meeting With Prime Minister Narendra Modi of India in Le Bourget, France Online by Gerhard Peters and John T. Woolley, The American Presidency Project https://www.presidency.ucsb.edu/node/311649