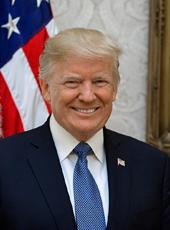 Remarks Prior to a Meeting With President Nguyen Phu Trong of Vietnam in Hanoi, Vietnam
President Trong. Please, may I call our meeting to order, please. Let me begin by warmly welcome President Donald Trump and the American delegation to Vietnam for the second D.P.R.K.-U.S. summit.
I would like to thank the United States and D.P.R.K. for choosing Vietnam as a venue for the event of great significance. Though the time was quite short, but we've made every efforts—and our relevant agencies in Vietnam have been making all necessary preparations—to ensure the best conditions for the success of this very special meeting.
I wonder whether, Mr. President, since you arrived in Vietnam, can you feel—about the atmosphere in Vietnam, can you tell us about that?
President Trump. Well, Mr. President, thank you very much. This is great, great honor. And I send our warmest regards from all Americans. Our country, like your country, is doing very, very well. Our economy is probably as good as it's ever been, maybe the best it's been. And unemployment and all of the numbers that you would look at are at historically positive numbers.
And so I just see what you've done, and I've—I'm very proud of what you've done. And I'm very proud to have left here last year; we had a great meeting. We had a meeting with a lot of the representatives. Some of them are right here that I recognize so well.
And since that meeting, we've done a lot of trade. And I know today, whether it's Boeing and a couple of others, we're going to be signing some very big trade deals where you're buying a lot of different products from the United States, which we greatly appreciate. We're reducing the deficit very substantially, as are many countries.
But I very much appreciate the hospitality. It was a—really something special. We got off Air Force One last night, and I drove down the boulevards, and I saw all of the buildings under construction and how Vietnam is thriving.
And very importantly, we have a very big dinner tonight, as you know, and meetings with North Korea and Chairman Kim. And we both felt very good about having this very important summit in Vietnam, because you really are an example as to what can happen with good thinking.
And on behalf of the United States, I want to thank you very much for hosting, and hopefully great things will happen later on with our meeting. But a lot of good things are happening before, and that's the signing of trade deals with the United States. And we appreciate it very much.
Thank you, Mr. President. Thank you.
NOTE: The President spoke at approximately 11:10 a.m. in the Presidential Palace. President Trong spoke in Vietnamese, and his remarks were translated by an interpreter. A portion of these remarks could not be verified because the audio was incomplete.
Donald J. Trump, Remarks Prior to a Meeting With President Nguyen Phu Trong of Vietnam in Hanoi, Vietnam Online by Gerhard Peters and John T. Woolley, The American Presidency Project https://www.presidency.ucsb.edu/node/332823