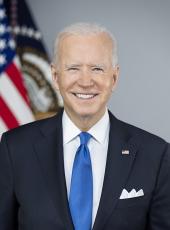 Remarks Prior to a Meeting With President Mohammed bin Zayed Al Nahyan of the United Arab Emirates in Jeddah, Saudi Arabia
President Biden. I think the press should get combat pay. [Laughter] Well, folks, welcome. And we're here with the President of the U.A.E. It's really good to see you again, Sheikh Mohammed. Thank you.
And after our virtual I2U2 summit earlier this week, let me congratulate you again and—on your election as President of the U.A.E. And I look forward to another period of strong and growing cooperation in between our countries and under your leadership.
Our relationship covers a wide array of things, everything from security to economic development to advancing cooperation in science, technology, and space. And we both understand that the challenge we face today will only make it a heck of a lot more important that we spend more time together.
And I want to formally invite you to the States before—to the Oval—before this year is out. But—because we're not going to get a lot of time, I know they tell me, to talk today. But I want to talk to you a lot—[laughter]—a lot of things I have to raise with you.
And—but at any rate, thank you. And welcome.
President Mohammed bin Zayed. Thank you, Mr. President. It's really my pleasure to see you—to meet you today. We are very proud of the relationship we have.
And before I forget, I just want to thank you and the delegation you sent—the Vice President—during the ceremony we had and the condolences you shared.
President Biden. I'm sorry.
President Mohammed bin Zayed. I'm new in this job, but I'm working very hard to see how we can bridge the relationship with you and build a very strong bridge between our two countries.
President Biden. Well, I'm new in this job too—[laughter]—so maybe we can do it quickly. [Laughter]
Thank you.
Q. Mr. President——
[At this point, several reporters began asking questions at once.]
Q. Why are you holding Khashoggi's lawyer? Why are you holding Khashoggi's lawyer?
NOTE: The President spoke at 1:06 p.m. at the Ritz-Carlton Jeddah hotel. In his remarks, President Mohammed bin Zayed referred to Vice President Kamala D. Harris. A reporter referred to U.S. citizen and attorney Asim Ghafoor, who formerly represented the late Washington Post columnist Jamal Khashoggi and was arrested on July 14 by Emirati authorities while transiting through Dubai en route to attend a wedding in Istanbul, Turkey.
Joseph R. Biden, Remarks Prior to a Meeting With President Mohammed bin Zayed Al Nahyan of the United Arab Emirates in Jeddah, Saudi Arabia Online by Gerhard Peters and John T. Woolley, The American Presidency Project https://www.presidency.ucsb.edu/node/356851