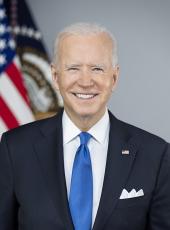 Remarks Prior to a Meeting With Chancellor Olaf Scholz of Germany
President Biden. Well, welcome, everyone. I'm delighted to have the Chancellor here today, Chancellor Scholz. We've met before, but this is the first time I'm able to host you in the White House. And it's good to have a chance to get to know you more personally. And we're going to spend some time alone together, I hope.
And you know, to state the obvious, Germany is one of America's closest allies. We're working in lockstep to further deter Russian aggression in Europe and to address the challenges posed by China and to promote stability in the Western Balkans.
We then—we have to take on the pandemic, climate change, and—among many others—issues. So we have a lot to talk about, Mr. Chancellor—Chancellor, and—Olaf. And I'm looking forward to us working closely together, with you and this year during Germany's Presidency of the G-7. I'm looking forward to that as well. So welcome, welcome, welcome.
The floor is yours, sir, if you wish to say anything.
Chancellor Scholz. Yes. Thank you for having me here. And really, I appreciate very much that we have the chance to discuss all the topics you raised. They are very important.
We are closest allies and working intensely together. And this is necessary for doing the steps that we have to do: for instance, fighting against Russian aggression against Ukraine.
So it's an important meeting at a very, very important time.
President Biden. Thank you all.
Q. Mr. President, is Germany—[inaudible]?
Q. [Inaudible]
President Biden. We'll get a chance——
President Biden. We'll get a chance——
Q. [Inaudible]
[At this point, as the press was escorted out, several reporters spoke at once.]
President Biden. If you take 5 more minutes, we're going to close the press conference. [Laughter]
NOTE: The President spoke at 1:37 p.m. in the Oval Office at the White House.
Joseph R. Biden, Remarks Prior to a Meeting With Chancellor Olaf Scholz of Germany Online by Gerhard Peters and John T. Woolley, The American Presidency Project https://www.presidency.ucsb.edu/node/354403