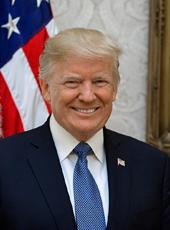 Remarks Prior to a Meeting With Chancellor Angela Merkel of Germany and an Exchange With Reporters in Osaka, Japan
President Trump. Thank you very much. It's great to be with Chancellor Merkel, a friend of mine—a great friend of mine. And we've had a terrific relationship.
The trade between Germany and the United States, I think, has reached a—pretty much a high level. We'll see if we can do even better, but it's reached a level that it's never reached before.
And we have many things to talk about, and we have a long meeting scheduled. And we'll be spending some time later on together also. But I just want to say she's a fantastic person, a fantastic woman, and I'm glad to have her as a friend.
And thank you very much, Angela. Thank you.
Chancellor Merkel. Thank you.
President Trump. Thank you.
Chancellor Merkel. Thank you. Thank you very much. I very much look forward to our exchange today.
We have a lot on our agenda, especially the fact that German investment in the United States is very important. Not only bilateral trade is important, but also Germany—German companies are investing a lot in the United States of America.
We're going to talk about international issues, the developments on the international front too, especially about what has been happening in West Africa. We will be also talking about counterterrorism, and I very much look forward to that exchange. Of course, Iran will also be on our agenda today.
President Trump. I just passed a television set on the way here, and I saw that health care, and maximum health care, was given to a hundred percent of the illegal immigrants coming into our country, by the Democrats. And unfortunately, they didn't discuss what they're giving to American citizens. That's not a good thing. So we just passed that, and then I came here.
And I will say that we're going to have a very interesting time today.
You know, they have a debate going on. They had the first debate last night. Perhaps you saw it. It wasn't very exciting, I can tell you that. And they have another one going on today. They definitely have plenty of candidates. That's about it.
So I look forward to spending time with you rather than watching the debate. [Laughter]
Thank you.
Q. Can you explain—[inaudible]—about your health care? Are you willing to spend—[inaudible]?
Germany-U.S. Relations
Q. President Trump, do you think Germany is living up to your expectations for them in terms of their defense commitments?
The President. The Chancellor is a great friend of mine. She's a great friend of mine. Thank you.
NOTE: The President spoke at 10:39 a.m. at the International Exhibition Center. Chancellor Merkel spoke in German, and her remarks were translated by an interpreter.
Donald J. Trump, Remarks Prior to a Meeting With Chancellor Angela Merkel of Germany and an Exchange With Reporters in Osaka, Japan Online by Gerhard Peters and John T. Woolley, The American Presidency Project https://www.presidency.ucsb.edu/node/333671