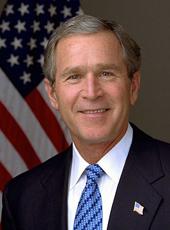 Remarks Prior to a Meeting of Small-Business Owners and Community Leaders in New Orleans, Louisiana
Mr. Mayor, thank you. It's good to be back in your city. I appreciate the Lieutenant Governor and Members of the United States Congress for being here as well. I particularly want to thank the small-business owners of New Orleans. I'm looking forward to hearing what you have to say about your traditions and your hopes and your frustrations. We all share the same goal, and that's to have this great city rise again, to be a shining part of the South.
It was in the past, and I think this can be a better city, and to this end, I've done a couple of things. One, I appointed my friend Don Powell to be down here to help implement the strategy developed by the mayor and the Governor and Lieutenant Governor. In other words, I believe the best strategy for the rebuilding of New Orleans and the revitalization of the parishes around New Orleans is for the local folks to design the strategy and to have the Federal Government become a partner.
And I want to thank you for putting a committee together; I know you did as well, Mitch. Powell's job is to come down and help interface and interact. I've told the people down here that the Federal Government has got a major role to play. So far we've appropriated or made available $85 billion in reconstruction and relief along the gulf coast. About 25 billion of that has been spent; there's $60 billion in the pipeline, thanks to the good work of the Members of the Congress and the United States Senate.
One issue I do want to touch on is the levees. Now, the mayor made it very clear to me that we need a Federal policy, a strong Federal policy on the levees in order to encourage investors and investment in New Orleans. In other words, if there's any doubt about levees, people wouldn't be willing to reinvest in this city. If we couldn't get people to reinvest in this city, the recovery wouldn't be as strong as we hope it to be.
Working with the Corps of Engineers, we've put forth a plan that said that the levee system will be stronger and better than the previous levee system. And we put a request in for $3.1 billion, plus money to study how possibly to make this system even better. Unfortunately, at the very last minute in the appropriations process, some Members of Congress moved 1.4 billion of that 3.1 billion to projects not directly related to New Orleans and the surrounding area. And so, in order to make sure that this city gets the money necessary to make sure that the levees are stronger and better, Congress needs to restore that 1.4 billion directly into projects for New Orleans and the surrounding parishes. I'm looking forward to working with the Members of the Congress to make sure that that money is restored.
Secondly, I understand that one of the keys to success is going to be private-sector initiatives. That's why we've got the small-business owners here and the man responsible for making sure New Orleans is well represented to the rest of the country, and that is Stephen, who is a part of the Chamber. One way to make sure that the private sector leads the recovery for New Orleans is to make sure the tax laws encourage investment. And I want to thank the Members of Congress for passing the GO Zone legislation which encourages investment. And that will be helpful for the folks here.
And finally, I know housing is a particularly difficult issue, an important issue. You can't have a revitalized New Orleans unless people have a place to live. And we want to—we look forward to working with the mayor and the State on implementing the vision, but want to remind people that in the new appropriations bill I signed is $11.5 billion of CDBG money. In Mississippi, the Governor intends to use that money on uninsured housing—to pay for the uninsured folks who didn't have flood insurance. And the law is written so that the State, in working in conjunction with the local authorities, can spend that money in a way to help the recovery.
We're aware of the issues here. I'm looking forward to hearing more from you all about how we can continue to work together. I will tell you, the contrast between when I was last here and today, Stephen, is pretty dramatic. It may be hard for you to see, but from when I first came here to today, New Orleans is reminding me of the city I used to come to visit. It's a heck of a place to bring your family. It's a great place to find some of the greatest food in the world and some wonderful fun. And I'm glad you got your infrastructure back on its feet. I know you're beginning to welcome citizens from all around the country here to New Orleans. And for folks around the country who are looking for a great place to have a convention or a great place to visit, I'd suggest coming here to the great New Orleans.
Anyway, thank you all very much.
NOTE: The President spoke at 11:12 a.m. in the New Orleans Metropolitan Convention Center and Visitors Bureau, Inc. In his remarks, he referred to Gov. Kathleen Babineaux Blanco and Lt. Gov. Mitchell J. Landrieu of Louisiana; Donald E. Powell, Chairman, Federal Deposit Insurance Corporation, in his capacity as coodinator of Federal gulf coast relief efforts; Mayor C. Ray Nagin of New Orleans, LA; Stephen J. Perry, president and chief executive officer, New Orleans Metropolitan Convention and Visitors Bureau, Inc.; and Gov. Haley Barbour of Mississippi.
George W. Bush, Remarks Prior to a Meeting of Small-Business Owners and Community Leaders in New Orleans, Louisiana Online by Gerhard Peters and John T. Woolley, The American Presidency Project https://www.presidency.ucsb.edu/node/214757