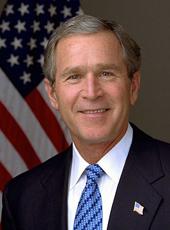 Remarks Prior to Discussions With President Roh Moo-hyun of South Korea in Bangkok
President Bush. Thank you all for coming. It's my honor to have breakfast with a friend of the United States and a friend of mine, President Roh. We've got a very important and close relationship with South Korea. We share common goals. We want the world to be more free and peaceful. And that's why I'm so grateful for South Korea's support in places like Iraq.
We also share a goal to enhance the prosperity of our respective peoples. We will discuss ways to make sure our trade between our countries is free and fair. We have a common goal to make sure that the Korean Peninsula is nuclear-weapons-free. We're making good progress on peacefully solving the issue with North Korea. And during this breakfast, I will share ideas and listen to ideas from President Roh as to how to move the process forward.
These are important consultations with a close friend, and I want to thank the President for coming to have breakfast.
President Roh. It is my pleasure to meet with President Bush—[inaudible]—and it is to my greater pleasure to meet with him— [inaudible]. Korea and the United States have been promoting the friendship between each other based on mutual trust, and we have been addressing the problem in this period of cooperation and friendship.
The United States is currently making various efforts to promote global peace, and it has succeeded in winning the U.N. resolution regarding Iraq. And I would like to congratulate this meaningful progress.
I appreciate that the United States has been making efforts to make progress in the areas related to North Korea, and this issue is very critical for—[inaudible]—and the further progress of Korea. And in this regard, the six-party talks—[inaudible]— progress. And I would like to thank United States for helping us to achieve this important milestone. And I am thankful for Mr. Bush for making more efforts to continue to resume the six-party talks in the near future.
During today's breakfast with President Bush, I hope to have a meaningful dialog on how to resolve the North Korea nuclear issue and how to realign the—[inaudible]— alliance.
At the same time, I would like to commend the United States' effort in bringing peace and democracy in Iraq, and I would like to discuss with him how to reconstruct the economy there, and I would like to discuss with him how Korea can cooperate in this regard. And I would have a meaningful discussion on these points.
And in this meeting, I hope to have a serious discussion in accordance with the goals of the APEC in the areas of how to promote trade and mutual investment and how to promote regional security. And I am sure that we will—[inaudible].
Thank you.
President Bush. Thank you very much, Mr. President. Thank you.
NOTE: The President spoke at 8:30 a.m. at the Grand Hyatt Erawan Bangkok. A tape was not available for verification of the content of these remarks.
George W. Bush, Remarks Prior to Discussions With President Roh Moo-hyun of South Korea in Bangkok Online by Gerhard Peters and John T. Woolley, The American Presidency Project https://www.presidency.ucsb.edu/node/216328