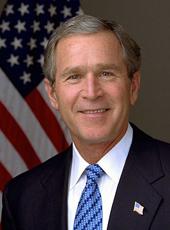 Remarks Prior to Discussions With President Jose Maria Aznar of Spain
President Bush. Welcome. I'll make a statement; the President will make a statement. That will be all we'll be doing today.
It is my great honor to welcome my good personal friend and a friend of the United States Jose Maria Aznar to the Casa Blanca. He is one of the world's strongest leaders when it comes to our mutual concerns about keeping the peace and fighting terror. He understands the first—he understands firsthand the consequences of terror activity. And today, Mr. President, we join you in the mourning of loss of life for a policeman in your country who was killed.
I also want to take a moment to express our deepest sympathy for the people of Galicia. We understand the concern and the heartfelt worry about the effects of the oil-spill. President Aznar said, "Nunca mas," and I believe him. And I want to thank him for his leadership. And I'm glad he's back here.
Bienvenidos.
President Aznar. I begin by thanking President Bush very warmly for his very kind invitation once again.
I'd also like to thank President Bush for his solidarity and particularly for the cooperation shown to Spain by all levels of the U.S. administration in the light of the environmental disaster caused by the sunken oil tanker off the coast of Spain.
And can I say that in all the meetings I've had with representatives of your administration, we have received offers of unconditional support in helping cope with that disaster, and that support is ongoing and will continue. And I'd like to thank President Bush for the personal impetus that he has given in that cooperation.
Spain and the United States are working together within a framework of very solid and close cooperation and confidence. And I am determined that this will continue to be the case in the future in the fight against terrorism, in the fight against weapons of mass destruction, and in this overriding objective of defending a world of freedom, justice, and stability.
Gracias, senor.
President Bush. Vamos a verles.
Q. Why shouldn't Senator Lott resign, sir?
President Bush. Vamos a verles en la fiesta en la noche.
Q. No comprende.
President Bush. I said, I'll see you at the party tonight.
Q. I thought that meant questions.
President Bush. See you at the party tonight.
NOTE: The President spoke at 11:22 a.m. in the Oval Office at the White House. President Aznar spoke in Spanish, and his remarks were translated by an interpreter. The Office of the Press Secretary also released a Spanish language transcript of these remarks. A portion of these remarks could not be verified because the tape was incomplete.
George W. Bush, Remarks Prior to Discussions With President Jose Maria Aznar of Spain Online by Gerhard Peters and John T. Woolley, The American Presidency Project https://www.presidency.ucsb.edu/node/214188