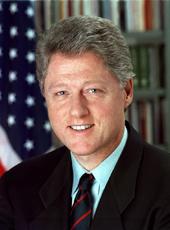 Remarks Prior to Discussions With British Labour Party Leader Tony Blair and an Exchange With Reporters in London
The President. Good afternoon. Let me say, first of all, I'm delighted to have this opportunity to meet with the British Labour leader, Tony Blair. I have followed his career with great interest, and I am anxious to have this time to visit with him about his views on conditions here and matters affecting both of our countries, especially the Bosnian question. And I don't know whether he was looking forward to coming here or not because he's just come from that "question time" that I referred to in my speech to the Parliament today.
Northern Ireland Peace Process
Q. Are you interested in his views on Ireland?
The President. Of course I am.
Q. What are they?
The President. Well, that's for him to say. I haven't had a chance to talk to him.
Mr. Blair. First of all, let me say, I'm absolutely delighted to meet the President and to express my admiration, not merely for his magnificent speech this morning that I think will have a great impact here and abroad but also for the work that he's done in bringing peace to Bosnia and the Middle East, to Ireland and to other parts of the world.
And our views on Ireland—in fact, today in the House of Commons, you wouldn't have seen any of the cut-and-thrust at all. It was one of these rare moments of agreement between myself and John Major. We've supported the government in that push for peace in Northern Ireland. We will continue to do so.
Q. Mr. President, what kind of advice are you giving Mr. Blair, and I'm wondering if Mr. Blair can explain what lessons you've learned from President Clinton?
The President. I have no advice to give him. And let me say, one of the things that I'm going to do privately—I might as well do it publicly—is to thank him for the position that he and his party have taken on this, the question of the initiatives of the British Government in Northern Ireland.
A country is always stronger when, in its foreign policy and its difficult decisions, it moves forward together so that the country can be strong, can be united, and the people essentially can both claim the credit and shoulder the responsibility. And I think this is a very exceptional act of statesmanship on his part, and I very much appreciate it.
Q. Which you'd like to see on the part of the Republicans?
Q. What's your message tomorrow going to be, sir?
The President. Well, we've already answered too many questions, I can tell now. [Laughter]
NOTE: The President spoke at 4:10 p.m. at the U.S. Ambassador's residence. A tape was not available for verification of the content of these remarks.
William J. Clinton, Remarks Prior to Discussions With British Labour Party Leader Tony Blair and an Exchange With Reporters in London Online by Gerhard Peters and John T. Woolley, The American Presidency Project https://www.presidency.ucsb.edu/node/220960