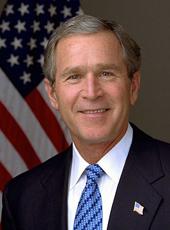 Remarks Prior to a Discussion on Education in Monrovia
President Ellen Johnson Sirleaf of Liberia. Mr. President, Mrs. Bush, fellow Liberians: We have been pleased that with the support of the United States Government to our education rebuilding process, we can now say that we're beginning to see the signs of progress.
Mr. President, today you will be listening to some of the beneficiaries who will be sharing their experience with you. They've been supported through the United States Agency for International Development, the President's Africa Education Initiative. Liberia currently receives assistance for adult learners, primary school students, school infrastructure, teacher training, the accelerated learning program, and improvement of higher education.
Thank you for being here with us. And thank you for all that you do, for helping us to rebuild our educational system.
President Bush. Thank you, Madam President. [Applause] Does that mean you want me to speak? [Laughter]
President Johnson Sirleaf. You speak a little bit, and I'll introduce the——
President Bush. Okay, good, yes. The President said, we have met four times since she's been President. I said out there at the parade grounds that every time, I'm a better person for it, since she's a—[applause]. This is the last event on the last stop of what has been a comprehensive trip around the continent of Africa. And it's a fitting—fitting that we talk about education as the last subject to discuss.
First of all, I just want you to know that, Madam President, we admire you, and we appreciate your leadership. I particularly appreciate your commitment to liberty and freedom. Now, the problem is, of course, it's one thing to be for freedom, but it's really important to have a healthy, educated group of folks to be able to realize the blessings of freedom.
And so our desire in the United States is to answer the universal call to love a neighbor and to help those—I believe to whom much is given, much is required. A lot has been given the United States of America, and I firmly believe it's in our national interest to help others not only realize the blessings of liberty but to fight disease when we find it and to deal with illiteracy where we encounter it.
And so our initiative on malaria or the AIDS initiative is all aimed at saving lives, which in essence helps save societies. And same thing with our education initiative. And so we really appreciate you all coming to share your message with us. I hope you're not nervous. [Laughter] I bet you're not, because all you got to do is tell us what's on your mind. Just share your stories, and I think people will find that they're most interested.
But what you must know here in Liberia is that the United States of America is with you, and we'll stay with you because we want you to succeed. It's in the interest of the United States of America that Liberia do well. And so, Madam President, we are—[applause]—we're proud to stand with you. We're not going to tell you what to do because you're plenty competent. I believe African leaders can run African countries. But I do believe the United States of America can help. And that's exactly what we're going to discuss today, Madam President.
So thank you very much for that introduction. And Laura is thrilled to be here as well. She is the librarian in the family. [Laughter]
President Johnson Sirleaf. That's right.
[At this point, the discussion continued, and no transcript was provided.]
NOTE: The President spoke at 3:04 p.m. at the University of Liberia.
George W. Bush, Remarks Prior to a Discussion on Education in Monrovia Online by Gerhard Peters and John T. Woolley, The American Presidency Project https://www.presidency.ucsb.edu/node/276967