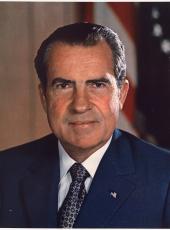 Remarks at a Presidential Election Victory Rally
Mr. Vice President, Mrs. Agnew, all of our very distinguished guests here at the Shoreham Hotel, and the very distinguished audience listening on television and radio:
At Ontario, California, on Saturday night, at the conclusion of a speech to what was estimated as a crowd of 50,000, I said, "This is the last time I will ever be addressing a campaign rally as a candidate." It may be that that was the last campaign rally as a candidate, but this means tonight we still have a rally right here.
Now, let me briefly touch upon several significant things about this election. First--and this for me is rather unusual-I have never known a national election when I would be able to go to bed earlier than tonight.
Second, I want to say here to this great audience and to all of those who will be listening on television and radio, that I know from having been a candidate for Vice President, and a Vice President for 8 years, that this is always a team campaigning for office.
I want you to know that during the period of the last several weeks since the convention when I have had to be in Washington, for reasons that all of you could well understand, that I watched the Vice President as he carried the major burden of campaigning.
I watched with no concern, and considerable amusement, the attempts that were being made by some rather vicious heckling to get under his skin and get him to blow his cool. Let me say, the real test of a campaigner is to go through the fire of a campaign when he is taking all the heat. The Vice President has proved he is a great campaigner. I was going to say he can take it and be can dish it out, too.
I also would like to pay tribute to all of the other members of the team. I refer of course to our campaign chairman, Clark MacGregor, to John Mitchell, his predecessor, to Maurice Stans, our finance chairman, to all of the members of the Cabinet team who did such a magnificent job traveling through this country, to Representatives from the Congress, the House, the Senate, and the national Administration, who carried the story that we wanted to tell throughout the land. They were a great team.
I think they have been a great team over the past 4 years, and in this campaign, when you add up those States to what has been called a rather significant victory, they get a great deal of the credit, I can assure you.
I also want to pay tribute to another group that too often is overlooked. I wrote a book after the election defeat of 1960, and one of the chapters of that book dealt with the campaign of 1960. When you write a book, you are supposed to dedicate it to somebody, and, not being an expert at this sort of thing, I just put on the flyleaf of the dedication page in this book about the campaign of 1960--I dedicated it, "To Pat. She also ran."
I want all of you to know tonight how very grateful we should be to the wives of our Cabinet members, to the distaff members, as sometimes--I guess, we can still call them that in these days when you have to be very careful about how you describe people--but in any event, at least shall we say to our First Ladies, and they are always our First Ladies in our own families. I am simply very, very proud of all of them.
I can summarize how I feel about all of our campaign in this way: Our speakers throughout campaigned hard. Our speakers throughout campaigned clean. They campaigned on the issues. I am proud of the campaign they have put on, and it showed in the results.
Something else was new in this campaign. All of us know, of course, about those young voters. I recall at the convention that we were told by some of the enthusiasts there at our convention that the predictions were wrong that because of the overwhelming youth vote that was going to go against us that we had a very, very hard row to hoe if we were to win this election.
Let me say, based on the results I have seen today, we have accomplished what was thought to be the impossible. We not only won a majority of the votes of America, but we won a majority of the votes of young Americans.
All of you should know that one who stands in this position with 4 years ahead must think of what he wants for those 4 years. We want, of course, many things. We want to do the very best job we can for all the country, for all people in our society. We want to have in mind, too, the fact that in this election it was very unusual in another respect. It was not region against region. It was not one age group against another age group. It was not party against party. I think we can be proud of the fact that as we look at our majority, which is a very large majority, it comes from all of America.
Let us remember that in these next 4 years we are not going to work for one group against another. We are dedicated to work for all Americans to make this a greater country.
To those millions of Democrats and independents who supported us as well as, of course, to the Republicans who supported us in overwhelming numbers, they have, you have, our deep appreciation. To all those who worked so hard-our appreciation. I will never be able to thank all of you personally, not even get all the letters out that I would like. But I know what you did and I know how much you contributed.
I would simply like to leave one final thought with you, perhaps in a personal sense. No one knows before the votes are counted how it is going to come out. No one really would have predicted after our convention that we were going to win this kind of a victory. Now, at the present time I noticed some of the commentators are referring to the fact that it may be the greatest victory in American political history. Let me tell you, I have two reactions to that. Of course, it is great on election night to think that we have won a victory, but this will be a great victory depending upon what we do with it. In other words, we win elections not simply for the purpose of beating the other party or the other person, but to get the opportunity to do good things for our country. The next 4 years will be the time that we will try to make ourselves worthy of this victory.
I will simply say in that connection, it was a great victory but the greater the victory, the greater the responsibility, the greater the opportunity. We are going to try to meet it, dedicating ourselves to those great goals that I have discussed at such great length throughout this campaign and will in the next 4 years--building that world of peace, of real peace with honor throughout the world, and building at home, not only peace at home but the new prosperity and the progress for all Americans that is so close to our hearts.
Finally, on that personal note, about 30 days ago, when I was sitting in the Lincoln Sitting Room late at night trying to get some materials ready for a National Security Council meeting the next morning, Tricia dropped into the room around 10:30 or 11:00. She was going out to dedicate a dam or something at a nonpolitical affair. She was trying to get some suggestions about remarks. I find that whenever I make suggestions of remarks to Tricia or Julie or Eddie Cox they always can do better without any suggestions, but I made a couple. Then, before she left the room, she turned and said, "You know, Daddy, did you ever stop to think that this is your last campaign?" I said, "Yes, I have."
As I think of what she said that night, I simply want to say from the bottom of my heart, thanks for making our last campaign the very best one of all.
Thank you.
Note: The President spoke at 12:25 a.m. in the Regency Room of the Shoreham Hotel. He spoke without referring to notes. His remarks were broadcast live on radio and television.
Richard Nixon, Remarks at a Presidential Election Victory Rally Online by Gerhard Peters and John T. Woolley, The American Presidency Project https://www.presidency.ucsb.edu/node/255728