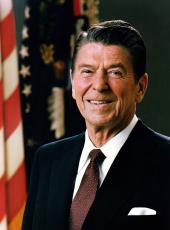 Remarks of President Reagan and President Rudolf Kirchschlager of Austria at the State Dinner
President Reagan. Mr. President, Mrs. Kirchschlager, Ministers Lanc and Fischer, honored guests, I said this morning, and I would like to say again, how happy and proud that Nancy and I are to welcome you to the United States for the first state visit by an Austrian President. I consider your visit a celebration of our common bonds and our common purpose.
Before I say anything else, Mr. President, I want you to know that one of the best loved of all Austrian Americans is with us tonight, Baroness von Trapp.
The Baroness and her family fled Austria shortly before the outbreak of World War II, and their story has become known to millions in the wonderful play and film "The Sound of Music." Since arriving in the United States, the Baroness has come to stand for Austrian integrity, wit, and charm. And perhaps more than any other single American, she's contributed to the deep friendship that our two nations enjoy. So, Baroness, on behalf of the American people, I thank you.
Mr. President, as a neutral country between East and West, Austria has played a constructive role in international and human relations and earned the respect of all nations. During World War II, thousands of people like the von Trapps were forced to flee Austria, but today, your nation offers asylum to those who are fleeing tyranny and human suffering. Austria is a shining example of compassion and courage.
Our countries, united not by military alliance, but by shared beliefs, have a common conviction that there are basic values which transcend every system of government. Among these are the dignity of man, liberty and justice, and the cornerstone of all of our values, an unshakable belief in God. Mr. President, we have deep respect for your neutrality. We are proud to guarantee your sovereignty, and we take great comfort in the knowledge that Austria is a steadfast member of the community of Western democracies.
Given your history and geography, Austria is vitally interested in the state of East-West relations. From the beginning of my tenure in office, Mr. President, I have emphasized that in our dealings with the Soviet Union, we should be guided by realism, proceed from a position of strength, and be ready at all times to engage in efforts to reach equitable and verifiable agreements. Your country's very existence as a free and independent nation proves what patient, persistent negotiations with the Soviets can produce. We welcome the wisdom of your counsel and rest assured that we will continue this policy in the hope that it will yield the results for which the world yearns.
This morning, I spoke about creating a new tie between our peoples. In the past year, Vice President Bush's visit to Vienna, the reopening of our consulate in Salzburg, and the appointment of Helene von Damm to be our Ambassador to Austria have shown our commitment to build stronger and more vital links between our governments and our peoples. But the bonds of true friendship can never be too many or too strong. And we will create still more through your exchanges—youth exchanges, I should say, and enhanced cooperation in scientific and technological research.
Mr. President, we're grateful for your visit. The people of America look forward to hosting you and your party across our country. Your visit is a celebration of something real, tangible, and enduring: the friendship between the people of Austria and the people of the United States. At one point in "The Sound of Music," the character who plays Baron von Trapp sings a song about the edelweiss, an Austrian flower. And before the song ends, the lyrics become a prayer for Austria itself. It is a prayer Americans join in—"Blossom of snow, may you bloom and grow—and bless your homeland forever."
Ladies and gentlemen, would you please join me in a toast to the President of Austria and Mrs. Kirchschlager and to the friendship and freedom that our two peoples enjoy.
President Kirchschlager. Mr. President, Mrs. Reagan, distinguished ladies and gentlemen, it is indeed a great privilege, Mr. President, to be your guest today here in the White House. And believe me, it is a moving evening for all Austrians present here—a moving evening by the words, your address to us, and by the music you offered to us.
I would like to thank you most sincerely for this gracious and warm hospitality you are extending to us and for all the friendship we felt here in Washington and in the United States. I express this thanks also in the name of my wife and on behalf of the members of the Austrian Government in my company as well as in the name of the other Austrian guests today. And I am joining you to express my real pleasure that Baroness Trapp is here with us. In Austria, too, you have a wonderful reputation. You know it, I hope.
It's true—and I may repeat what I said this morning—I'm profoundly appreciative, Mr. President, that you have invited me to pay this official visit to the United States. For me and for all of Austria, this is a truly historic event. It is indeed the first official visit of an Austrian head of state to the United States since relations between Vienna and Washington were established formally 146 and informally 200 years ago.
This should not lead to wrong conclusions. The relations between our two countries have been always very good, considering the fundamentally different structures of our countries until 1918. It was on the model of your Supreme Court, for instance, as established under your Constitution, that the Austrian Empire in 1869 established its own Reichsgericht. And again, in 1919, Austria was the first country in Europe to adopt, on the example of the United States, the principle of full judicial review.
But it was during World War II, and especially in the period after the war, that the hearts of the Austrian people went out to America and the image of the United States in my country was forged by the Marshall plan, which played such a decisive part in the rebuilding of Austria and with which it has remained linked ever since. Only recently we celebrated in Vienna the 35th anniversary of the signing of the agreement on American temporary assistance to Austria and on economic cooperation, and we will never forget this event.
In those years, the trust between Austria and the United States was strengthened by 10 years of tough negotiations over the Austrian state treaty and the strong commitment of the Austrian people to democratic ideals. The conclusion of the state treaty and the recovery of Austria's full freedom in 1955 have led to a long-lasting period of excellent relations, which has continued to this day.
In the late thirties, freedom and democratic life and America's willingness to offer asylum to political and racial refugees attracted many of Austria's best sons and daughters, who have found a new home in your great country but have also helped as pioneers to build it up. Most Americans will be surprised to learn that at the middle of this century, only four countries had supplied more distinguished Americans listed in "Who's Who in America" than the small country of ours, Austria. It may indeed be unexpected that a land-locked country of central Europe, speaking a different language from that of America—you see it in my speaking—as small as the State of Maine and less populous than the city of New York should have been one of the major contributors to American life and culture. But to us, it is additional proof of our community of interests.
Mr. President, you exercise your high office at a time of global political tension and crisis, many of which are also of vital importance to my country. Austria, as a permanently neutral country, makes every effort to contribute towards the maintenance of world peace by promoting understanding in the geopolitical area in which history has placed us. And by trying to secure friendly relations with all our neighbors, we are trying to remain an element in Europe's stability and security, to be a haven for refugees as well as a clear voice in support of human rights.
As a small country we have a vested and, indeed, a vital interest in upholding the rule of law in world politics and the principle of universality in international organizations. In all these respects, the world can continue to count on us in the future.
Our two countries are and will remain closely linked through their mutual adherence to the fundamental values of democratic Western pluralism to which the Austrian people has dedicated itself in all elections since 1945. In my view, this is the best basis for a mutual interest in a long-lasting friendship. Our common pledge for an increased support to youth exchange programs will additionally promote mutual understanding and help to deepen our relations also in the next generation.
As an expression of this hope, and as a token of our heartfelt friendship, I would like to extend to you, Mr. President, and to Mrs. Reagan a cordial invitation to pay a visit to Austria, be it officially or unofficially, whatever is more convenient to you. [Laughter]
With repeated cordial thanks for your hospitality and with my sincere good wishes for the prosperity of the United States and the American people, I invite you all to join me in a toast to the President of the United Nations of America and Mrs. Reagan.
Note: President Reagan spoke at 9:45 p.m. in the State Dining Room at the White House.
In his opening remarks, the President referred to Erwin Lanc, Austrian Foreign Affairs Minister, and Heinz Fischer, Austrian Science and Research Minister.
Ronald Reagan, Remarks of President Reagan and President Rudolf Kirchschlager of Austria at the State Dinner Online by Gerhard Peters and John T. Woolley, The American Presidency Project https://www.presidency.ucsb.edu/node/260483