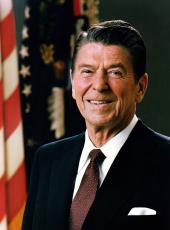 Remarks of President Reagan and President Quett K.J. Masire of Botswana Following Their Meetings
President Reagan. It's been my very great pleasure to meet today with President Masire of Botswana.
The President's leadership as Vice President and President has been important to his nation since its independence over 17 years ago. He follows in the distinguished footsteps of Seretse Khama, a friend of the United States and a tireless worker for peace in Africa and progress for Botswana. Botswana's success as a free and democratic nation owes much to the wise leadership of President Masire and his predecessor.
I've enjoyed the opportunity to exchange views on matters of mutual interest to our two nations. Our discussions covered a wide range of topics, including bilateral and regional issues. And it goes without saying, our exchange was open and friendly.
I appreciate the President's insights into the issues of importance to the African continent. We admire the economic strides that Botswana has made since independence. It has managed its resources with skill and improved the standard of living of its people. And that progress, due in large part to prudent financial planning and receptivity to investment, is an example to others in Africa who seek to better the lives of their people.
President Masire described to me the serious problems Botswana is facing as a result of the severe drought that has plagued southern Africa for 3 years now. And I, of course, expressed my heartfelt concern and that of the American people for the tragedy wrought by this natural disaster. Together, we explored ways that American aid can alleviate at least some of this suffering.
We have also used this occasion to discuss the political situation in southern Africa, and I assured President Masire that the United States will continue to seek peaceful solutions to the problems of that volatile part of the world. This will not be an easy task. However, we believe that the recent accord between South Africa and Mozambique, as well as the disengagement of forces in Angola, are encouraging signs. Both Botswana and the United States want peace among the nations of the region, internationally recognized independence for Namibia, self-determination for the people of the area, and a peaceful change in South Africa.
Botswana, which has long lived in peace with its neighbors without compromising its democratic and nonracial principles, has proven how much can be accomplished. Its democratic standards have served Botswana and the region well. As a leader of one of the frontline states, President Masire's views have been particularly instructive to me.
Mr. President, the United States and Botswana are tied by our dedication to democracy and respect for individual rights. These are the bonds that unite all good and decent people. I would like to offer my best wishes and those of the American people for the peace and prosperity of the people of Botswana. And I'm pleased that you were able to accept our invitation to come to Washington, and I look forward to meeting with you again.
Thank you for being here.
President Masire. Mr. President, honorable ministers, and members of the press, we are here at the invitation of the President and the people of the United States. We are very grateful that this invitation has been extended to us because, as the President has said, this has given us the opportunity to talk together on matters of mutual interest and to brief the President and his colleagues on some of the goings on in our part of the world.
Ours is a long association. Since independence, Botswana has had very amicable relationship with the United States. We have had Peace Corps volunteers who have worked there. Some of them initially went there for 2 years, but ended up staying for 10 years or so. We have found not only Peace Corps but other American personnel to be very useful in our development effort.
As you know, we are a democracy. Perhaps we are a little too democratic, because while here, you have only the Republican Party and the Democratic Party, back home, we have something like six parties. And we, much as people have said democracy cannot work in Africa, I think we should thank God that in Botswana so far it has worked. And I think one of the reasons it has worked is that there has been mutual trust and mutual respect. The opposition is treated seriously, because we see it as the means to be a multiparty state. And we know if we treated the opposition shabbily, we will be in trouble when it is their turn to run the show. [Laughter] We, unlike elsewhere, consult on matters of national interest, national security and—with the opposition. And so far, as I said, we have found this to be perhaps the best of running a country.
We are an open economy, market-led economy. People are free to invest. That's one of the things we have talked about, that if there are American investors who would like to come over to Botswana and invest, they must know they are very much welcome. There are no problems about capital repatriation. There are no problems about repatriation of any, so far, of expatriate stuff. There are no problems of racial discrimination, because, being next to South Africa and knowing just how bad racial discrimination is, we know is just as bad when practiced by whites as when practiced by blacks. And, therefore, we avoid at all cost to be discriminatory.
We have enjoyed our stay here. We have tasted of the traditional American hospitality, and we go back home very pleased with the outcome of our visit.
They say, "Least said, soonest mended." I thank you, Mr. President.
Note: President Reagan spoke at 1:15 p.m. at the South Portico of the White' House.
Earlier, the two Presidents met in the Oval Office and then attended a meeting with U.S.. and Botswana officials in the Cabinet Room. They then held a working luncheon in the State Dining Room.
Ronald Reagan, Remarks of President Reagan and President Quett K.J. Masire of Botswana Following Their Meetings Online by Gerhard Peters and John T. Woolley, The American Presidency Project https://www.presidency.ucsb.edu/node/261012