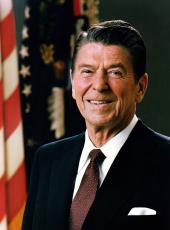 Remarks of President Reagan and President Mika Spiljak of Yugoslavia Following Their Meetings
President Reagan. It's been a great pleasure for me and for all of us to have—or to be able to welcome President Spiljak of Yugoslavia and to confer with him on issues of importance to both our countries.
Relations between Yugoslavia and the United States are good. President Spiljak's visit follows a long and well-established tradition of consultation and cooperation. The United States strongly supports Yugoslavia's independence, unity, and territorial integrity. Further, we respect its policy of nonalignment. Further, we respect this man who has done so much in these recent years for his country.
Despite understandable differences, consultations between us provide a unique and valuable perspective, and today's meeting was no exception. I expressed to the President our continued support for his government's efforts to meet its serious economic challenges. We'll do our part to help in cooperation with other Western governments, international financial institutions, and commercial banks. Vigorous economic recovery in the United States will itself help Yugoslavia by creating new opportunities for mutually beneficial commercial activity and the strengthening of bilateral trade.
Yugoslavia, like other nations of Europe, hopes for progress in arms control negotiations between the United States and the Soviet Union. I conveyed to President Spiljak our deeper commitment to reach equitable, verifiable agreements with the Soviet Union. Such agreements would be in our interest, the Soviet Union's interest, and in the interest of all mankind. We're flexible and realistic in pursuit of this goal and share the President's hope that the negotiations will resume in the near future.
Today, we also discussed the serious menace of international terrorism and underscored our intention to cooperate in opposing it wherever it occurs and for whatever reasons. The United States deplores all terrorist attacks against Yugoslav diplomatic counsellor and other representatives, and we will not tolerate such attacks on our territory.
The American people join me in conveying our best wishes to the people of Yugoslavia for the success of this year's Winter Olympic Games, which will begin next week in Sarajevo. Like our Los Angeles Olympic Organizing Committee, the Yugoslav Olympic Committee has invested tremendous human and material resources in putting the games together. As the two host countries for the 1984 games, we have reason to be proud of these endeavors.
It's especially fitting that in this Olympic year, we're signing a U.S.-Yugoslav tourism agreement. We hope that the agreement to be signed tomorrow will lead to an increase in tourism and good will between our two countries.
President Spiljak has been an especially welcome guest, and I look forward to frequent consultations with him. And I'm confident that our bilateral relations will continue to grow and flourish. It's been good to have you here.
President Spiljak. First of all, I would like to express my pleasure with the opportunity to visit the United States of America and exchange views with President Reagan on the possibilities for promoting further our bilateral cooperation and on some important international issues.
I would like to point out that the talks with President Reagan were held in a friendly and candid atmosphere of full, mutual respect which characterizes the relations between our two countries and peoples. President Reagan and I share the view that a practice of dialog in meetings between the highest representatives of our two countries, regardless of the well-known differences in our positions and views in some international issues, continues to greatly contribute to a better mutual understanding and stable cooperation in all fields of mutual interest. The principles of equality, independence, and noninterference as a mutually accepted basis for bilateral relations and cooperation were reaffirmed in our talks today.
I'm glad to note that our talks confirmed once again that the overall Yugoslav-American relations have been developing successfully and that there exist ample possibilities for their even more comprehensive promotion in the long run.
As President Reagan displayed the interest, I briefed him on the essence of the Yugoslav long-term program for economic stabilization. The achievement of our targets will offer a broader basis for an overall economic cooperation with all countries and in which United States of America is one of the most significant partners. In this context, I would like to emphasize that we attach great importance to the results achieved, as well as to the prospects to further develop mutual, economic cooperation in all areas. In this respect, special attention should be devoted to industrial, technological, financial cooperation as well as joint ventures.
President Reagan reiterated the resolve of the United States administration to prevent the terrorists and other hostile activities against Yugoslavia which are, at the same time, directed against the good Yugoslav-American relations and cooperation.
I had a very useful exchange of views with President Reagan on pressing international issues. Thus we acquired a greater knowledge of, and gained a better insight in, the positions and activities of our two countries on the international scene. We share the concern over the present dangerous developments and further deterioration of the situation in the world.
We agreed that the policy of the release of international tensions in negotiation has no alternative. We, for our part, pointed in particular to the need for strengthening international confidence and creating an atmosphere favorable for the renewal of dialog as a precondition for the settlement of the acute international political and economic problems.
I also informed President Reagan of our assessments of the East-West relations, the situation in Europe, and of our deep concern over the continuation of the arms race, in particular. We presented our views on the problems of the relations between the developed and the developing countries, as well as our assessments of some acute hotbeds of crisis such as the Middle East and Near East, southern Africa, and others. We find it to the need of resolving them by peaceful means in compliance with the principles and purposes of the Charter of the United Nations. In this context, we pointed to the activities and initiatives of the nonaligned countries at solving the outstanding international problems.
I'm confident that my visit and the fruitful and meaningful talks I had with President Reagan will give a fresh boost to an even more comprehensive development of cooperation between our two countries, thus contributing to international understanding in general.
Note: President Reagan spoke at 1:30 p.m. to at the South Portico of the White House. President Spiljak read the opening and closing portions of his departure statement in Serbo-Croatian; his interpreter read the complete statement in English.
Earlier, the two Presidents, together with U.S. and Yugoslavian officials, met in the Oval Office. They then held a working luncheon in the State Dining Room.
Ronald Reagan, Remarks of President Reagan and President Mika Spiljak of Yugoslavia Following Their Meetings Online by Gerhard Peters and John T. Woolley, The American Presidency Project https://www.presidency.ucsb.edu/node/260496