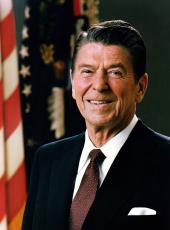 Remarks of President Reagan and President Amin Gemayel of Lebanon Following Their Meetings
President Reagan. It's been my great pleasure to once again welcome our friend, President Gemayel, to Washington. President Gemayel symbolizes Lebanon's hopes for unity, peace, and stability—goals for which all of us are working so hard and for which many Americans and many more Lebanese have sacrificed their lives.
We admire President Gemayel's personal courage. We applaud his determination to free his country of all foreign forces and to reunite the Lebanese people. Lebanon once shined like a jewel in the sun, and America will do what it can to support Lebanon's efforts to restore her tranquility and independence.
To this end, we stand by the May 17th agreement as the best and most viable basis for the withdrawal of Israeli forces from Lebanon. And once again, I appeal to the other external forces to leave Lebanon.
I was particularly impressed by the initiative that President Gemayel took in calling for national dialog. Today he and I have discussed his programs for national unity. And, Mr. President, your efforts to broaden the base of your government, bringing in Lebanon's many communities, will do much to rebuild a stable and prosperous Lebanon. It will do much to restore confidence in the future. It will do much to stop the loss of so many innocent lives.
President Gemayel has already achieved a measure of success through the effective leadership that he demonstrated during the first round of reconciliation talks in Geneva. Yet, there is still a long way to go, and Lebanon can count on our help.
Our marines, along with our allies in the multinational force, are in Beirut to demonstrate the strength of our commitment to peace in the Middle East. And I know you agree with me, Mr. President, that the American people can be proud of the job that our marines are doing. Their presence is making it possible for reason to triumph over the forces of violence, hatred, and intimidation.
My special representative for the Middle East, Don Rumsfeld, returned recently from his first round of meetings in the region. He'll be returning to the area soon and will be working directly with President Gemayel to arrange foreign troop withdrawals and to pursue Lebanese national reconciliation.
We're delighted to have you with us today, Mr. President, and we wish you Godspeed on your return home.
President Gemayel. Mr. President, I want to thank you and the .American people to whom we in Lebanon owe so much.
This is my third visit to Washington and probably the most important because of the intensity of the crisis in Lebanon and the region. Yet, I'm confident that actions, properly conceived and executed at this time, can result in dramatic movement toward stability, security, and peace.
Today we explored, as partners, the best ways and means not to merely implement agreement but going beyond the letter of the law to set up the most appropriate mechanism and conditions for the achievement of our common interests and policy Objectives. We found ourselves in full agreement on the necessity of withdrawal of all external forces from Lebanon and the full restoration of the Lebanese sovereignty and exclusive authority over all of Lebanon's territory within its internationally recognized borders. This, and this alone, will put an end to the continuing tragedy which is now engulfing not only Lebanese but Americans in Lebanon as well. Hence, it is imperative for us all to break the cycle of violence which has been preventing the people of Lebanon for the past decade from exercising their divine and natural right of self-determination and the shaping of a free, modern society in full social and economic partnership.
I found in Washington full comprehension of the fact that leading Lebanon out of the present impasse is not only a question of justice and right but also a matter of common interest both for its neighbors and the U.S.
I view our discussions today with a sense of pride and accomplishment, and I'm gratified by President Reagan's commitment, and the support of the American people. I look forward, with hope, that actions taken as a result of our discussions, fortified by the courage and vision of the American and Lebanese people, will result in peace in Lebanon and the entire region.
Note: President Reagan spoke at 1:25 p.m. to reporters assembled at the South Portico of the White House.
Earlier, the two Presidents and officials, including the Vice President, Secretary of State George P. Shultz, and Ambassador Donald Rumsfeld, the President's Personal Representative in the Middle East, met in the Oval Office. They then met, together with U.S. and Lebanese officials, in the Cabinet Room and attended a luncheon in the State Dining Room.
Ronald Reagan, Remarks of President Reagan and President Amin Gemayel of Lebanon Following Their Meetings Online by Gerhard Peters and John T. Woolley, The American Presidency Project https://www.presidency.ucsb.edu/node/261996