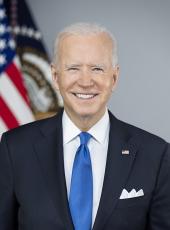 Remarks by President-elect Joe Biden in Wilmington, Delaware
[As prepared for delivery]
Good afternoon.
Today, it is my great honor to add to my national security team a leader of extraordinary character, courage, experience, and accomplishment.
Someone with whom I have worked closely for many years, and who I have seen perform to the highest standards under intense pressure.
Someone who I hold in the highest personal regard as a man of great decency and dignity.
In my judgment, there is no question that he is the right person for the job of leading the Department of Defense at this moment in our nation's history.
He's led a major coalition of allies and partners to fight terrorism.
Overseen some of the most complex logistical efforts ever undertaken by the United States military.
Helped end a war and bring tens of thousands of troops home safely.
He is loved by the men and women of America's armed forces.
Feared by our adversaries. Known and respected by our allies.
He shares my deeply held belief in the value of America's alliances.
And he is just as committed as I am to rebuilding and modernizing those alliances — from the Asia Pacific to Europe and around the world.
Through sheer determination and extraordinary skill, he has been breaking down barriers and blazing a trail forward in this nation for more than forty years.
And he will do so again.
And so today, I am honored to nominate General Lloyd Austin as the 28th Secretary of Defense.
I want to thank you, General Austin, for once more stepping forward to serve our nation.
And I want to thank your family for once more sharing you with our country.
Lloyd, I know how proud they all are of you — all four of your older sisters and your brother. And your incredible wife Charlene.
She and Jill are both passionate about supporting military spouses and families, and I know they will be powerful advocates for that community together, in the White House and at the Defense Department.
I got to know General Austin during my early days as Vice President.
President Obama had charged me with overseeing the end of Operation Iraqi Freedom and ensuring the orderly withdrawal of our forces and equipment from Iraq.
General Austin was with me on the ground. Not just for meetings with our troops or for military strategy sessions.
He was there when I met with Iraq's political leaders, when I met with the leaders of our coalition partners.
And, he was there during one particularly memorable incident when we were at a meeting at the Ambassador's residence in the Green Zone and insurgents launched a rocket at the house.
Of course, for General Austin, it was just another day at the office, and we all just kept going about our meeting. Cool under fire. Inspiring the same in all those around him. That's Lloyd Austin.
He was the person President Obama and I entrusted with the incredible task of bringing home American forces and redeploying our military equipment safely out of Iraq.
It was the largest logistics operation undertaken by the Army in 60 years. And getting it done required much more than military know-how.
General Austin was a diplomat. He built relationships with our Iraqi counterparts and with our coalition partners.
He was a statesman, representing our country with skill at tables with foreign leaders, both military and civilians.
And always, above all, he looked out for his people.
That's why he was known as "the soldier's leader."
In his time in the United States Army, Lloyd Austin met every challenge with extraordinary skill and profound personal decency.
He is the definition of duty, honor, country.
And at every step, he challenged the institution that he loves to grow more inclusive and more diverse.
He was the 200th person ever to attain the rank of an Army 4-star General, but only the sixth African American.
He was the first African American general officer to lead an Army Corps in combat.
The first African American to command an entire theater of war.
And, if confirmed, he will be the first African American to helm the Defense Department — another milestone in his barrier-breaking career of service.
Lloyd Austin retired from military service more than four years ago.
But the law states that an officer must have left the service seven years before becoming Secretary of Defense. There are good reasons for this law that I fully understand and respect, and I would not be asking for an exception here if I did not believe this moment in our history didn't call for it — and if I didn't have the faith I do in Lloyd Austin
to ask for it.
I believe in the importance of civilian control of our military — so does Secretary-designate Austin.
He will be bolstered by strong and empowered civilian senior officials working to shape DoD's policies and ensure that our defense policies are accountable to the American people.
The civil-military dynamic has been under great stress these past four years, and I know that Secretary-designate Austin will work tirelessly to get it back on track.
I have personally worked with this man.
I have seen him lead America's fighting forces on the field of battle.
I have also watched him faithfully carry out the orders of the civilian leadership of this nation.
There is no doubt in my mind whether this nominee will honor, respect, and on a day-to-day breathe life into the preeminent principle of civilian leadership over military matters in our nation.
I know this man. I know his respect for our Constitution. And I know his respect for our system of government.
So, just as they did for Secretary Jim Mattis, I ask that Congress grant a waiver to Secretary-designate Austin.
His many strengths and his intimate knowledge of the Department of Defense and of our government are uniquely suited to the challenges and crises we face.
He is the person we need in this moment.
And, given the urgent threats and challenges our nation faces, he should be confirmed swiftly.
We need his expertise in large-scale logistics operations to help support the swift and equitable distribution of COVID-19 vaccines.
We need his experience building and managing relationships and engaging in diplomacy with our partners to help rebuild America's alliances and strengthen our shared security.
We need his firsthand knowledge of the immeasurable cost of war and the burden it places on our service members and their families to help bring to an end forever wars
and ensure that the use of force is our tool of last resort to protect our national security, not our first.
We need his deep understanding of the Pentagon to help reform the Department of Defense.
We need his personal experience helping inform our efforts to ensure that our armed forces reflect the full strength and diversity of our nation — that Black, Latino, Asian American, Native American, women, and LGBTQ service members are treated with dignity and respect.
At a time when more than 40 percent of our active duty forces are people of color, it's past time the Department had leadership that reflects that diversity.
And we need his in-depth understanding of what it takes to deter threats wherever they arise and to defend the American people, our vital interests, and our allies from harm — just as he did when he designed and led the strategy, together with dozens of partner nations, that ultimately crushed the ISIS threat.
The threats we face today are not the same as those we faced ten or even five years ago.
We must prepare to meet the challenges of the future, not keep fighting the wars of the past.
We must build a foreign policy that leads with diplomacy and revitalizes our alliances, putting American leadership back at the table and rallying the world to meet global threats to our security — from pandemics to climate change, and from nuclear proliferation to the refugee crisis.
As part of our diverse national-security leadership team, Lloyd Austin knows how to do this work.
Before I turn the podium over to Secretary-designate Austin, I want to end on a note of personal privilege.
As a leader, General Austin has always followed the advice given to him by his first platoon sergeant: If you focus on your people, take care of them, get out in front and lead them — they will refuse to let you fail.
It's why he has inspired so many young people who work for him to give their very best, and to live up to his example of leadership — including, for a time, a lawyer serving a year in Iraq with his Delaware Army National Guard unit.
My son, Beau Biden.
I know how proud Beau was to serve on your staff, General Austin.
And I know that, under your leadership, the Department of Defense will advance the security of the American people in ways that always honor our highest values and ideals.
So, thank you again, and may God protect our troops.
Joseph R. Biden, Remarks by President-elect Joe Biden in Wilmington, Delaware Online by Gerhard Peters and John T. Woolley, The American Presidency Project https://www.presidency.ucsb.edu/node/347281